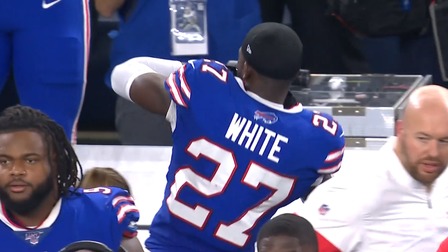 We must never take adopted local icon Tre White for granted. I would presume his name is short for Treasure if I didn't have his biographical details memorized like my Social Security number.
Still, he'd undoubtedly appreciate how we've concluded half the field is safe no matter who's threatening it. The Buffalo Bills already expect him to put the other team's top threat out of business like he's playing Circuit City.
Levelheaded fans shouldn't think of any player as a magician able to make receivers disappear. Still, White's consistently thrilling play leads to presumed exuberance only matched in his postgame interviews.
His accomplishments somehow get more impressive with context, as Buffalo's top neutralizer does so despite playing in a system theoretically designed to rely on collective ability instead of individual flash.
Guarding land instead of people is supposed to make everyone's job easier. Yet White excels on his own in a Cover 2 defense where help is available.
White was already thrilling before teaming up with Josh Norman. You remember why you remember his name even if it hasn't appeared in your head recently.
Something that used to be better can still offer occasional value. South Park is still intermittently entertaining even if it's not as sharp as in past seasons. As for another Pegula property, the Sabres are better putting Wayne Simmonds on the ice after 900 games of wear and tear than most of their other options.
Norman's stock is low, which means this is the right time to buy, possibly. He might post gains after being reunited with Sean McDermott, under whose tutelage he once prospered. And a deal that ends with this season is a manageable risk. Now, we already have a reason to look forward to training camp. We get to see if Norman struggled last year because of age or by virtue of being cursed to play for the Redskins.
The ceaseless need to add cornerbacks even if yours are already awesome is a testament to how complicated zones can be. Players are naturally tempted to follow anyone wearing a different shirt who runs through their areas. Only certain special guys have permission to do so. White is the rare talent who may be assigned to track the biggest threat even if everyone is supposed to have boundaries.
Playing in a zone is like Invisible Fence: do not leave your territory or you'll be shocked at the results. Coordinators can't zap players under the current collective bargaining agreement. The urge to chase enemy receivers no matter where they wander is tough to manage. It takes a special talent to be granted free range.
Adding Norman to a group that already impressed reflects how there can never have enough. The nickel is normal in these pass-crazy days. Going deep frequently creates the sort of thrills that will help this upstart football league compete against the dominant XFL. Offenses are limited to five receivers, as defensive coordinators would otherwise have to come up with quarter packages. That name's already taken.
No matter how much football we consume, it remains remarkable that half the team never takes the field with the other. Each relies on points scored or prevented in a sport where one thriving aspect can make another prosper.
In the spirit of everyone helping everyone else, management should next focus on limited receptions with a better pass rush. Deion Sanders gets to remain obnoxious on television because Dallas had a front line that was as relentless as the Arkells.
I want everything to be amazing like a typically calm and grateful fan. Imagining how good this defense could be with more than 40 sacks is like losing weight eating ice cream for dinner. What seems impossible could be achievable with slight positional upgrades. It's easy to say get better players, but just please do what customers want. Aiming for three sacks per game sounds reasonable.
Viciousness on the line's flanks isn't just beneficial for pass defenders. Making defensive end the next priority. will help Ed Oliver increase his totals. He's already impressed in a tough position to do so as a rookie. Now, he's past having to cope with the awkward transition to pro football.
Management doesn't need to make drastic additions even if we're glad they added a cornerback we recognized. Oh, right: there's Levi Wallace. The newly re-signed back emerged as a second secondary option despite entering the league relatively unheralded. It's testament to Buffalo's scouting astuteness, as well as, um, Wallace's ability.
Yes, Wallace faced tougher challenges as last season progressed. But that resulted from teams targeting him instead of White, and passes are going to go somewhere. There's no time like a third season to overcome inconsistency.
Most of those on White's other side have been impressive, if not spectacular. It's nearly impossible to have two game-changing cornerbacks. For one, there are only so many good ones in the world. And the limits on stockpiling talent make adding a second Superman tricky. Norman will ideally complement White like Kim to Saul Goodman.
Norman is a worthwhile gamble to complement a sure bet. The Bills already have the sort of player national media realizes exists. I'm still surprised they're raving about one of our neighbors. Now, a veteran like Norman who once flourished under Buffalo's current head coach could enhance what's around.
As for a longer deal, pick up White's fifth year now. It's an option only in name. Lengthening his rookie deal is the most obvious decision since choosing the franchise's best special teams player.
White is due to become unfathomably rich even if he already makes a fortune running his Goalie Academy. It's so nice to be in position where the biggest problem is paying to retain talent.
Editor's babble: Yes, yes, yes. Get Tre White locked down and watch what happens when he's paired with a rehabilitated Josh Norman. Thanks to Anthony Bialy for all his terrific contributions to our blog. You can find Anthony on Twitter @AnthonyBialy.