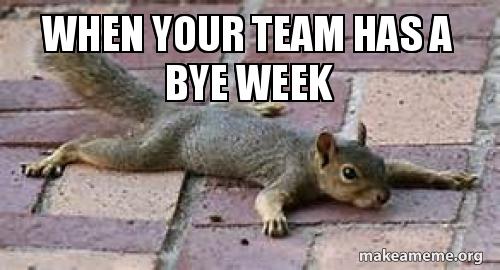 One game can alter everyone's mood, as seen in how 4-1 seems exponentially more impressive than 3-2. Claw past a midrange conference foe any way you can.
This league just loves defensive slugfests, as indicated by how pass defense is close to illegal. The Buffalo Bills went against trends by obtaining a majority of the three total scores. An illegal forward pass doomed Tennessee if you seek the smallest bit of retribution.
Wait: that's Josh Allen's music! That is one unexpected entrance. It seems like it was just a week ago he was coping with a concussion after a scandalous hit Vince McMahon could've scripted. Well, I guess it actually was. A quick recovery was the best-case scenario after the league decided to not protect every single quarterback.
Tennessee showed New England how to hit fairly. The latter still won't learn. Speaking of interacting with experience, Allen needs some time in the bumper car arena to improve at dodging.
The collision he absorbed early on should teach him to look for the spying linebacker. As it stands, it appeared like he was counting cards and forgot about an ace.
Taking a hit in the turnover column isn't helping, either. A 98.3 rating in a win should dominate the story. But downplaying another troubling interception is like discussing The Last Jedi without noting they could've skipped the casino planet. The Bills fought to overcome yet another wholly unnecessary turnover resulting from not accepting the reality of a sack.
Allen won't always only have to top a mere touchdown, singular. The habit of throwing while imperiled is like curing insomnia with an iced cappuccino. You can blame T.J. Yeldon for modifying his route, but the person throwing the ball at him should notice.
How many times is he going to assure us the scolding worked? Without eliminating his regrettable habit, he'll gain a reputation for being unwilling to learn.
Trying to make a play is an invalid excuse.  There's all the difference between chances and recklessness. BASE jumping is not calculated risk-taking if you forget a parachute.
The second touchdown pass is a good apology.  Exploded minds are fun for the right reason. Duke Williams gave Bills Twitter an aneurysm. The need to patronize urgent care was worth it.
An offseason spent dreaming of Williams finally fulfilling potential led to wondering if they could waive the Hall of Fame waiting period. The problem is actually doing it, which is a familiar theme for this franchise. But his first chance to actually impress turned out promisingly. Nobody could ask for more than catching each of his four targets.
Williams is so promising that the Bills got to stop pretending Zay Jones would start contributing. The self-marginalized wideout was the Alexander Nylander of the Bills: a player with a pro father you'd figure had the genes and upbringing to thrive. But both instead acted entitled without accomplishment.
Zay may have picked up an amateur attitude from dad Robert.  The son's play didn't keep pace. I bet he didn't catch his flight to Oakland.
Foes don't have time to think of what comes to mind with this speedy defense. As for those blessed to watch, the Bills have employed what boxing fans would call effective aggression if any were left after being marginalized by pay-per-view.
Disguising who's rushing is a mean trick to play on offensive lines. Are defenders allowed to loop like that? Tennessee was sure about there being a rule against stunting.
The locker room's wise elders laugh at your gripes about creaky joins. Lorenzo Alexander is so old that he watched the same cartoons as Frank Gore. The pair of 36-year-olds are too busy controlling tempo to know their time is supposed to have passed.
The Bills simply must win these home games. Mafiosos made themselves comfy in Tennessee. I'm particularly proud of those who audibly claimed mob territory by contributing to the purported home team's false start penalty.
I already miss football. The criminally evil off-week is already here. This season is flying by like my dreams.
Buffalo fans are accustomed to the era of occupied Sundays.  It's mean to get us hooked on a sample. This space is a fall lifestyle column for the week, so I guess there are leaves to pick or apples that change color or something. I haven't been outside in awhile.
I disapprove of a light Sunday just after the first One Buffalo weekend. There are also no Sabres games on the off days, which makes the early delightfully congested schedule such a tease. This is not the sort of balance we need.
We're still recovering from all those lame summer days that only had dumb sunsets instead of football. Whoever is in charge of sports refuses to schedule college games on Sundays when my beloved pro team isn't playing because life likes hurting my feelings.
This is officially too long to wait before facing the Dolphins. But at least it's not as bad as Miami counting the minutes before they can start whatever quarterback they draft next year.
An extra week for Devin Singletary and the offensive line to heal is the most positive way to view being forced to wait. Fans can also relax in case watching close outings from the couch has felt draining. I suppose glory hog players deserve partial credit for wins.
Sustaining momentum for two weeks is a good problem to face. Remember to text friends you hate at 1:30 p.m. asking why they're not watching the game.
Editor's babble: Some of us old folks need a week for some cardiac recovery. Even the Sabres are teasing us. Thanks to Anthony Bialy for his creative contributions to our blog. You can find Anthony on Twitter @AnthonyBialy.