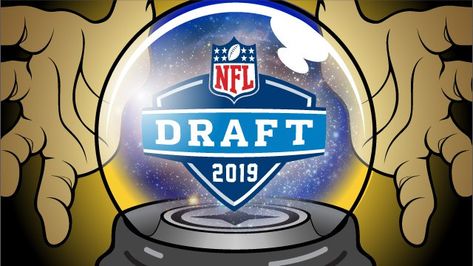 WR, DT1T/5T, OT, RB, CB, and OLB are the Bills' top six team needs in the 2019 NFL Draft, so our DraftTek computer shops for the best value atop our Big Board for the best "deal" among those positions. Here's the current mock.
I do love some current Bills' players at those positions who, by season's end, could greatly reduce the need to draft one next April (Robert Foster, Zay Jones, Isaiah McKenzie, and Terrelle Pryor at WR; Marcus Murphy at RB; Harrison Phillips sliding over to 3-tech DT; Taron Johnson at Nickel, and Julian Stanford at OLB). However, it would be irresponsible of me to ignore draftable college talent that would fit the McBeane mold.
Here are the draft's top WRs who score especially high on my own 'McBeane-O-Meter', culled from 81 pass-catchers we are looking at right now.
2019 Draft-Eligible WRs That Fit Buffalo Bills' Archetype:
N'Keal Harry Arizona St
6-4, 216
25 gm over 2 yrs
17.6 ypc vs AP-ranked teams
Watch
With two years of eligibility remaining, Harry's no shoo-in for 2019's draft; I expect him to be the top WR in 2020. Let's pretend he tires of being Herm Edwards' entire Sun Devil offense (35% of their receiving yards and 40% of their passing TDs went through Harry in 2017), and jumps ship early.
Harry fits well with what Daboll is trying to do. To run his offensive scheme, he needs a field-stretcher who can run crossers –what they had Corey Coleman doing in his short stay. One of Harry's specialties is crossing routes (152.9 QBR). Harry's also elite at go routes (134.5 QBR), which matches what I continue to expect of Foster. McBeane wants to add team speed at the playmaker positions.
N'Keal caught fire down the stretch in 2017, with five TDs over his final five forays (he'd had only 3x in his first eight games). McBeane will love his size advantage at his speed, and we've already seen in the 2018 Draft that they love size-speed mismatches. Moreover, this article will vouch for Harry's character. Not scouted by the Bills yet.
Currently: RD1#29, 5th-Ranked WR
Fit For Bills: A+
---
Anthony Johnson Buffalo
6-2, 207
12 gm over 1 yrs
no games vs AP-ranked teams; 17.8 yards per rec in MAC conference
Watch
While local kid Anthony Johnson certainly doesn't have the ACC/SEC experience McBeane looks for, he does possess some elements to his game that Daboll wants in his scheme. Johnson is adept at corner routes (146.6 QBR) and hitches (136.1 QBR), both of which I saw frequently at the Bills' practices at St. John Fisher.
Johnson went to two junior colleges, then red-shirted in 2016. His one-year wonder came in 2017, when he exploded on the scene with 76 catches for a whopping 1,356 yards and 14 touchdowns. He gave his quarterback an impressive 124.2 passer rating when targeted, putting him right up there with the draft's top-echelon WRs. However, only an elite few of the draft's receivers have 8 games with at least 6 grabs, and 6 games with 100 yards or more receiving. Johnson has three cousins in the NFL, including Jadeveon Clowney. Scouts watched the Bulls play Rutgers on 9-22-18.
Currently: RD5B, ranked 9th-ranked WR
Fit For Bills: A+
---
Emanuel Hall, Missouri
6-2, 220
24 gm over 3 yrs
35.3 ypc vs AP-ranked teams in 2017; 19.3  in 2018
Watch
Drew Lock's favorite deep-ball target in former OC Josh Heupel's air-raid-spread hybrid offense, Hall needs to expand his route tree in a brand-new system in order to play in the NFL. Hall averaged 24.8 yards per catch on 33 receptions last year. The Bills scouts visited the Georgia-Missouri game on 9-22-18, and Hall did well. The second reason why Beane might be interested in Hall has to do with the woeful lack of YAC by the Bills' receivers in 2017 and 2018. No Bills' WR who remains on the team had better yards after the catch last year than Zay Jones, and he ranked 266th with 1.88 average YAC. This year, Buffalo/Jets WR Terrelle Pryor is our top YAC receiver, and he's 179th. Hall is the only WR in the Top Five in the FBS in YAC that's been scouted by the Bills. With 6-5 WR Kelvin Benjamin not impressing, I expect the Bills to draft a taller receiver, but they can always take two.   Fit For Bills: A
Currently: RD6, 22nd-Ranked WR
---
Juwan Johnson Penn State
6-4, 226
29 over 3 yrs
10.9 ypc vs AP-ranked teams
Watch
Trace McSorley is likely to look to Juwan Johnson early and often in 2018. That's because Terry Pegula's alma mater just lost 162 receptions, 2,111 yards, and 21 TDs to the NFL. A "tweaked" left foot injury kept Johnson out of spring practice, but he's healthy now. McBeane's looking for a good-sized mismatch opposite Kelvin Benjamin, and Juwan just might be the physical freak they're looking for. The Bills scouted the Penn State-Iowa game on 10-27-18.   Fit For Bills: A
Currently RD7B, 27th-Ranked WR
---
Anthony Ratliff-Williams North Carolina
6-1, 205
21 over 3 yrs
14.9 ypc vs AP-ranked teams
Watch
When Bills scouts were down in Beane Country watching Austin Proehl, their eyes must have also drifted to teammate Ratliff-Williams. Week in and week out, Proehl and Ratliff-Williams battled for the title of UNC's top receiver. Few receivers in this draft have "The Process" flowing through their arteries more than this guy.
Ratliff-Williams is the one staying after practice for extra reps, exhibiting leadership in the WR room, and caring about his teammates. Ratliff-Williams also checks McBeane's versatility box, because he's an effective kick returner (First Team All-ACC, 26.3 yards/return, 2 TDs) as well a top receiver (led the team with 35 catches, 630 yards, 18.0 ypc, and 6 TDs) and served as a gadget-play QB (2 TD passes). Ratliff-Williams reeled off 10 explosive plays (25 yards or longer) last season He hasn't been scouted yet by the Bills' credentialed scouts. Fit For Bills: A-
Currently RD3, 11th-Ranked WR
---
Honorable Mentions:
Preston Williams Colorado St
6-4, 210
7 gm over 3 yrs
19 ypc vs AP-ranked teams
Watch
A Tennessee transfer with speed, quickness, fluid movement while shifting directions, leaping ability, and soft hands. One writer calls him the next Michael Gallup. Not much film on him yet, and he doesn't have the number of games under his belt McDermott likes to see. Check out his obscene yards-per-catch average against AP-ranked competition: 19. Not scouted yet by Bills scouts.   Fit For Bills: B+
Currently UDFA, Unranked
---
Emmanuel Butler * Northern Arizona
6-4, 220
36 over 3 yrs
no games vs AP-ranked teams
Watch
The Emmanuel with 2 M's, Butler has returned from a season-ending shoulder surgery sustained in September 2017, but he still has the resume and size McBeane looks for. You can question the level of competition, but Butler has had 26 TD for the Lumberjacks over 3 seasons. My advice is to watch Butler's 2015 TDs for some gems. Not scouted yet by Bills scouts. Fit For Bills: B+
Currently RD6 , 25th-ranked WR
---
Cody Thompson Toledo
6-2, 205
37 over 4 yrs
22.8 ypc vs AP-ranked teams
Watch
Thompson is still in recovery from a broken leg suffered last season. He'll likely vault up the board with his skillset, game experience, and size. The four-year resume will especially appeal to McBeane. Watch his 2016 game film when Cody caught 64 passes for 1,269 yards and 11 TDs. His 19.8 yards per reception was 9th in 2016, but QB Logan Woodside helped. He's now a Bengal (RD7). Not scouted yet by Bills scouts. Fit For Bills: B
Currently RD7 , 29th-ranked WR
---
Trenton Irwin Stanford
6-2, 205
36 over 3 yrs
11.3 ypc vs AP-ranked teams
Watch
Used in the slot a lot, Irwin was a mismatch at his size in that role currently occupied on the Bills by WR/PR Isaiah McKenzie and Zay Jones. While I like the new guys on my depth chart for slot duty, McBeane and Daboll will be tempted by Stanford's top receiver on a run-first offense revolving around Bryce Love. Irwin had 43 catches for 461 yards and two TD in 2017. I find it odd that the Bills scouts haven't scouted Stanford yet.    Fit For Bills: B
Currently UDFA , 30th-ranked WR
---
Editor's babble: Anthony Johnson from University at Buffalo, please! If you live in WNY you should take a look at this guy in person. UB is going to have a very interesting football season this year (not that I'm prejudiced as a UB alum :) Thanks as always to Dean Kindig for his excellent year-round draft coverage. You can (and should!) follow Dean on Twitter @TCBILLS_Astro.