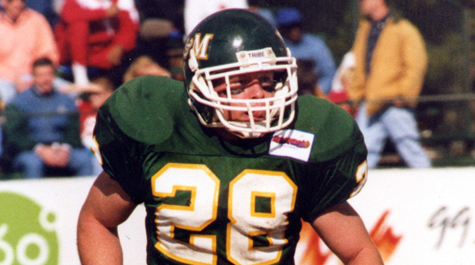 This two weeks before training camp is a perfect time to waste time, in other words play a game I call #PerfectCircle. You just need Wikipedia and about an hour. The best Perfect Circles lead you on what appears to be a wild goose chase, teach you a thing or two, and, most importantly, end up back where you started. Let's begin.
Sean McDermott was a Safety at William & Mary from 1994-1997.
Bills Head Coach Marv Levy was William and Mary Head Coach 1964 to 1968.
Levy and McDermott's shared alma mater had another famous alumnus, 3rd President Thomas Jefferson.
Jefferson founded the University of Virginia in 1819.
The University of Virginia's greatest rivalry is with Virginia Tech.
Virginia Tech is the alma mater of 2008-2011 quarterback and the Bills' recently-traded QB Tyrod Taylor.
Tyrod was originally drafted by the Ravens in the sixth round of the 2011 NFL Draft, and served as the backup to starting quarterback Joe Flacco.
That year, 2011, the Ravens advanced to the playoffs as the Number 2 seed in the AFC with a record of 12-4. They were the AFC North Champions over Pittsburgh (12-4) due to a tie breaker.
In the AFC Championship, the Ravens' Lee Evans was stripped of a 14-yard touchdown pass by the Patriots' Sterling Moore with 22 seconds left.
On fourth down in that game, Ravens kicker Billy Cundiff pushed a 32-yard FG attempt wide left, and the Patriots held on to beat the Ravens 23-20, advancing Marsha Brady to Super Bowl XLVI.
The Giants jumped to a 9–0 lead in the first quarter of Super Bowl XLVI before the Patriots scored 17 unanswered points to take a 17–9 lead in the third quarter. But the Giants' defense prevented the Patriots from scoring again, and two consecutive New York field goals chipped away New England's lead, 17–15, late in the third quarter. The Giants capped off an 88-yard drive with RB Ahmad Bradshaw's 6-yard game-winning touchdown with 57 seconds left in the game.
Ahmad Bradshaw (5-10, 217) had been drafted in the seventh round of the 2007 NFL Draft by the New York Giants. He played his college football at Marshall.
Marshall's nickname, the Thundering Herd, originally came from a Zane Grey novel released in 1925, and a silent movie of the same name two years later. It was originally used by The Herald-Dispatch sports editor Carl "Duke" Ridgley, but many other nicknames were suggested over the next thirty years, including Boogercats, Big Green, Green Gobblers, Rams, and Judges. In 1965, students, alums and faculty settled on Thundering Herd in a vote. So glad they didn't pick Boogercats [pun intended].
However, Marshall wasn't first with the nickname. "Thundering Herd" was a moniker first given to North Dakota State athletic teams when the school changed its team names from "Aggies" to "Bison" in 1919 (in fact, the NDSU mascot is still named Thundar).
North Dakota State is the alma mater of Phil Hansen, linemates with Bruce Smith, drafted in the second round, making the 1991 all-rookie team, and playing on three Super Bowl teams. Phil set records with 41 regular-season sacks and 32 pass breakups. He accumulated 61.5 sacks for the Bills and was inducted onto the Buffalo Bills Wall of Fame on September 18, 2011.
NDSU is also where Bob Babich was head coach from 1997-2002. He is currently in his second year in Buffalo as the Bills' Linebackers Coach. Bob's son Bobbyis also in his second year as the Bills' Safeties Coach. Bobby is credited with aiding Micah Hyde to his first-time Pro Bowl selection, as well as Jordan Poyer, the only player in the NFL to have 90+ tackles and 5 INTs.
And, of course… Sean McDermott was a Safety at William & Mary from 1994-1997.
#PerfectCircle
Editor's babble: Love this #PerfectCircle. We are so grateful to Dean Kindig for sharing his vast knowledge of the game with us. I'm still reviewing his list of college TEs to watch this fall! You can (and should!) follow Dean on Twitter @TCBILLS_Astro.