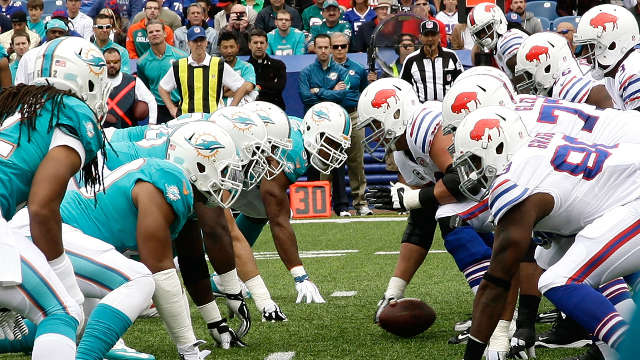 The Buffalo Bills opened up week three's road contest against the Miami Dolphins quickly with an early 25-yard touchdown catch and run by Charles Clay. It was only fitting to start the game off with a little jab from the player Doug Whaley successfully pried away from South Beach and opened up the floodgates for a 41-14 mobbing of the home team.
Greg Roman's offensive game plan was too much for Miami to handle as Tyrod Taylor and his unit executed almost to perfection. Rex Ryan's defense got back to its mischievous ways wreaking havoc on Ryan Tannehill throughout the game. Overall it was a terrific team effort and as you probably can guess I handed out A's like candy on Halloween.
Tyrod Taylor: Buffalo's starting quarterback bounced back against the Dolphins with a sharp and efficient performance in his first road NFL start. Taylor had the offense humming as he tossed the ball all over the field, completing 21-29 passes to seven different players for 277 yards, three touchdowns and no turnovers.
He looked much more comfortable in the pocket than a week ago and was able to consistently move through his progressions to find the open man. Taylor also did a great job of standing in and making tough throws downfield including this 38-yard dime to Chris Hogan. Miami's vaunted defensive line couldn't bother #5 either as he operated without much resistance for majority of the day. Tyrod aced his first road test. Grade: A+
Jerry Hughes: Jerry was a huge problem for the Dolphins on Sunday as he picked on backup left tackle Jason Fox all game long. Filling in for injured Brandon Albert, Fox made his first career start against Hughes and it was ugly as the defensive end recorded six QB hurries and one hit.
Harassing Dolphins' quarterback Ryan Tannehill was something Buffalo's defense needed to do and #55 provided enough pressure for the whole team. Hughes finished with one tackle and recorded a +5.9 ProFootballFocus grade which was the third-highest in week three. Grade: A+
Marcel Dareus: Mr. Big Stuff returned to All-pro form against the Dolphins as he was clogging up the running lanes when not forcing Tannehill to scramble for his life. Dareus was in the quarterbacks' face throughout the day tallying four QB hurries, four tackles and one sack. It was a beastly showing from #99. Grade: A
Karlos Williams: The rookie running back is responding well to the extra playing time and reached the endzone for the third time in as many career NFL games in week three. Not only did he go virtually untouched on this 41-yard touchdown scamper but Karlos also had his best overall performance as a pro totaling 110 yards on twelve carries for an average of 9.1 per touch.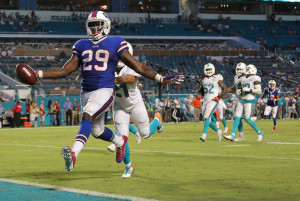 Williams' displayed a great mixture of power, speed and vision that allowed him to dice up Miami's defense in the middle and on the outside. He also showed great patience on a stretch run that predicated on the runner following his blockers outside the numbers. This was Karlos' best game yet and he could be in line for a start in week four against the New York Giants. Grade: A
Ronald Darby: The rookie cornerback continued his stellar play into week three as he put together another lock-down performance against the Dolphins. Darby was thrown at a team-high 11 times by Tannehill but only allowed four receptions for 51 yards and a QB Rating of 13.8. Out of those yards given up only 11 were after the catch as #28 has a knack for limiting big plays.
Overall he recorded five tackles, one pass breakup, one interception and went step-for-step with a Dolphins receiver on a long pass almost picking off another. Besides being in great position, Darby is doing a better job of finding the ball in the air and is making plays because of it. Who would have thought the best player on Buffalo's defense through three games would be a rookie 2nd-rounder? Grade: A
Charles Clay: The high-priced tight end didn't waste any time going to work on his former team and got Buffalo on the board first with a 25-yard touchdown catch and run. He avoided three would-be Miami tacklers on his way to the end zone and immediately reminded Miami of what they're missing (not that they had much of a choice with Clay's huge tender).
Clay grabbed five out of his seven targets for 82 yards and one touchdown and really stood out after the catch in which he racked up 55 yards. His elusiveness and playmaking ability was hyped up upon his arrival to Buffalo and it was on full display in week three. Grade: A-
Richie Incognito's: Returning to play his former team was no sweat for Big Richie as he was easily the best offensive lineman on the field and actually finished with the top grade in the NFL for the position in week three. Clearing holes up the middle and pulling to lead block, Incognito mostly had his way with Miami's defensive line and was getting all fired up about it.
Running back Karlos Williams found room for a couple big gains behind the veteran as run blocking continues to be his major strength. Incognito did give up one of the only QB hits on Tyrod Taylor but three weeks into the 2015 season he's ranked as the best overall guard in the league and has got to be a comeback player of the year candidate, right? Grade: A-
Percy Harvin: The Virginia connection is real as Harvin caught 7 out of 8 targets from Taylor for 66 yards and a handful of first downs. Percy was Tyrod's most-targeted receiver for the second time this season and only narrowly missed on a deep pass that would have went for another six points.
One of the most encouraging aspects of this budding chemistry is their ability to convert on third-down. The YAC monster was virtually unguardable lining up all over the field and served as Tyrod's go-to-guy in moving the chains.
The efficiency these two have displayed so far this season is also remarkable as 16 of Taylor's 18 passing attempt to Harvin have been caught. Expect to see more of this especially if Sammy Watkins misses any time with a calf sprain. Grade: A-
Preston Brown: The second-year linebacker was in the right place at the right time twice in week three as he intercepted two passes with one returned for a touchdown. The first pickoff came on a bobbled ball by Jarvis Landry that basically landed in Brown's lap while his second takeaway was similar but was a direct result of Baccari Rambo's blitz.
The safety came through the line untouched and forced Tannehill to unload the ball quickly which landed right into the waiting arms of #52, who took it the other way for six and a 23-0 lead. Preston finished with four combined tackles and was better than past games in pass coverage allowing only three receptions for thirteen yards. Grade: A-
Kyle Williams: K.W. was all-sorts-of disruptive on Sunday as hurried the quarterback three times while recording two hits and two tackles. He collapsed the pocket on multiple plays along with Dareus and stood out in the pass rush with a +2.6 PFF score. Kyle keeps on trucking and churning out productive performances in his tenth year in the league. Grade: A-
Corey Graham: The starting safety had another busy day on defense racking up a team-high ten tackles while adjusting to his new position. Graham was able to lay some big hits however let up five catches for 69 yards and a touchdown. It's worth noting that most of that damage came while playing in a prevent zone defense during garbage time. The veteran only allowed seven yards after the catch. Grade: B
Bacarri Rambo: Next man up is a mantra successful teams always preach and one that the Bills have recently brought to life with multiple injuries in its defensive secondary. It helps when your General Manager stocks talent/depth on the roster and for the second time this season Bacarri Rambo was that guy.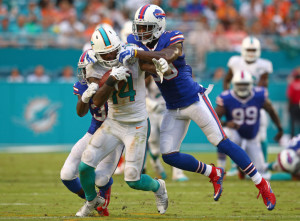 Filling in for starting safety Aaron Williams (neck), Rambo had a solid outing against the Dolphins making plays both against the run and in coverage. His biggest play was a hit on Tannehill on a perfectly timed blitz that led to Preston Brown's interception for a touchdown. Bacarri finished with eight combined tackles and only allowed three of the six passes thrown his way to be completed.
Those plays were limited to only three yards after the catch and he held Tannehill to a QB Rating of 57.6. Aside from accidentally colliding with Darby on two separate occasions it was a good game from the third-year safety. Grade: B
Robert Woods: The third-year receiver continues to snag everything thrown his way as he hauled in four catches for 38 yards on five opportunities. Well over half of those yards (23) came after the catch as Woods continues to be a tough guy to tackle. He's caught nine out of 10 passes thrown his way through the first three games. Grade: B
Eric Wood: The starting center had a solid game as he was fairly unnoticeable going up against Miami's dangerous defensive line. That's always a good thing for offensive linemen as Wood didn't give up any sacks or QB hurries. I also saw him hold off Ndamukong Suh by himself on a play which is a tough thing for any man to do. Buffalo's running backs weren't able to find much room up the middle however which will need to change sooner than later. Grade: B
Mario Williams: Super Mario was quiet in the box score but had a big impact on Sunday's game recording three QB hurries and consistently pushing the pocket. I've noticed on passing plays that when he can't get to the quarterback he's keeping his eyes in the backfield and trying to get in the way or line of vision of the throw. It's only a matter of time until Williams busts out with a multiple-sack performance. Grade: B-
Sammy Watkins: Sammy looked good early on as he reeled in a 39-yard pass from Taylor in tight coverage. Shortly after, the receiver sprained his calf and had to leave the game. With the contest basically out of reach Watkins only played twelve snaps and is currently listed as day-to-day with the injury. Grade: B-
Kraig Urbik: Stepping in for the injured John Miller, Urbik did an admirable job playing 48 out of 65 total snaps and recording a positive PFF grade. Not bad for being thrown into action against a talented defensive line like that of Miami's.
He was slightly better in pass protection than run blocking and is a decent backup lineman when needed. Depending on Miller's groin injury he may be back in the lineup right away. Grade: B-
Stephon Gilmore: Through three games Gilmore has been targeted the most out of anyone in the NFL and versus the Dolphins, Tannehill threw his way six times. Three of those passes were caught for 66 yards and a touchdown with more than half coming on a 46-yard bomb to Rashad Matthews. Gilmore fell down on the play and couldn't recover in time to break up the score.
The cornerback did keep the other two plays to a minimum only allowing two yards after the catch. He finished with one tackle and while you didn't hear his name a lot it was a solid performance from "The Gilly Lock". Grade: B-
LeSean McCoy: Shady's hamstring is noticeably still bothering him as the running back wasn't able to find much room on the ground against Miami. He only finished with 16 rushing yards on 11 carries as he routinely tried to get outside the numbers but couldn't find any room and wasn't able to cut it up. In McCoy's defense the offensive line didn't open up many holes and most of the runs came out of  "pro-sets", which are usually better suited for a bigger, north-south back like Karlos Williams.
LeSean does continue to be a threat in the passing game however as he scored his first touchdown of the year on a 10-yard slant pass from Taylor. It looks like he may sit out this weekend against the New York Giants to try and get 100% healthy which may be the best idea at this point. Grade: C+
Nickell Robey: Nickell played 65 out of the 78 total snaps and recorded five tackles against the Dolphins. That was the best part of the game as the defensive back gave up three receptions on four targets for 37 yards. He allowed 23 of those yards to come after the catch and is currently allowing 70% of the passes thrown his way to be completed. Robey's not quite being torched but he does need to tighten it up as QB's are averaging an NFL Rating of 93.5 when throwing at him. Grade: C+
Seantrel Henderson: The second-year right tackle didn't give up any sacks or hits but allowed one QB pressure and was ranked last out of the entire Bills' offense. Although the grades weren't extremely favorable the running backs were able to run outside and to the right. Henderson benefits from Greg Roman's play-calling and scheme. Grade: C+
John Miller: The rookie right guard suffered a groin injury early in the game and never returned after 17 snaps. During his short appearance Miller blocked decent for the run but still needs to improve his pass protection as he recorded a -1.6 PFF grade in that category. Grade: C
Nigel Bradham: On an overall great day for the defense Bradham struggled in pass coverage technically giving up five receptions on six total targets. Some of it can be attributed to zone defense as those plays went for 41 yards with 36 coming after the catch. Bradham finished with four tackles and has played better games as he recorded a -2.5 PFF Grade against the run. Grade: C