Buffalo Bills offensive tackle Cordy Glenn has been the Bills starting left tackle since he came into the league as a second round draft pick in 2012, but now in his fourth year he is showing signs that he's becoming a liability along the offensive line. His ineffectiveness at times is beginning to hurt the Bills offensive.
Soon after Marcel Dareus was extended there was a debate brewing on which potential free agent the Bills should look to extend next. The question revolves around corner upcoming free agents Stephon Gilmore, linebacker Nigel Bradham and Glenn.
At this point in time it appears that Glenn could be playing himself out of town rather than an extension, unless he can vastly improve his blocking.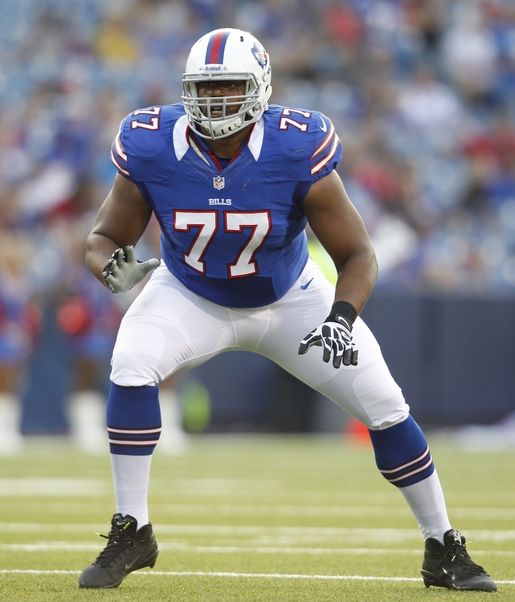 Coming out of college Glenn, a tackle at Georgia, was projected as a guard in the NFL. Many draftniks stated he lacked the lateral quickness to seal the edge against pass rushers and would fit best as a mauling guard. The Bills didn't think that was the case, drafted him in the second round, and inserted Glenn as the starting left tackle immediately as a rookie.
In a mild surprise Glenn played well as a rookie. According to Pro Football Focus he performed admirably in run blocking, and average enough in pass protection.
Entering his second year Glenn made a dramatic leap in play, which is why this regression now in his fourth year is so puzzling. How does a perceived solid left tackle now struggle so much only two years later in his young career?
Trying to answer what's causing the poor play is hard to quantify.
For some perspective I reviewed some data to try to quantify the decline. Per ProFootballFocus.com below is the pass blocking effectiveness for Glenn as ranked against all other tackles in his four seasons:
2015: 96.1/100 (27th best)
2014: 96.1/100 (15th)
2013: 96.2/100 (tied 4th)
2012: 94.4/100 (30th)
The downward trend from his second year could be related to the change in coaching staffs. In the past three years Glenn has had three different offensive line coaches when you count the suspension of Aaron Kromer for the first six games this season, and two different blocking schemes he's had to learn.
But it's not just his pass blocking that has been suffering. It's also been his run blocking.
When you compare long plays, runs for longer than 10 yards, versus negative rushes you see that the Bills have struggled running along the left side of the line the past two years.
The Bills have accumulated 15 rushes for 10+ yards, and given up 16 negative runs the past two years, and 58 positive vs 48 negative in the past four seasons with Glenn at left tackle.
2015: 3 runs 10+ / 4 negative runs
2014: 12 runs 10+ / 12 negative runs
2013: 16 runs 10+ / 24 negative runs
2012: 27 runs 10+ / 8 negative runs
Part of the issue has been the turnstile that has been the left guard position since Andy Levitre left after 2012, but even this year the Bills have had four negative rushes and only three 10+ runs. This despite free agent signee Richie Incognito being the best offensive linemen through the first two games.
It's uncertain if Glenn can improve quickly enough, but if the Bills hope to challenge for a division championship, or at minimum a playoff berth, they are going to need him to do so and quickly.