Professional football players understand the importance of having amnesia when bad things happen on the field of play. They instinctively know that if you dwell on your failures and wallow in self-pity, success becomes much more difficult to achieve.
As fans, after a 15 year playoff drought it would be easy to walk into this season with the "here we go again" mantra ready to roll at the first sign of adversity. We have been conditioned to expect the worst and to squash any 'ludicrous' hope that our team will prevail in any given situation.
Without a doubt, decades of fear have been lifted off our shoulders by the Pegulas when they bought the Buffalo Bills. We finally have a head coach with a pedigree that understands and shares our passion for Western New York (WNY). The team is loaded with talent (albeit still a question at QB), but ready to move on, and eager to flush away its losing ways.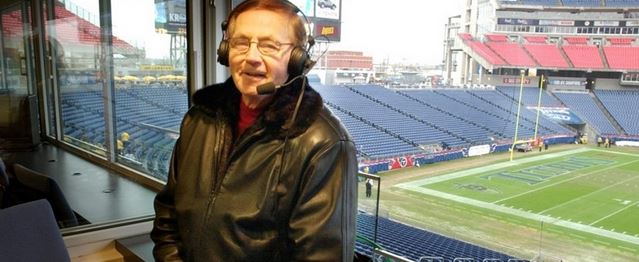 If we didn't endure enough signals that the past is gone, the recent passing of Van Miller certainly provided a gut wrenching reality check in that regard. Like many other fans, when the news came I found myself playing snippets of his voice on the internet and reminiscing about the "good old days".
The fact remains that as Bills fans there were also a lot of "bad old days" along the way, and those are equally as hard to forget. But forget them we must, because if we truly want to move forward with the greatest chance of success for our team, fans should put those memories in their proper place and prepare ourselves for what lies ahead.
It's time for us to do what players do after bad things happen. We have to pick ourselves up, wipe the slate clean and start over again without preconceived notions and expectations of failure at the first sign of adversity.
It's a bad habit we've fallen into after years of irrelevance in the sports world, and one that will rob us of the joy of the journey if we let it. The Buffalo Bills are a metaphor for the entire renaissance occurring in WNY right now. All you have to do to "Billieve" is look at a picture of Canalside and downtown Buffalo on any given day.
Those of us that lived and worked in the city of Buffalo during the 1970s and 1980s look at what is happening in downtown Buffalo and are shocked at how fast things are changing for the better. So if that kind of transformation can happen so quickly in the region, why do we hesitate to believe this football team can win a championship sooner than later?
As Rex Ryan stated when he took the job as head coach of the Bills, "We're ready". So if the players and coaches are ready, it's time we do our part as fans. One of the most important ways we can get ready as fans is to suspend all our preconceived notions about the Buffalo Bills as we've known them.
This isn't Vinny's mother's football team anymore. Get out your copy of the movie "Buffalo 66". Watch it, rejoice in our shared heritage, and then put it away. It's time to mentally step into the present and remind ourselves that was then, this is now.
Nothing that we taught ourselves over the last five-plus decades as Bills fans can prepare us adequately for what lies ahead. The same rules of inevitable failure do not apply. We can no longer rely upon old assumptions to assuage our fear.
It's a brave new world out there, Bills fans. Time for us to embrace it and focus on opening ourselves up to the possibility that this season might really be special and very different from any other Bills season in history.
How about creating our own "training camp" for fans? If we expect the players to cop a new attitude, then perhaps we should do so as well. How do we let go and get over 15 years of failure to make the playoffs?
When the urge to roll your eyes and say "here we go again" strikes, try a thought stopping technique. When trying to extinguish what has become an instinctive reaction, the first thing to do is begin by becoming a better editor of your own thoughts.
An undisciplined mind tends to wander, and often to places that end up being counterproductive. One of the first things to do if you want to change your thinking patterns is to become aware of what they are in the first place.
When it comes to the Bills, it seems prudent to be skeptical that good things will happen on the field when our experience as fans has been anything but good for the last 15 years. Furthermore, many of us have spent the better part of the last three decades fearing the team would be ultimately moved out of Western New York.
Despite the fact that those fears are now the anvil thrown into Lake Erie that Russ Brandon frequently refers to, it takes time to unwind decades of expecting abandonment and failure around every turn. As a fan base, we're not used to things going our way.
So here we are on the precipice of a new era with a shiny new celebrity head coach, new owners committed to all things WNY, and a team ripe with talent and ready to roll. Where are we at with all of this "happy" news as a fan base?
I recently had a twitter exchange with a great guy and lifelong Bills fan about my being excited and "all-in" with optimism about the upcoming season. After years of having his heart ripped out and stomped on, he stated he was waiting for results before leaping aboard the happy train.
I get it. It's understandable for any Bills fan to expect the worst and hope for the best. That's how most of us survived for the last 15 years. However, if the last decade and a half taught me anything, it's that time goes by really fast, especially as one ages.
Marv Levy will celebrate his 90th birthday on Monday, August 3rd. Let that one sink in. It also happens to be the day I will turn 60 years old. Yes, the big 6-0 is a birthday many people dread, but then I've always had a different attitude about aging.
When you spend your entire adult life working with people facing the end of life, it becomes a daily reminder to appreciate every day to its fullest. No matter how bad I felt physically or emotionally, there was always that daily reality check. The people I was privileged to work were kind enough to impart a lot of their wisdom along the way.
Live gratefully, and cherish each day no matter what happens. It is a strong message that gets lost in the 'hassle' of everyday life, but it doesn't have to if you don't let it. One time while I working at Roswell Park during the late 1970s an elderly gentleman (who had been in the hospital for months) offered some words of advice I'll never forget.
I was complaining to a staff member about the Bills losing another close game. He reached out and took my hand as I walked by, and looked me square in the eye and said "you only lose in life when you cease to care about living".
That one sentence stuck with me throughout the years. When the pain and suffering of trying to stay alive is greater than the enjoyment of living, that gives you an entirely different perspective on how to expend your energy. I wised up fast thanks to people like him.
As a fan base, we can choose to demarcate the past, and put it in a nice box on the shelf with a bow. This team has a new owner and head coach. Win or lose, we know the ride will be fun with Rex. And ultimately, enjoying the ride with each other is the best part of being a Bills fan anyway.