Van Miller is what enthusiasm sounds like.  That stays in the present tense.  The illustrious Buffalo Bills play-by-play man may have died after 87 fulfilling years.  But memories and recordings ensure his legacy will continue in perpetuity.  The franchise's narrator adored what he covered in a rousing style that anyone lucky enough to have heard him knows was genuine.  Fortune blessed the Bills with a radio man who depicted athletic maneuvers with the passion and optimism intrinsic to this fan base.  Miller announced like how we felt.
His congenital zeal wasn't just for sports.  Miller's infectiousness was easy to sense when he was off the air.  The appreciation for both the employee and person is universal.  Countless people who worked with him or admired the product have acknowledged his charm, irresistibly corny humor, and relentless energy.  There's no more impossible challenge than finding someone who had an unpleasant encounter with Miller.  Someone who took time for everyone was a perfect ambassador for his occupation and the franchise he described.
It's curious to realize how much we associate one person's voice with a team's performance.  Every play we experience through a broadcast is either partially or completely represented by a vocal component.  That bond is particularly strong for fans who think of Miller's voice as what the Bills sound like.  Painting a moving portrait is the sports caller's goal, and Western New Yorkers were graced with a virtuoso's compositions.  Miller's delivery embodied the frenzied drama that makes football what it is.  You didn't think the game could be enhanced until you heard him detail it.
Assuage grief by commemorating Miller's place on an all-time great roster.  Reflecting upon his passing offers a chance to remember how fortunate Buffalo fans have been with sportscasters.  Ted Darling's steady baritone, Rick Jeanneret's unrelenting excitability, and John Murphy's authoritative narration are fundamental to our libraries of sports flashbacks just like Miller's ebullience.  Characterizing what happens as it happens is a deceptively tricky skill, and we've auspiciously been guided through contests by consummate professionals with personalities to match.
Remembering someone who's departed is easier if he worked in a documented medium.  Thankfully, there's ample access to Miller's output.  We have no better way to remember him than by queueing clips from his storied career.  I personally put on The Comeback, a choice as obvious as it is impeccable, and found myself cheering to the sounds of a decades-old game where I obviously knew the final score.  Miller's calls are like that.  It's a testament to his impact how many Bills Mafia members can recite his definitive lines along with him.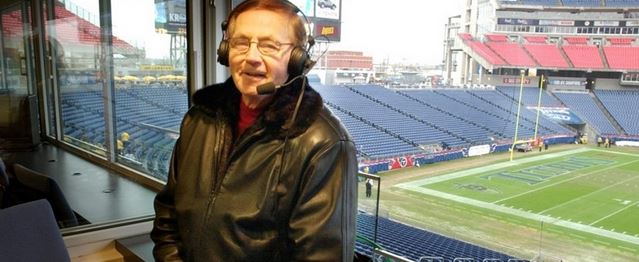 Sunday afternoons were just the start of Van's work week.  Western New Yorkers fondly remember him bringing sports updates nightly on WIVB with the same natural vim he exhibited during games.  Those up early for Saturday morning cartoons may remember coming across him hosting high school quiz show It's Academic while waiting for Spider-Man.  Meanwhile, athletics junkies recall Miller calling the shots for clashes ranging from the NBA Braves to bowling.  True broadcasters are willing to cover anything.  Miller eagerly related the action taking place during whatever contest he was asked.
The reassuring voice was good even when the Bills weren't.  Miller was especially crucial to articulating the fan experience in an era when sellouts were a surprise.  The upside of not being able to watch games on television was hearing him classify them on radio.  Lifted blackouts didn't matter: it was worth putting him on for your ears even when your eyes could follow a game's events.  Many turned to the audio airwaves even when enough fans bought tickets to ensure those at home could watch.  Miller's gracious aural illustrations were a fine complement to the moving image when the national TV yappers were insufferable.  Muting the television was part of the game day ritual.
Miller's words accompany our mental images of so many plays.  As a result, his tone will always be part of the franchise.  Like owner emeritus Ralph Wilson, our booth correspondent's invaluable contributions remain in mind as we move forward.  Death's inevitability doesn't make facing it easier even regarding someone who had a long life packed with achievements.  Reflecting on the pleasant impressions left by a man whose public role made him part of our lives facilitates coping.
Bills backers who will miss the sound of Miller's voice can spare a thought for his wife, children, and grandchildren.  While losing someone we knew through the airwaves hurts, the personal loss is of course especially difficult.  The only comfort may be in knowing Miller enjoyed a long and packed time with us.  The Western New York native did the job he was clearly meant to do, which is as basic as aspirations get.  The instinct to keep the memory of him chronicling the Bills' efforts alive isn't challenging: just watch the clips you already cherish.  Voices disappear when the speaker stops, but replays never have to cease.