Wearing a Union Jack shirt to Ralph Wilson Stadium instead of a Buffalo Bills one is a nice change of pace. At least the color scheme's the same. I was lucky enough to visit town along with the Rolling Stones, as one of us performed for the other. Fans of the ageless rockers discovered it's possible to enjoy thrills in the venue even when Sammy Watkins isn't working.
I hope the 2015 Bills can play as well as Keith Richards.  The universe's greatest band produced a spectacle tangentially reminiscent of the field's main tenant. That inimitable raw guitar sound brings to mind the unruly cacophony of blitzes. Meanwhile, the liberation offered by open tuning offered a preview of pending excitement through utilizing a multitude of offensive skill players. The stars did as they pleased to the delight of ticket-holders, which hopefully happens again starting in fall. Greatest hits are in the air.
The extra-long concert excursion was worth it. Traveling from New York City to Buffalo in order to see a show is not something I ever anticipated when I skipped out of the City of Good Neighbors for a residency in Attitude Land. I'm amused by heading the other way even if it meant hopping on a plane instead of taking a train voyage to East Rutherford. Knowing the world's biggest band skipped Gotham in favor of Pegulaville should make Bills fans smirk. It took long enough, but some are finally learning the state doesn't end at the Hudson.
There was unique merriment for Saturday's crowd in addition to hearing rock's greatest hits live. Attendees at the Ralph were the only ones on the tour blessed to hear combo vocalist Mick Jagger's awesome Rick James impression. And his joke about Tom Brady's hotel room showed that a band in its sixth decade still knows how to connect with any night's audience.
The concert served as a respite in a refuge. It was good to escape New York stinking City just for the reminder that humans can be courteous. Western New York visitors encounter nice things that are unthinkable in Manhattan, like strangers saying "hello" and "thank you." Random sidewalk encounters don't seem dangerous, which is a new and exciting feeling. The aforementioned singer honored the hosting area by remembering a few place names to inspire revelry among residents. I hope nobody minds how I cheered when the scrawny dynamo mentioned both my present and native towns. As has been the case since physically moving across the state, I've been sitting on a fence.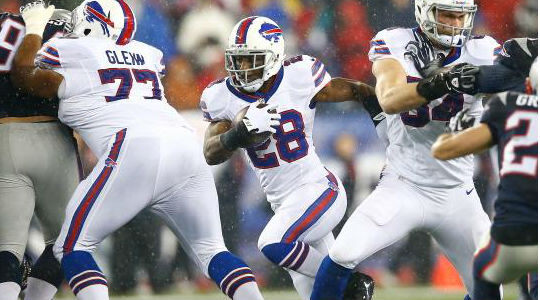 It's natural that the Rolling Stones would play in the home of one of the rebel league's original teams. The bluesy group of Chuck Berry devotees has been imposing their will since 1962, the Bills' first season with a winning record. And we adore both through lineup changes, some of which enhance teamwork. Fans note why Ron Wood's raunchy guitar fits the band better than the technically proficient Mick Taylor as how Fred Jackson embodies the Bills in a way C.J. Spiller didn't despite respective draft status.
This is a trade we can all enjoy. Yanks appreciate Britain sending their most renowned knight to Orchard Park. The Bills can return the favor by dominating the Jaguars in London later this year during the collision type of football. Anticipating the wonderful things a roster could do is common among both music and sports. The marvelous chance to hear songs from Sticky Fingers translates to the surprises Greg Roman has concealed in his schemes.
Like a band whose contemplative ballads set up listeners for rollicking tunes, the layered Bills hope to have a multifaceted offense accompany a fearsome defense. It's time for new precedents of success. Look to the Stones. The impossibly energetic senior citizens who entertained people from miles around didn't just cruise through a nostalgia act: their figurative and literal pyrotechnics were great on their own terms. As for the football equivalent, fans hope this year's Bills can add to the team's accomplishments instead of vainly attempting to mimic them. Lately, glory years have been just a memory to sustain fans through struggling. If you get a chance to see them while they excel, take it, as you'll never know how many more you'll get. As with the glorious musicians in question, we can hope this defensive line will stay together a little longer.
An electrifying night with the ultimate rockers inspires positive thoughts about game action in the same stadium under two months from now. I think the Bills will make it just like these charmingly unkempt British rockers. This pro football seems to be catching on just as much as amplified guitars. Attendees who double as Bills fans now look forward to contests in the stadium with all the thrills and an explosive finish. The unknown is an added source of possible fun. The Stones were predetermined to end with Satisfaction. By contrast, Rex Ryan's performers hope for a satisfying conclusion without a setlist. The Stones set a fine example and didn't even bruise the A-Turf.