Bills fans have been tormented for years by Rex Ryan's game plans while he was head coach for the New York (or New Jersey ;=) ) Jets. It never seemed to matter what the Jets' record was at any given point in time. Rex brought out the very best in his players by moving them around and making it virtually impossible to develop an effective strategy for beating them.
Rex also seems to like using the element of surprise when formulating a game plan. His schemes on defense are heralded for challenging players to not only understand their own role, but to be able to move around and play virtually any position on defense.
That requires not only dedication to understanding the play book, but also the intelligence to be able to implement novel ways of utilizing the unique talent of every player on the team.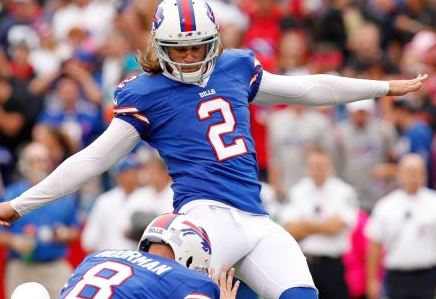 One player who might benefit from Rex's creative game plans is Dan Carpenter. Rex is the king of "thinking outside the box". However, he is also quick to point out that in order to do so, players must understand not only the physical part of the game, but also be mentally able to adjust "on the fly".
Dan Carpenter "fits the BILL" with respect to possessing both the intelligence and ability to block out distraction necessary to successfully implement "gadget" plays.
Kickers need this type of Type "B" personality, because performance anxiety can wreak havoc with consistency.
Furthermore, kickers/punters have highly variable body types. You have the Brian Moorman type of guy, small in stature but extremely athletic. Then there are guys like Colton Schmidt that have legs the size of 100 year old tree trunks. Both types can be equally successful at their position.
Listed at 6'2", 225 Dan Carpenter and looks every bit as solid as one would expect from a player his size. Dan went to high school at Helena, Montana and excelled at not only kicking and punting, but at the wide receiver position. Mr. Carpenter broke a high school record during his senior year at the wide receiver position, racking up 931 receiving yards with 13 touchdowns.
In college at the University of Montana at Missoula, he also passed once for 14 yards, rushed twice for 17 yards and a touchdown, caught one pass for two yards, and made seven solo tackles. His versatility is undeniable, but has yet to be utilized to any significant extent in the NFL.
That might be about to change. Along with Greg Roman and Rex Ryan finding creative ways to score points on offense and defense, don't be surprised if Danny Crossman also finds ways to enlarge Dan Carpenter's role on special teams.
There's clearly enough talent now on special teams that Coach Crossman can begin to expand Carpenter's repertoire if he so chooses. It's not difficult to imagine Dan the "money man" tossing a pass to Percy Harvin in the end zone. In fact, I'd be surprised if it doesn't happen at least once this season.
However, that's not all Dan Carpenter brings to the table. It wouldn't be a 'wyoblog' without 'wyobabble', so let's get to it. I had the chance to watch Dan Carpenter at training camp last season. It was an enlightening experience for several reasons.
Mr. Carpenter "makes rounds" at practice like doctors do in hospitals every day. Everywhere I looked, I saw him interacting with players. Offense, defense, special teams, rookies, he was hanging out with everyone when he wasn't on the field.
He was watching drills, engaging with players and was a joy to watch having fun with his teammates. The man has a quiet leadership style. He tunes in to other people and keeps things light. There seems to be a lot of laughter wherever he goes.
I watched him interact with fans each day with the same enthusiasm. He has "smiling eyes" strike me as someone who engages well with others, and I would guess is probably a very good listener. There is an air of optimism and quiet confidence about him.
That type of authenticity is rarely found with people achieving this level of celebrity status in society today. It was reported last 'Snovember' during the storm of the century that Mr. & Mrs. Carpenter were assisting elderly neighbors and checking in on them. That's part of the "Code of the West" I discuss ad-nauseum here. You get the point. There is kindness in their hearts.
It also doesn't surprise me a bit. When you see pictures of Dan & Kaela Carpenter with their beautiful children, it's obvious these are 'good to the bone' kind of people. Their children are blessed to have them as parents.
As I look at the kind of players that make up this team, an interesting collage begins to emerge. I hesitate to write about it because like many of my fellow Western New Yorkers, I'm an emotionally damaged Bills fan, now hard-wired to expect the worst from our beloved sports teams in Buffalo.
I can no longer deny seeing that picture in my head of the Bills going deep into the playoffs, if this team stays healthy, and there is at least one QB that can perform at an average level. No matter how hard I try to temper my enthusiasm, when I look at what guys like Dan Carpenter brings to the team in terms of intangibles, I get excited about the Bills chances this season.
Furthermore, as Ralph Wilson once said, the one thing you have zero control over is luck. To some extent luck does play a role in how teams win championships. We all know (only too well) about the bad luck the Bills had losing four Super Bowls in a row.
Luck is definitely involved with the development of team chemistry, one of the trickiest essentials to have in abundant supply for any team committed to winning a championship. When we think about team chemistry, it really boils down to making the whole greater than the sum of its parts.
And that is exactly where guys like Dan Carpenter come in. When your team is full of selfless players committed to one another, it seems like good things tend to happen more often. It's rubbing two sticks together. Sooner or later there will be a spontaneous combustion if you keep adding the right amount of oxygen and friction.
This team is loaded with self-actualized individuals. Rex Ryan knows this and will bring even more out of this team than we could ever imagine last season. It seems like it's been five seasons already since St. Doug took his magic carpet ride to Jacksonville.
That quiet confidence and respect Dan Carpenter projects toward others is contagious. He seems to have a unique ability to get people laughing and supporting them in a very quiet but effective way. As much as players like to chastise kickers, this group surely knows they are blessed in that department.
Mr. Carpenter is exactly the kind of kicker you want to have when a championship is on the line and you are kicking from the 47 yard line to win the game. I have every confidence that Rex has something up his tattooed 'sleeve' in the works for Dan Carpenter that will involve scoring points by other means than kicking.