Lots of daylight or not, these are dark times for sports fans who don't enjoy baseball players largely standing still or race cars turning left.  Devotees of America's real pastime are sighing through the time of year when training camp seems exciting.  We can't even look forward to footballers competing for medals next summer in light of disappointing news that it's been rejected as an Olympic sport by enemies of freedom.  A single-elimination 16 team tournament wittt games every five days until gold would be perfect for the world's gridiron fans.  Until our great nation gets to teach the rest of the world a lesson about who's champion, we'll have to feel blessed for wins we can count now.
As eager Buffalo Bills fans anticipate a summer of semi-action on the practice fields, they should recall how fun it is to have something for which to wait.  It's as striking as it is amazing that we can worry about football without wondering which team we would cheer for if our beloved franchise skulked out of town.  Relocation is as far out of mind as Kyle Orton.  Home life stability is a remarkable development considering this team's ultimate address was recently a ceaseless concern.  It's hard to get in the habit of waking up and being pleased for what's there.  But learning gratitude for what didn't happen beats cursing disappointment.
The good and bad news is that it's easy to become accustomed to tranquility.  Being stable to the point of complacency is a potential obstacle for any organization.  But it's a good challenge to perhaps have to encounter in the future.  Besides, the secure Bills show no indication of getting fat and happy.  This club has been pleasantly chaotic when it comes to transactions.  The franchise goes nowhere as the team heads somewhere.  Embracing the absence of something is tricky.  So set a reminder to enjoy the lack of bad news that's followed since a decent couple decided Buffalo's teams would stay where they belong.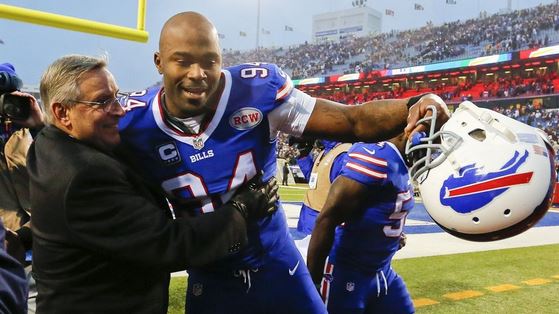 You may have heard about this one family owning both teams.  Everyone's glad to have them as neighbors.  Wonderful humans on their own terms, the Pegulas look even more so by comparison to some previous big shot Buffalo sports figures.  It's not exactly hard to top present federal prison inmate John Rigas, who couldn't keep his fingers out of the till even when he owned the store.  When things become tough in the present, bring to mind how much worse they were in the past.
As for a non-felonious erstwhile Buffalo owner, it's easy to complain how Tom Golisano let assets slip through his hands in a manner that wouldn't have enabled him to buy a pro sports team if applied at his payroll business.  Whatever happened before, it's nice having to convince a boss to spend judiciously.  We'd be proud of the incumbents even if they weren't following up a criminal or savior who nonetheless oversaw decline with their hockey side.  The Pegulas faced a different issue with their football team, as Ralph Wilson's Bills often tended toward complacency.  We can honor all he did while praising who's running the show now.
Fans are not supposed to spend every moment worrying about beating Oakland to Los Angeles.  It's a joy to not be doing so.  We can instead worry about whether consistent domination at most positions can overcome spottiness at quarterback.  Focus on personnel improvements shows how existence isn't enough.  There has to be more to sports than being grateful to have a side to support no matter how fulfilling it is to have that fundamental issue addressed.  Sliced bread for every meal might get you through the day, but just ensuring you consume energy is no substitute some protein and deep-frying.  The Bills are no longer a sustenance franchise.
Lucky stationary teams just have to avoid getting too comfortable sitting in place.  Genuflecting upon hearing Uncle Terry's name doesn't mean blind endorsement.  Bills backers were often made to feel as if they should be glad to have a team.  Lowered expectations have resulted in averaging under six and a half wins per season since the last playoff appearance, even with sharing and employee cost restrictions that purportedly aid small markets.  They've often fielded teams that made it seem like we were supposed be happy the field wasn't empty.  But the meek attitude is being left behind as the Pegulas try to make the market larger.  Their interest in improving the entire area code makes it even easier to appreciate what they've done.  The removal of a looming job transfer threat will improve anyone's performance.