There's still over a month to go until the Buffalo Bills' players and coaches reconvene for training camp, so naturally we're looking towards the future. Beyond all of the interesting positional battles that will take place this summer at St. John Fisher College, the Bills regular season has some intriguing storylines as well.
Buffalo has an average-to favorable overall schedule with their Strength of Schedule ranked No. 19 among the league, but the early road is tough. From trying to take out young gunslinger Andrew Luck, to a potential matchup with a Brady-less New England Patriots to Rex Ryan's Big Apple return, there will be no shortage of excitement.
Here are 17 (or more) facts about your 2015 Buffalo Bills Schedule:
Indianapolis Colts Week 1
Buffalo starts off the season trying to even up its 0-1 win-loss record against star quarterback Andrew Luck at Ralph Wilson Stadium. While the atmosphere is sure to be electric on game day, the Bills will be trying to kick the Rex Ryan era off with a win despite the one-game suspension of stud defensive tackle Marcell Dareus, who is no easy guy to replace.
Aside from blitzing the hell out of Luck, Buffalo just needs to beat an Indianapolis Colts squad that has taken eight out of the last ten meetings between these two teams. An intriguing development could transpire with Colts' wide receiver Duron Carter, son of HOF Minnesota Viking Chris Carter, potentially making his NFL debut week one against the Bills. Also, Percy Harvin, LeSean McCoy, Charles Clay and all the new toys should be on display, well worth the price of admission.
New England Patriots Week 2
Did you know that Tom Brady has only missed two starts against the Bills in the last 14 years?!? That's probably a big reason Buffalo is 3-25 against the Patriots since he took over as the starter in 2001. Depressing numbers I know, but with Brady's four-game suspension intact as of now, there's a real chance he misses this game. I know plenty of people want the Patriots at full strength, but any advantage that increases the chances of a win is welcomed, as they are hard to come by in the NFL.
Former Bills' tight end Scott Chandler also makes his return to Orchard Park for the first time since being released by Buffalo and signing with New England. I'm sure the 13th man will shower Chandler with mostly good cheers, until kickoff at least.
Miami Dolphins Week 3
Current Bills' and former Dolphins tight end Charles Clay will make his first trip back to Miami here he spent the first four seasons of his career. The Bills are 4-6 in its last ten trips to Sun Life Stadium in Miami as well.
New York Giants Week 4 
Two top WR's from the 2014 NFL Draft class Odell Beckham Jr. and Sammy Watkins square off in this week 4 match up at the Ralph. The Giants whipped the Bills 38-21 last time they visited Buffalo in 2007.
Did you also know Giants' head coach Tom Coughlin is an Upstate New York native? Probably, but the former Rochester Institute of Technology head coach is well aware of the raucous environment he and his team will be entering in week 5. Additionally, any game against Big Blue is a big battle of the Empire State, even though we all know the Bills are really New York's only team
Tennessee Titans Week 5
The Bills may get an early look at Marcus Mariota, who would be the first in a long line of quarterbacks Buffalo will face this season who were selected as one of the top two picks in their NFL Draft Classes. It will also be a reunion for former S Da'Norris Searcy and guard Adam Levitre, who earned a nice big check in free agency from the Titans after performing well for the Bills.
Additionally, Buffalo has lost FIVE games in a row to Tennessee and hasn't beaten them at home since 1994, which includes the Music City forward lateral. That is unacceptable, especially when playing a team like the Titans that haven't been very good lately. It can't be said enough that the Bills need to beat teams like this in order to snap its 15-year playoff drought.
Cincinnati Bengals Week 6
The last time Buffalo visited Cincinnati at Paul Brown Stadium, Andy Dalton led the Bengals to a 23-20 fourth-quarter comeback victory over the Bills. Although the Bills have lost the last two match ups to the Bengals, the team won TEN games in a row vs. Cincy before this recent losing streak.
This will be a big test to see if Buffalo is ready to take that next step by beating some mid-tier teams it has given away games to in the recent past.
Jacksonville Jaguars Week 7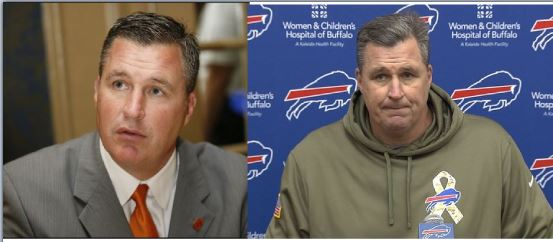 Upstate New Yorkers will get a small taste of what it's like to be a Bills' fan living on the West Coast when the team squares off against the Jacksonville Jaguars in London. The game is set to start at 9:30am Eastern Time, which means an even longer football Sunday for NFL die-hards and fantasy team owners. It's probably going to be a first for most Bills fans' and honestly sounds like an awesome day.
Oh, and that coach Doug Marrone and his crew will be on the other sidelines as well.
Miami Dolphins Week 9
After being out of football for more than a year, Offensive guard Richie Incognito will be facing his former team fairly early in the year and has a tough assignment on game day. It'll be interesting to see how he performs against newly-acquired Ndamukong Suh and the revamped front four of Miami.
Even though Dolphins' quarterback Ryan Tannehill makes a ton of money and Buffalo has a revamped offense, the main attraction is these two defensive lines. On paper both are top 5 in the NFL and it will be interesting to see how the offensive lines will try to slow them down. Both quarterbacks should be in for a long day.
New York Jets Week 10
Rex Ryan makes his first return to the Meadowlands Stadium since being fired by the Jets at the end of last season. He didn't all-out rip the organization that gave him his first head coaching job back in 2009, but also didn't leave on the best terms either. Ryan has already brought over multiple coaches and recruited a few players like linebacker David Harris and running back Bilal Powell, who ultimately stayed in New York.
The strained relationship with that organization along with the guys that did follow Rex over and the verbal sparring with Jets' tight end Jace Amaro, and we've got ourselves a juicy matchup. I can't wait to hear New Jersey fans' when Rexy takes the field.
New England Patriots Week 11
The Patriots should be at full strength when the Bills visit Foxboro, MA in week 11. As a head coach, Rex has a 4-8 record against Bill Belichick and has actually never beaten the Patriots at Gillette Stadium during the regular season (he did score a playoff victory in 2011). I'm sure Ryan is fully aware of this and will have the Bills looking to beat New England at home for the second consecutive year.
Kansas City Chiefs Week 12
Third time's a charm? Buffalo has lost the last two matchups against the Kansas City Chiefs, despite outplaying them each time. From backup quarterback Jeff Tuel's pick-six in 2013 to Bryce Brown's fumble and Kyle Orton's inability to complete a pass inside the ten-yard line last year, the Bills hope to fare better on the third try in three seasons.
The last time Buffalo visited Arrowhead stadium in 2011, it ended with a 41-7 drubbing of the home team. Let's hope for a similar result.
Houston Texans Week 13
Make no mistake, this is a revenge game. Last year's loss at Houston left all Bills fans' and probably some player's feeling sick, especially when the game plan revolved around 48 passing attempts by E.J. Manuel. This time the offensive attack will be much different and while the Texans, led by J.J. Watt are a formidable matchup, Buffalo could take a step forward in proving they are a legitimate contender by taking care of business at home.
It's worth noting that Buffalo will be trying to end a current four-game losing streak against the Texans, who will be without future HOF wide receiver Andre Johnson for the first time in over a decade.
 Philadelphia Eagles Week 14
Anytime a superstar player grows up to play college and professional football in one area and then is traded away in the middle of his career, the homecoming is going to be a big deal. LeSean McCoy won't have to wait all that long before heading back to Philadelphia to face the Eagles with his new team.
It will be fun to hear how the notorious Philly fans react to a guy they adored for six years rocking a completely different shade with Buffalo. Additionally, because these teams only play every four years, you'll have to go all the way back to 1996 for the last time the Bills beat the Eagles in Philadelphia.
Washington Redskins Week 15
The Bills try to make it seven in a row against Washington when they visit FedEx field in Week 15. That is impressive but what's even cooler is the fact that Buffalo hasn't lost to Washington since the "Hogs" edged out Jim Kelly and the crew in Super Bowl XXVI.
Another interesting story is backup safety Bacarri Rambo and his potential return to a place where he earned the starting job in his rookie year. Since then Rambo was released and picked up by Buffalo just in time to help the team defeat the green Bay Packers last season. Rambo is on the bubble to make this year's roster but it'd be nice to see him show up his former team if he makes the trip.
Dallas Cowboys Week 16
It's been over two decades, 21 years to be exact since the Bills have beaten the Cowboys. That's a long time and the last game these two teams played at Ralph Wilson Stadium, a Monday night primetime contest; it was a roller coaster of emotions. It started with egging the Cowboys team bus when it pulled into the stadium, transitioned into an electric start and big lead for the home team and culminated in heartbreak and another game given away by Buffalo.
A late December matchup outside of Jerry World, where Dallas may have to rely more on its running game will be a good chance for the Bills to snap the 21-year Cowboys-beating drought.
 New York Jets Week 17
The Bills get to wrap its season up against the Jets at home in week 17. By this time of the year, you may get a look at either Ryan Fitzpatrick or Bryce Petty, both current quarterbacks behind Geno Smith on the Jets' depth chart. Petty was a popular topic of conversation in Buffalo around draft time while Fitzy was "the guy" for the Bills for all of about half a season. Not a bad way to wrap up the regular season.
One more interesting fact about the 2015 Buffalo Bills schedule is all of the top-drafted quarterbacks the team will be facing. There are four former number one overall picks in Eli Manning, Alex Smith, Sam Bradford and Andrew Luck and two number two overall picks in Robert Griffin III and Marcus Mariota with Blake Bortles being the third overall selection in the 2014 NFL Draft rounding out Buffalo's schedule. Is it September yet?!