The Buffalo Bills' offensive line was a disaster in 2014, and was largely to blame for the team's inconsistent quarterback play. Doug Marrone started four separate players at guard (Chris Williams, Cyril Richardson, Kraig Urbik at LG with Erik Pears at RG) which led to inconsistent play and stunted the ability of the unit to gel with one another. The team's second-round pick, a physically gifted, but raw tackle in Cyrus Kouandjio, didn't see the field during his rookie year after he was beat out by seventh-rounder Seantrel Henderson for the starting right tackle position.
Heading into the 2015 season expectations are high, as Greg Roman's run-first offensive mentality relies on a man/gap blocking scheme that suits the skill sets of the Bills' offensive linemen than the zone scheme that Marrone operated over the course of the past two years.
Cordy Glenn, who's set to become an unrestricted free agent following the 2015 season, performed adequately over the last three years in primarily zone-based schemes, but his size, physicality and skill set make him an ideal tackle for Roman's offense.
The Run-Down on Cordy Glenn
Cordy Glenn is a massive athlete (6'6" 345-pounds) so naturally, fans, coaches and media have been trying to pencil him in at guard everywhere he's been. At the University of Georgia, Glenn ranks 1st All-Time in starts among offensive linemen with 50. His first three years with the Bulldogs he made 36 starts at guard, where he earned Freshman All-American and All-American Honors, before making the switch to left tackle for his senior season in 2011. As a senior, Glenn was named a team-captain and started all 14 games, earning First-Team All-SEC and Third-Team All-American Honors.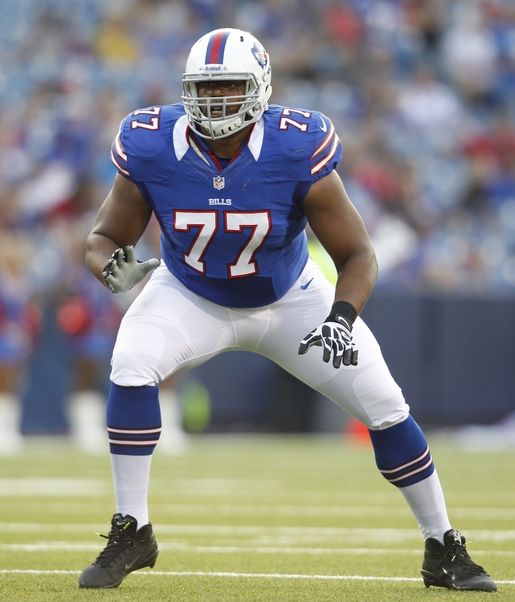 Even after a dominant outing at the Senior Bowl, leading up to the draft there was still questions surrounding whether he was a tackle or a guard. Bills' then-General Manager Buddy Nix made his love for Glenn widely known, and selected his target with the No. 41 overall pick in the 2012 NFL Draft.
At left tackle, Glenn has been the Bills' most consistent offensive linemen over the course of the last three years. After a near-dominant sophomore campaign in 2013, in which ProFootballFocus (Subscription Required) ranked him as the No. 13 tackle in the league, after grading out with a final score of +19.6 after allowing just two sacks, five QB hits and 23 QB hurries.
In 2014, Glenn still graded out positively (+6.5) but fell to the No. 26 tackle per PFF's grading metrics. He surrendered eight sacks, allowed four QB hits and 18 QB hurries. Now, the sack totals are obviously a concern, but when you consider the fact that he played next to three separate players throughout the course of the year, some slack has to be cut. https://t.co/IfEHFvgcFl
Before I'd start making excuses for any player, I like to go back and watch NFL Game Rewind's All-22 footage to determinate what the primary issues were.
Glenn most certainly had his fair share of struggles last year, but I don't think his play regressed as significantly as some would have you think.
We all know about the clichéd "Blindside" label handed to left tackles, as legend would have it that these honorary Blind-side protectors are responsible for keeping the quarterback up-right, while ensuring that the opposing right defensive edge rusher isn't allowed into the backfield. The emphasis placed on this senseless "blindside" label has made it seem like the other four linemen don't matter, as the competition they face is weaker than that of the left tackle.
Tell that to Byron Bell, right tackle of the Carolina Panthers who was abused to the tune of five sacks at the hands of a Mr. Mario Williams in 2013. Before I keep rambling, the point I'm trying to make is that an offensive line—while being a unit that starts five—needs to work as one in order to be effective. You can have two All-Pro bookend tackles, but if the interior is weak (see: Brown, Colin, Legursky, Doug, Pears, Erik, etc.) things can fall apart.
Now on to Glenn.
Pass Protection
Cordy Glenn doesn't have the natural athleticism of a Jason Peters or a Tyron Smith, but he's got quick feet and a strong base that allow him to match up well with just about any edge rusher you put him up against. He's a tough player that will consistently use his size and length to his advantage, creating distance between himself and the defender and sinking his hips to prevent any backwards movement.
He's got enough lateral quickness to mirror his defender as well, as shown in the following rep against Greg Hardy, one of the premier edge defenders in the league.
Glenn shows good awareness in pressure situations, knowing his surroundings and is mindful of potential blitzers. In the following rep, Glenn maintains his block down the line with his man, but as a blitzer comes around him, he's able to release off the block and deliver a punch that allows his quarterback to get the ball out.
As you can see, Glenn wins by using his size, intelligence and power. He'll struggle when he doesn't have the opportunity to use his power or size, particularly when defending smaller speed rushers. He'll get beat by inside moves at times, because once he gets out wide in his pass set, he doesn't have the agility to recover when a defender is crossing his face.
These struggles hold true when defenders align outside the traditional "seven technique" base defensive end position. Miami Dolphins defensive end Olivier Vernon realized this last year and terrorized Glenn in the second half of the Thursday Night Football game, lining up at the "nine technique," outside the tight end's shoulder. This "Wide 9" as Jim Schwartz calls it, forces the tackle to play in space-on an island. As you see in the next clip, Glenn keeps pace with Vernon in his pass set but his pad level gets too high and he can't maintain his balance. Vernon delivers a quick move and beats him for a sack.
Run Blocking
Cordy Glenn is a powerful tackle that can bulldoze defensive linemen in the run game. He's got incredible strength and once he gets moving downhill, he's a tough man to immobilize. In the following rep against the Dolphins, Glenn fires off the snap and blocks down before assisting Kraig Urbik in knocking three defenders to the ground.
Greg Roman's offense will run a lot of whams, counters and traps, which will ask Glenn to block down on a defender and clear out running lanes. In the following clip, it's clear that Glenn is up to that task.
Much like his pass protection, Glenn wins with his length, power and technique. Here, the Bills are running a misdirection to the right side of the formation. Glenn engages with Greg Hardy upon the snap and immediately gets his hands inside Hardy's chest. This gives Glenn leverage and from there he's in control, walking Hardy completely out of the play.
Final Thoughts
Cordy Glenn is a quality offensive tackle that isn't a liability in pass protection and can be dominant at times in the run game. While there's been rumors floating that the Bills' new coaching staff may see Glenn as a swing tackle or reserve behind Seantrel Henderson at left tackle, I find that hard to imagine. Glenn may not be a top-five tackle in the NFL, but he's reliable and performs at an above-average level each week.
If Henderson does manage to take Glenn's spot on the left side of the line, I truly believe it will have more to do with Glenn's free agent status, than an indictment of his play.