Quality depth in the NFL is hard to come by, as Buffalo Bills fans have grown to realize throughout the 21st century, but it's a necessary component of any contending roster. Prior to this season, the Bills have fielded some talented rosters at first glance, but quality has often transformed into disaster, due to injuries at crucial positions.
CBSSports.com's NFL Insider, Pat Kirwan, developed a list of 12 questions that he believes every team looking towards the playoffs must answer if they have any real chance to emerge as contenders.
Here at BillsMafia.com, I decided to try and answer these questions, to determine if the Bills are on the right track. Obviously, training camp will provide more concrete answers, but for now, let's see how the Bills' roster fares!
Does your team have a real swing offensive tackle, a guy that can play left or right tackle and has experience?
Kind of. The Bills have a solid left tackle in Cordy Glenn to go along with an up-and-coming player in Seantrel Henderson, who started all 16 games of his rookie season at right tackle. The team has been giving Henderson reps at left tackle, while his fellow 2014 draft-mate, second-round pick Cyrus Kouandjio has been improving at right tackle. While they don't have a swing tackle with experience, Kouandjio could wind up being that guy.
Does your team have a solid inside offensive lineman that can play guard or center?
Yes. Following the signing of Richie Incognito and the selection of John Miller, the Bills believe they have two starters at guard to play alongside center Eric Wood. Kraig Urbik is a decent guard and has experience at center, so he'll provide value to the 46-man gameday roster.
Is there a quality second running back that can deliver a 100-yard rushing day if he had to start?
Yes. The Bills' backfield featured Fred Jackson, Boobie Dixon and Bryce Brown heading into the 2015 offseason, which is a respectable group on its own. Then, the team traded for LeSean McCoy, a superstar back who's made multiple Pro Bowl appearances and was a two-time All-Pro. In the draft, the Bills dipped in the pot again, selecting Karlos Williams, a big, strong and fast safety-turned-running back out of Florida State. Without a proven quarterback, the Bills know they'll need to run the ball in order to win this year, so they've made sure they have the necessary depth in case of an injury.
Is there a good second tight end on the roster?
Not yet. The Bills went out and signed Charles Clay to a lucrative contract in free agency and drafted the Mackey Award winning Tight End, Nick O'Leary in the sixth-round of the 2015 NFL Draft out of Florida State. Those two will join Chris Gragg, Marquies Gray, Clay Burton and Chris Manhertz—who's never played organized football in his life—at the tight end position. Aside from Clay, Buffalo's tight ends have a combined 11 total NFL starts. It's a wide open battle in camp, as Greg Roman's offense will feature a large amount of multiple tight end sets.
Can the third wide receiver step up and start in the two-WR packages if a starter went down?
Yes. The Bills may have the most explosive receiving corps in the National Football League. Sammy Watkins and Robert Woods are the two "starters," but free agent addition Percy Harvin should have a significant role within the offense. Chris Hogan proved to be a productive and reliable slot receiver last season, while Marquise Goodwin and rookie Dezmin Lewis each bring unique traits to the position.
Does your team have a designated pass-rush specialist who could play the early downs if need be?
Yes. Mario Williams and Jerry Hughes are a ferocious pass rushing duo, but both are stout against the run. Behind them is Manny Lawson, who can provide some pass rush and is one of the better run defenders in the league. The team also has two projects in Randell Johnson and Michael Buchanan that Rex Ryan will look to carve out roles for.
Is there a third defensive tackle that not only plays in a rotation but could play the whole game if need be?
Maybe. With Marcell Dareus missing the season opener due to a suspension, this question will need to be answered. Rex Ryan stated that Corbin Bryant would likely be the starter if a game were "tomorrow," but when Dareus went down with an injury against the Raiders last year, the team got gashed on the ground. There's an intriguing player in Stefan Charles, who's flashed in his limited playing time and Alex Carrington was also brought back after spending 2014 with the St. Louis Rams.
Is there a quality nickel corner on the roster, since most teams are at least 50 percent sub defenses?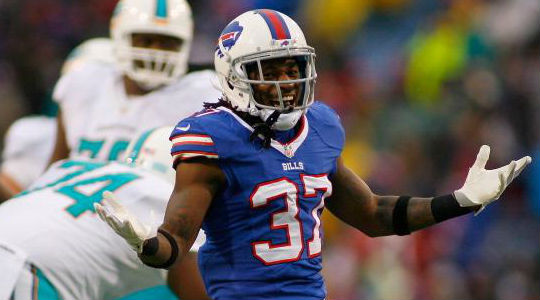 Yes. The Bills probably have one of the deeper cornerback groups in the league. With Stephon Gilmore and Leodis McKelvin defending the boundaries, Corey Graham and Nickell Robey have each proven that they can defend the slot. Rookie second-round pick Ronald Darby is working exclusively outside, but has the skillset to play inside if needed, and last year's fourth-round pick Ross Cockrell also fits better as a slot defender.
Is there a fourth corner for dime packages?
Yes. Corey Graham is seeing time at safety, but due to his plus man-cover skills, it's likely that he'd be the fourth cornerback in dime packages, with Duke Williams and Aaron Williams holding down the safety spots.
Is there a third safety for big nickel defenses?
Yes. I've already mentioned Aaron and Duke Williams, along with Corey Graham, but the Bills also have two young, but talented safeties in Kenny Ladler and Baccari Rambo. Rambo picked off Aaron Rodgers twice in his Bills' debut last year, and Ladler is your prototypical "box" safety that can defend the run.
Is there a return specialist that can either handle both punt and kick returns or contribute as a real position player?
Yes. The Bills have speed everywhere. Percy Harvin has racked up over 4,000 kick return yards and scored five touchdowns, averaging 27.3 yards-per-return while also playing wide receiver at a high level. Marquise Goodwin, Leodis McKelvin, Ronald Darby and Karlos Williams all have return experience as well.
Does your team have a special-teams linebacker that leads the specials and can play inside linebacker in a pinch?
Yes. Ty Powell recorded 5 special teams tackles last year, which was tied for the 4th-most on the team. At linebacker, he recorded 14 tackles and a sack in 46 defensive snaps. During OTA's he's drawn rave reviews from head coach Rex Ryan, who made a point to say that he made four interceptions during workouts.