The Buffalo Bills have went through a dramatic franchise overhaul over the last calendar year. At this time last summer, fans were anxiously watching the Pegula's vs. Bon Jovi vs. Donald Trump battle to be the new team owner. Doug Marrone's offensive line would help build upon the No. 2 rushing attack in the league from the prior season.
By now, we all know how things unfolded. But the hiring of the outspoken, enigmatic Rex Ryan as the team's new head coach, combined with the high-profile acquisitions of high-profile players such as LeSean McCoy, Percy Harvin, Charles Clay and Richie Incognito now has the national media keeping a close eye on a team that has now gone 15 seasons without a playoff appearance.
Doug Whaley has done a fantastic job putting together the current Bills' roster—acquiring quality players through the draft, building depth with reserves and key role players, in his short time as GM. Whaley comes from the Pittsburgh Steelers' school of thought, where the team saw success due to a strong rushing attack and a dominant defense. Drafting and having the patience to allow those players to develop gave the team flexibility, as most future free agents already had a young backup being groomed behind him, just in case.
This philosophy meshes with those of Rex Ryan, who watched Ozzie Newsome build a similar powerhouse to that of the Steelers during his time with the Baltimore Ravens. At Stanford and San Francisco, Offensive Coordinator Greg Roman's offenses have been run-first, ball control teams that were built primarily through the draft.  Therefore, it's quite clear that the men calling the shots in Buffalo all share similar visions in how they believe a roster should be constructed.
Now that the Bills have legitimate competition at nearly every position, there are several players who will need to step up in order to prove themselves worthy of making the 2015 Bills' final roster. Some players need to prove they can play in the NFL, while others need to prove that their ability justifies their compensation.
No. 1-QB EJ Manuel
EJ Manuel is currently the most mysterious man in Orchard Park. The former No. 16 overall pick is entering a make-or-break season after an inconsistent and injury-plagued rookie campaign foreshadowed a 2014 year that lasted just four games before he was benched in favor of Kyle Orton.
Physically, Manuel has all of the tools to be an effective passer in the NFL. However, the mental aspects of the game have caused the most problems and instability in his young career. Manuel, a big, athletic quarterback that showed the ability to make all the throws and extend plays with his legs during his collegiate career, hinted at the fact that the previous coaching staff didn't allow him to be the player he is.
"No doubt," Manuel said when he was asked whether he'd like to return to being a mobile, dual-threat quarterback. "That's what I did naturally in college and I want to get back to that and the overall playmaking ability. Just be myself … get back to who EJ Manuel is as a quarterback."
The best case scenario for everyone, considering draft capital invested in EJ, is that he's able to improve and grow as a quarterback in the way that Alex Smith and Colin Kaepernick experienced during their time with Greg Roman in San Francisco. Many coaches and analysts say it takes about three seasons to tell if a player can truly play at the NFL level, and while Manuel has most certainly shown flashes throughout his limited action, he hasn't done enough to instill confidence as a long-term answer.
With a true fresh start, there should be no more excuses being made for Manuel, who needs to make the most of his new opportunity in training camp.
No. 2- OT Cyrus Kouandjio
The Bills selected Cyrus Kouandjio in the second round of the 2014 NFL Draft with the stated intentions of him taking over for Erik Pears at right tackle by the season opener. Instead, Kouandjio was inactive for 15 games as he worked between both guard and tackle during weekly practices. After an offseason training with LeCharles Bentley's O-Line Academy, the 22-year old appears to have grown into his massive frame and has new Offensive Line Coach Aaron Kromer feeling positive, telling reporters
"Every day a guy either gets better or gets worse, and in his department, most days have been arrow-up days," Roman told reporters after Thursday's Organized Team Activity. we get a tremendous amount of evaluation done this time of year with the offensive line.  Really every position.  But you can tell, you can really tell."
No. 3- WR Marquise Goodwin
A third-round pick in the 2013 NFL Draft, Buffalo Bills' wideout Marquise Goodwin looked like he was primed to be the deep threat that forces opposing defenses to account for the go route at any moment. He caught 17 passes for 283 yards and three scores, averaging 16.6 yards-per-reception as a rookie, adding 351 yards on 16 kick returns as well.
Things changed last season, as he caught just one pass and returned only four kicks. He reportedly clashed with Doug Marrone and the Bills' former coaching staff with the primary reason concerning his nagging injuries. Goodwin was on the Bills' injury report seven times last year, with head, hamstring, ribs and an ankle..  In the team's OTA's, Goodwin spoke about this with reporters, stating,
"I think that was my biggest nemesis," he said. "Staying out of the training room, staying in the weight room more and just being healthy."
The Bills have at least four receivers set in stone with Sammy Watkins, Robert Woods, Percy Harvin and Marcus Easley in the mix. This likely leaves Goodwin to compete with Chris Hogan and rookie Dezmin Lewis to fill out the remaining spots.
Rex Ryan hasn't been shy to rave about Goodwin's speed, but having a similar weapon in Percy Harvin, who's a proven commodity in the league could lower the value Goodwin provides to the team. This summer will be crucial for Goodwin, as he'll have to prove that he can not only stay healthy, but grow and build upon his route tree that's currently limited to go's and crossers.
No. 4- LB/DE Manny Lawson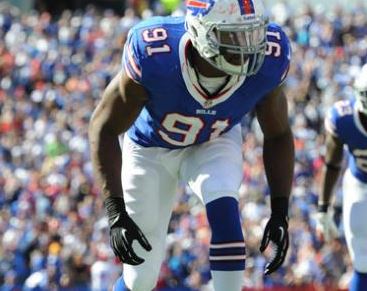 Manny Lawson was a valuable asset for the Bills in 2013, when he split snaps with Jerry Hughes in Mike Pettine's hybrid 3-4 defensive scheme, particularly as the "SAM" linebacker on early downs. Last year under Jim Schwartz, Lawson's snaps declined significantly, as he's a bit of a "tweener" and didn't have a true role within the defense. Lawson is a bit tooo light to play defensive end in a traditional 4-3, but lacks the explosion to be a full-time edge rusher in a traditional 3-4 front.
With the Bills going back to more of a hybrid scheme under Ryan, Lawson should theoretically benefit from the coaching switch. However, Lawson is a 30-year old reserve that's scheduled to earn $3.1 million in 2015 and $3.4 million in 2016. The Bills are tight on salary cap space that's needed to retain core players like Marcell Dareus, Stephon Gilmore, Nigel Bradham and Cordy Glenn.
The team has young unknowns in 2014's seventh-round pick Randell Johnson and recently-signed Michael Buchanan to go along with inside linebackers Nigel Bradham, Preston Brown and Ty Powell, who each have strong-side linebacker skill-sets.
Lawson's value to the Bills comes primarily as a run defender, where he's capable of setting the edge, forcing plays inside and keeping contain against counters and outside zone runs. He's solid when dropping into coverage, but just because he team doesn't have proven "names" behind Mario Williams and Jerry Hughes, it wouldn't come as a surprise if Lawson finds himself on the roster bubble for a younger and less expensive player.