The last time I felt this way about the BuffalonBills my husband told me to put down the crack pipe.
OK, it was really just a pair of tinted sunglasses, but that's beside the point. It's been a long time since this Bills fan has felt genuinely excited about an upcoming NFL season. Long enough to make me wonder if it's for real, or just a sign of early-onset dementia.
Watching Rex Ryan wearing a Buffalo Sabres hat and welcoming Dan Bylsma to Buffalo didn't help assuage that fear that I'm slipping into some sort of altered state of consciousness. I had to watch the video three times before I could assure myself that I wasn't hallucinating. I remain slow in adapting to the sight of Rex Ryan in Bills regalia, let alone sporting Sabres gear. If someone showed me that video two years ago, my jaw would have dropped to the floor. How can it be that in such a short time Buffalo has turned from a place to flee to a sports mecca?
The city of Buffalo has come alive with a burst so intense I can feel it all the way to Wyoming. The waterfront is alive and bringing a powerful sense of pride to the WNY community. Ask any of us old farts that are natives of WNY about whether or not we saw this renaissance coming; if anyone say yes, they're likely fibbing.
There is so much going on that it would be easy to miss the significance of this particular moment in time. A time when a city once left for dead rises up and grabs the attention of the entire world.
It's Buffalo's time to shine, but don't let those bright lights blind you from the reason for the season. Both major league sports teams in Buffalo are poised for success. The Sabres are taking longer to get there, but it's obvious that the lessons learned are applicable for the stewardship of the Buffalo Bills moving forward.
As any who suffered through my 'wyobabble' in the past already know, I often look at things through a unique lens. Those who know me personally might prefer the term 'twisted worldview', and they would probably be right. I do rep crazy.
While the rational among us are thinking about how player 'x' will fit into 'y' scheme, I stumble along doing my own version of "mental reps". The only difference is that mine consist of scrutinizing behavioral patterns.
So, after careful analysis of the paradigm shift taking place at One Bills Drive, I have several observations to offer with respect to how Bills fans might get the most out of their fan-hood at this unique point in time.
First, when approaching a time of great significance in any aspect of life it's important to remember that you will never get that "first" taste of success quite the same the next time around. Ask fans of the Packers, Steelers, and other teams I care not to mention about what it felt like when their beloved teams won the Super Bowl for the first time.
Every fan of a team with multiple championships that I've asked stated that the first time their team won the Super Bowl was the most special. Bills fans had four shots in a row during the 90s "glory days". And four times we were shot down. That emotional trauma is as palpable now for many of us as it was when it actually happened.
When the time comes to hoist that Lombardi over the waterfront, I want to be able to recall every emotion experienced all the way. I want to be able to look back from the day Rex Ryan was hired through the entire period of time it takes to win a championship.
Which brings me to my next observation, and that is with regard to breaking that habitual sense of doom and gloom that inevitably happens to a fan base after their team misses the playoffs for 15 years. I've decided (for me) it's OK to be as pie-in-the-sky as I want to be at this point in life.
It seems reasonable that any Bills fans should be able to go "all-in" with this team now without fear of ridicule. After being the rightful joke of the league for an entire millennium (such as it is), it's understandable that some of us still fight the urge to duck our heads when proclaiming something optimistic about the Buffalo Bills. Losing is in our blood.
It's also important not to wish the summer away while waiting impatiently for the season to start. Let yourself be mesmerized by all the things happening on a day to day basis at One Bills Drive throughout the off season. Summer is too short in WNY as it is, so enjoy every minute of it while it's here. Same for those of us living in Wyoming.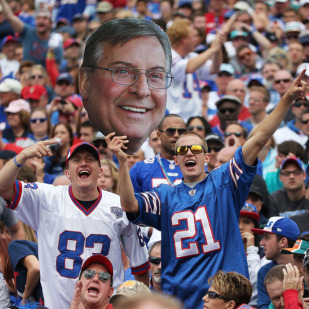 Frankly, it is surprising to see what happens to a franchise when ownership changes after watching football operations unfold for over 50 years with a single owner. Bills fans alive when the team was born have every reason to be shocked by the change in corporate culture. We've never experienced it with respect to the Buffalo Bills.
Finally, no matter what genre you choose, don't forget to document your way through this off season. If it becomes a magical season down the road, you will be glad that you did. It's not just about hoisting the Lombardi, it's about the long road getting there (the journey cliche).
Sometimes you may find yourself making predictions that eventually prove to be true, and it's nice to keep a record of it. The point of all of this dribble is this; don't let this unusual moment in the history of the Bills escape your attention. We are officially transitioning to the next era in the legacy of the Buffalo Bills.
After decades of worry about losing our team to another city, we are finally free to begin a new future as fans of the Buffalo Bills. The transition in ownership for the first time in the more than 50 year legacy of the team is a big deal.
Every assumption you had about what this team will or will not do must be cast aside. Maybe that's why so many of us are intrigued by Tyrod Taylor. He represents our plight as fans; a "no name" guy on a "no name" team with incredible potential and poised to become a star.