Another season that left me wanting more; the 2014 Buffalo Bills showed us glimpses of what we as fans all dreamt of: *PLAYOFFS!?* Not quite. However, it was the team's 1st winning season since 2004.
The Highs:
1) Dominant wins over division rivals (Jets & Dolphins),
2) Showing the league that the team can play with the big boys– winning decisively against the Green Bay Packers, who were widely considered legitimate contenders to win an NFL championship
3) A defense NO ONE wants to face, as the unit has the pieces in place to compete with anyone (ask Aaron Rodgers who came to Orchard Park and posted the lowest QB Rating of his career).
The Lows:
1) With playoffs still in the mix, the Bills went into Oakland and lost to a team that had little to play for but pride, extending the drought for the 15th consecutive year.
2) Inconsistent quarterback play with no clear answer for a franchise still starving for one at the position since the legend Jim Kelly retired.
3) An offensive attack that was executed poorly more often than not, despite adding a lethal weapon in 1st Round pick Sammy Watkins. The offensive line was a disaster, despite signing Chris Williams to a relatively high contract and investing three draft picks on linemen.
The "Shock & Awe" dropped when Doug Marrone decided to roll the dice and opt out of the final year of his contract. In my opinion, he saw Kyle Orton retiring and the lack of a 1st round pick in this year's draft as too much to overcome. The uncertainty surrounding his relationship with owner Terry Pegula and General Manager Doug Whaley, coupled with Pegula's refusal to extend his contract, Marrone felt he needed to distance himself from a situation he didn't see fit to his liking.
While I was not in love with Marrone as a coach, I, along with many fans, convinced ourselves that he was moving this team in the right direction. He's gone and I can stop lying to myself on what I think of him as a coach and a leader. On to greener pastures.
2015 And Beyond
Speaking of greener pastures let's move on to the 2015 season! Or are they greener pastures after all?
The Bills hired an eccentric and outspoken head coach in Rex Ryan. Known to be a players coach, "Speak softly and carry a big stick" is not in Rex's repertoire. He's going to speak with conviction: loudly, with humor and charisma, and try to match his mouth on the field every Sunday (or Thursday.. & even a Monday night this year!) through his players performance.
While wearing that putrid New York Jets' green, Rex was able to rally his team to back-to-back conference championships in his 1st two years as a head coach. Then he went on to have four seasons in which his team did not crack the .500 mark. So, after a monumental start to his head coaching career, he went on a decline that descended into a fiery crash that led to his firing as Head Coach of the Jets this offseason.
Now it's time to play the blame game. Was it Rex who lost touch with the players in his locker room? Or was it a lack of talent afforded to him that led to their fall from what looked to be a promising franchise. The quick answer to me is that he ironically had a similar correspondence with the Jets General Manager & eventually the ownership as Doug Marrone did with, well just about everyone in Buffalo (including his dog after losses).
Rex's players (excluding Jace Amaro) seemed to want to run through a wall for their head coach, no matter what was on the line. Rex would see his prized cornerback Darrelle Revis depart for a warmer scenery. Antonio Cromartie left the other island across from Revis as well, and their replacements didn't quite match up to what their predecessors did.
Rex was left out to dry with a QB situation that dare I say was worse than the one he inherited in Buffalo. He didn't have much to work with on the field and it seemed as though he was losing the benefit of the doubt from the hierarchy in New Jersey.. um.. New York. Coach Ryan has had his share of mismanagement on Sunday's as well. At times, Rex seemed to be oblivious to concept of clock management. He never seemed to get it right in choosing an offensive coordinator. His bread and butter was defense and he put his best foot forward when it came to what was comfortable for him. Will any of this change in Buffalo? He doesn't exactly have a household name under center to fall back on.
Intelligent people take their past decisions and analyze them. They'll take the good and try to leave behind the bad, making a more informed and better decision the next go around if they're given the opportunity to do so. From my account, Rex Ryan dug deep into his heart and accepted his downfalls in New York. He's trying to learn from his mistakes, and get back to what he knows will give him success: establish the run and control the clock, while playing an aggressive brand of defense that pressures opposing passers and capitalizes on turnovers.
He's hired an Offensive Coordinator in Greg Roman, who he worked with during their time with the Baltimore Ravens, that will install the very philosophy that Ryan lives by. The team may wind up requiring only a QB that specializes in handing the ball off to whichever talented running back is lined up behind up him, while simply managing the passing game and limiting turnovers.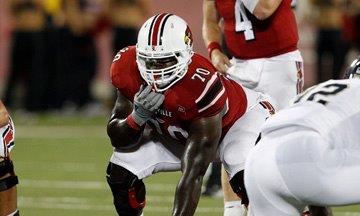 This leads to the next problem: the offensive line. If Buffalo is going to run the football and play good defense, the Bills will need to drastically improve an offensive line that was flat out atrocious in 2014. Rex Ryan said he wants to bully other teams and he stayed true to that statement by bringing in in public enemy No. 1, Richie Incognito. After more than a year off of football will his 31-year old body get back to being a Pro Bowl player on the field?
The Bills also added a monster of a man in the third-round of the 2015 NFL Draft in John Miller out of Louisville. What he lacks in ideal height and athleticism, he makes up for with strength and ability to use his hands to ward off defenders. He could help fill a need at guard- a position in which the Bills have used eight different players over the past two seasons, with all four that played in 2014 ranking lower than 100th of 152 qualifiers, according to ProFootballFocus (Subscription Required.)
The Bills stockpiled offensive lineman in last year's draft as well. Cyrus Kouandjio and Cyril Richardson will need to take a big step forward this year to make the 53-Man Roster, let alone get on the field. While I feel they were mismanaged by Doug Marrone, both players that were once highly touted could find themselves buried on the depth chart in 2015.
Let's hope Aaron Kromer can come in and help these young players flourish in a way the previous coaching regime failed to. It's not only on the coaches however– these young men need to make sure they come into this offseason prepared to play in the big boys league. Seantrel Henderson may end up becoming the most valuable player of last year's draft for the Bills if he is moved over to the left side to man the left tackle position. A young man that had a troubled history kept his nose clean and contributed for the Bills, paying high dividends off his seventh-round selection, starting every game of his rookie season over Kouandjio, the team's second-round pick. Given the chance he may become the anchor to the offensive line and protect whichever QB is under center for years to come, regardless of which side of the offensive line he plays.
When Free Agency was about start, the Bills were caught off guard with a chance to add a dynamic franchise player in LeSean McCoy. His running style is all his own, and is part of what makes him the great player he is in the NFL. Some coaches such as Chip Kelly may not want a player that has his own style of success-which is the reason McCoy was made available despite his elite status.
Add in another trade for Matt Cassel and the Bills have the veteran presence at the position the Front Office had desired, negating the loss of Kyle Orton. Free Agency brought on more offensive talent to fill in Roman's unique offense. Charles Clay, Percy Harvin, and Jerome Felton were brought on board to help relieve pressure off of whoever wins the quarterback competition.
Tyrod Taylor, someone Rex Ryan has admired and even tried to acquire while with the Jets is now in the mix at quarterback as well. His combination of speed, athleticism and arm talent could make for matchup nightmares for defenses. Rex Ryan knows first-hand what a matchup nightmare does to keep defensive coordinators up at night. He has confidence that teams will have to prepare for Taylor whether he plays on Sunday or not. He could be the leading rusher for this team on any given Sunday if that's what the defense presents.
So many possibilities on offense, and we haven't even mentioned the two young talents the team already has on offense in Sammy Watkins and Robert Woods. They have already proven that they can help an offense in a variety of ways- making the tough catch to move the chains on third down, or take a five-yard slant and turn it into an 80-yard touchdown. There's much to consider, but on paper, the 2015 roster should undoubtedly be more potent and dangerous than last year's.
Overall, the Bills have improved their offense on paper and maintained a defense returning 10 out of 11 starters. Props to the Bills seeing the value in re-signing Jerry Hughes as he helps bring continuity and is a strong piece to our dominant defensive front. The defense should only improve under the mastermind behind so many elite defenses of Rex & company. So let's start to talk playoffs and further now right!? Not so fast, we have some more hurdles to jump over.
While the Bills have loaded up on offensive talent and maintained the elite collection of talent on defense, the pieces still have to gel and show up every week. The Bills have a veteran head coach that this group of players will love to line up for every week, but Buffalo wasn't the only team making moves this offseason. The rest of the AFC East participated in the arms race, loading up on talent  to make a run at the inglorious Patriots. Say what you want about the Pats, but every team in the league is looking to emulate the success they've had over this past decade.
Within the division, the Jets re-loaded on defense bringing back the aforementioned "Revis Island" and his compatriot Antonio Cromartie to man each starting cornerback position. They've loaded up the defense, adding to an already talented defensive line with the selection of Leonard Williams with the No. 6 overall pick in the draft and acquired Wide Receiver Brandon Marshall via trade.A familiar face in Chan Gailey was hired to run the offense. He wasn't the best head coach but he knew how to put together an offensive scheme to produce despite the guy playing QB for him.
The Dolphins added some excellent talent at wideout via trade and the draft in Kenny Stills and DeVante Parker, whom I believe could be the best receiver in this crop of 2015 draftees. Ryan Tannehill has only improved every season in the league and could become a household-name by the end of this season. A healthy Jordan Cameron could be the receiving tight end that makes Dolphins fans forget about Charles Clay. Miami also awarded the richest contract for a defensive player in the history of the league, acquiring Ndamukong Suh, a mean defender in the middle of the trenches who can give fits to any interior offensive lineman. The Jets and the Dolphins have kept up in the arms race and aren't making it easy for us to compete with just the Patriots for the AFC East Division title.
I'm confident that our beloved Buffalo Bills will be a better football team across the board. However this statement isn't guaranteeing us wins. The Bills can improve upon the previous season without improving in the most important area: THE WIN COLUMN.
Bills fans, strap in if you haven't already because I feel this season is going to take us for a ride. Contact me on twitter (@TeachMeToWhaley) for more discussion on what I feel our actual record will be.
This column was intended to provide readers with the polar ends to which the season can go. Buffalo can easily go 5-11 as easily as they can go 11-5. I'll let you decide for yourself what you think the final regular season record will be. I will tip my hand a little bit, as I look forward to writing about the Bills playing in January! The NFL is popular for many reasons with parity being one of the most important. We never know for sure what the results are going to be until the final whistle has blown. Here's to hoping for a joyous ride to the playoffs and greener pastures than years past. Go Bills!