The Buffalo Bills' made aggressive moves in the 2015 NFL Free Agency period, while sticking true to their board in the 2015 NFL Draft in order to put together a roster that features legitimate competition for playing time at nearly every position. With the Bills' training camp just over a month away, let's take a look at some of the biggest positional competitions to keep an eye on this summer.
Quarterback
EJ Manuel vs Matt Cassel vs Tyrod Taylor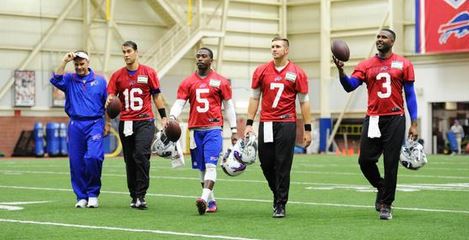 There's no doubt that the quarterback position is the biggest question mark on Buffalo's roster. However, with a new offensive coordinator in Greg Roman who revived Alex Smith's career, while developing Colin Kaepernick into a talented passer, it's not that far-fetched to imagine one of the QBs on the depth chart to step up.
Manuel is the front-runner for the job, as the team needs him to live up to the first-round billing they valued him at in 2013, but Cassel has proven to have "game-manager" qualities- limited turnovers, experience in a pro-style, run-heavy offense, which could provide more assurance for the coaching staff.
Tyrod Taylor is the wild card here, as the athletic dual-threat passer who's spent the last four years backing up Joe Flacco in Baltimore has been impressive in workouts and has Rex Ryan excited.
No. 3 Running Back
Bryce Brown vs Boobie Dixon vs Karlos Williams
Doug Whaley traded a fourth-round pick to the Philadelphia Eagles in order to acquire Bryce Brown last year, but he didn't make the impact he was expected to. Whaley then traded Kiko Alonso for LeSean McCoy, who started ahead of Brown with the Eagles. Rex Ryan made it clear that he wouldn't learn Brown's name "until he learned how to hold the football," a knock on the 'fumbler' label he's acquired.
Boobie Dixon was a core special teamer that made plays on offense when given the opportunity. His 4.1 yards-per-carry average led Bills' running backs. Brown and Dixon will compete with fifth-round pick Karlos Williams, a big (6'1" 230 lbs), physical and explosive back with speed (4.48 40-yard dash).

Williams' experience at safety and special teams with the Seminoles gives him a head-up on Brown, but he'll need to prove that he can learn the nuances running back position (just two years' experience at RB) before he can be trusted on the game-day roster.
Interior Offensive Line
Richie Incognito vs John Miller vs Chris Williams vs Kraig Urbik
The signing of Richie Incognito coupled with the selection of Louisville guard John Miller puts immediate pressure on 2014 free agent signee Chris Williams and Kraig Urbik for both left and right guard spots.
Incognito was blackballed from the league after a bullying scandal during the 2013 season with the Miami Dolphins, but he's a former Pro Bowler with unquestioned talent. The Williams signing was a head-scratcher from the jump, but Doug Whaley appears to have him in mind as a competitor for a starting job. Urbik seems to be the odd man out, starter-wise, as Rex Ryan explained that he's an ideal sixth lineman—one that can backup both guard positions, and center as well. Coincidentally, Urbik has arguably been the Bills' most consistent interior linemen regardless of what the previous coaching staffs had believed. This will be one of the biggest camp battles to watch.
Cornerback
Ronald Darby vs Leodis McKelvin vs Nickell Robey
Everyone knows Rex Ryan loves his cornerbacks, but considering the depth that the Bills had at the position (Stephon Gilmore, Leodis McKelvin, Corey Graham, Nickell Robey, 2014 4th-round pick Ross Cockrell and 2012 4th-round pick Ron Brooks), not many fans were expecting Ronald Darby to be the pick.
Darby stands 5'11" and weighs 195 lbs, possessing world-class speed (4.38 40-yard dash) with the physicality to press opposing receivers at the line of scrimmage despite his lack of bulk. McKelvin had a quietly productive 2014 season before breaking his foot in a Thursday Night Football matchup against the Dolphins. Nickell Robey excelled as an undrafted free agent in the slot with Mike Pettine's 2013 defensive scheme that's rooted in Rex Ryan concepts. Corey Graham has cornerback and safety versatility, but the interesting player to watch is Ross Cockrell, who was drafted in the fourth-round just last season.
The Bills don't just have numbers at the cornerback position, but legitimate talent that should bring the best out in each player, while providing insurance in case of an injury.
Other Battles I'll Be Watching
WR Dez Lewis vs Marquise Goodwin
LB Randell Johnson vs Manny Lawson
DL Stefan Charles vs Alex Carrington vs Jarius Wynn