Ralph Wilson died one year ago today.  The inevitability of losing someone born during World War I didn't make dealing with grief easier.  But what's happened since then with the Buffalo Bills means his most prominent achievement will let us keep him in mind.  Fans have grown accustomed to productive turmoil in the 12 months after the death of an owner who had an amazing 95 years.  Thinking of everything he accomplished while reveling in his team's bright future makes overcoming sorrow possible.
The moment fans dreaded for years seems like it happened both ages ago and yesterday.  Aside from the loss of a gentleman owner, Bills fans were naturally concerned regarding the delicate post-funeral matter of the team's status.  But that apprehension is already a memory.  The franchise is not only staying but thriving in the non-Trump era.  Instead of being content with avoiding relocation, the team is shocking the league through audacious transactions that don't seem Bills-esque.  Who are these brash goons nabbing all the pricey unattached talent they can?
Any change this radical is bound to feel odd, especially when it comes to a team that's tended toward stability.  Wilson was a constant for 820 regular season games.  He lasted long enough to see inflation make his initial $25,000 investment seem relatively minor.  Young punks who scoff at the value of a buck should know that's still the equivalent of close to $200,000 today.  The founder bought into a business presently worth 10 figures with an amount which would get you a decent house today.  I'd go with living in a tent if it came down to choosing a dwelling or a pro football franchise.
Still, joining the Foolish Club only looks wise in retrospect.  It's difficult to imagine what a major risk buying into the AFL was as it happened.  Wilson could've been the failed owner of a team that disappeared after being unable to compete with the senior league.  Instead, he helped his faction thrive and his league gain enough respectability to force a merger.  Now, it's impossible to imagine the NFL without Buffalo.
Fears of the Bills calling Industry home have been cancelled.  The second owners turned nervousness into an opportunity for joyous metamorphosis.  From shocking acquisitions to the quiet confidence new bosses radiate as they make the team their own, the Bills 2.0 have been marked by upheaval in the best way.  They're changing the Bills as the team's home stays the same.  Calling the Pegulas a dream come true seems to understate the limits of aspiration.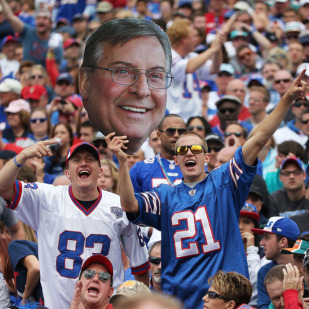 The first next era for the Bills has been better than imagined.  This is what would happen if Willy Wonka started off as a fan of his own candy.  To our delight, this owner acts like the proprietor of a magical chocolate factory.  The quantity and quality of new hires is as mind-blowing as an Everlasting Gobstopper.  Pegula's approach to free agency makes it seem like he's trying to corner the Golden Ticket market, only paired with the decency of Charlie Bucket.  Buffalo's salary situation is like a magical elevator that won't be constrained by a ceiling.
A billionaire using resources for good is like a granted wish.  Cash doesn't only go to the cap anymore.  Fear of spending too much on talent is a fun problem to have.  The suggestion on March 25, 2014 that there would be debate a year later over whether new Bills were overpaid would have been dismissed as lunacy.  But here we are.  Fans presently argue that very point instead of fretting about moving trucks.
The Bills lost someone who can't be replaced.  All they can do is continue moving forward while motivated by eternal gratefulness for what Wilson did.  Supporters can be thankful for everything he brought Buffalo while brimming with excitement about what happens next.  Wilson would be pleased with the progress his franchise has made, and not just because someone else is spending on contracts.
Remembering the uncertainty that enveloped this team a year ago makes appreciating what actually happened even better.  After the mourning period fans had dreaded indefinitely, this past year turned out to be pleasantly tumultuous.  The franchise is secure in a way that almost feels scripted.  It's not a Super Bowl win, but an ownership transition this remarkable counts as an ultimate triumph.
High hopes for the 56th season show the first 54 in Erie County under the initial owner were just the beginning.  Wilson's bequest lives on. He's no longer with us, but his team is.  Knowing the Bills are in the right hands is quite the legacy.