The Buffalo Bills finished the 2014 season with nine wins for the first time since 2004, but it wasn't enough to earn a berth in the NFL Playoffs. While the season was disappointing as a whole, there's a lot to be encouraged by heading into 2015. Here at BillsMafia.com we'll step back and reassess the team's performance by handing out our yearly awards.
Most Valuable Player: DT Marcell Dareus
Heading into the season, Marcell Dareus' future with the team was uncertain. He was arrested twice in the offseason before failing his conditioning test when he arrived at training camp. However, the former No. 3 overall pick in the 2011 NFL Draft put together his most dominant season yet, recording 47 tackles and 10 sacks, the most among defensive tackles.
Dareus emerged as the best run defending defensive tackle in the league by ProFootballFocus' metrics, recording 27 tackles against the run. His 10.5% run stop percentage ranked fourth at his position, while his 32 QB pressures ranked 11th. Dareus' play from the one-technique "nose tackle" spot went unrivaled throughout the league and he was clearly the team's best player throughout the 2014 season.
Least Valuable Player: RG Erik Pears
The Bills' offensive line as a whole was awful this season, but right guard Erik Pears struggled the most. After spending his entire career as a right tackle, Pears was moved inside to right guard, where he graded out as ProFootballFocus' No. 78-ranked guard of 79 qualifiers. He struggled mightily in both pass protection and run blocking, as his 33 total quarterback pressures allowed were the eighth-most at his position. The Bills' run game struggled behind him as well, as running backs averaged just 3.4 yards-per-carry when following his blocks.
Rookie of the Year: WR Sammy Watkins
Say what you will about the cost of moving up to acquire Sammy Watkins in the 2014 NFL Draft, but throughout the season he showed why he was valued so highly by scouts coming out of Clemson. While his 65 receptions were 6th-most among rookie wideouts, it's important to remember that Watkins played through broken ribs for most of the season and had poor quarterback play.
Watkins had four games with over 100 receiving yards, and finished the year with 982 yards and six scores, while averaging 15.1 yards-per-catch.
Best Free Agent Signing: CB Corey Graham
After the Bills' secondary was decimated by injuries in 2013, the team brought in Buffalo-native and veteran Corey Graham to provide depth and versatility. He exceeded expectations, recording 84  tackles, 15 passes defensed and two interceptions, grading out as ProFootballFocus' No. 8 overall cornerback and ranking No. 6 in coverage. He allowed just 47.7% of passes in his direction to be caught (5th lowest) for 344 yards (3rd lowest) and surrendered just one touchdown all season.
Worst Free Agent Signing: LG Chris Williams
Doug Whaley swung and missed when he signed former first-round bust Chris Williams to a four-year, $13.1 million contract that made him the 14th-highest paid left guard on a per-year average. Williams played just three games in 2014, grading out as ProFootballFocus' 91st ranked guard of 98 qualifiers in that span before being placed on Injured Reserve.
Play of the Year: Chris Hogan's 28-yard reception to set up Sammy Watkins Game-Winning TD vs Vikings
Trailing 16-10 with 25-seconds remaining in the Bills' Week 7 matchup against the Minnesota Vikings, Chris Hogan made a fantastic 28-yard reception in a contested situation. Hogan positioned himself in front of the Vikings' cornerback and out-jumped him, making a remarkable catch. The catch put the Bills at the two-yard line, where Kyle Orton hit Sammy Watkins for the game-winning touchdown.
Most Improved Player: LB Nigel Bradham
Nigel Bradham had an up-and-down start to his career after being the team's fourth-round pick in 2012, but he emerged into one of the league's best linebackers in 2014. After serving a one-game suspension, Bradham finished the season with 104 tackles, 2.5 sacks, eight passes defensed, an interception and two forced fumbles while grading out as ProFootballFocus' No. 11 overall 4-3 outside linebacker. Bradham proved himself as a well-rounded defender that can defend the run and provide quality pass coverage. His 27 run stops ranked 10th at his position, while his 6.9 yards-per-catch- allowed average was 2nd best.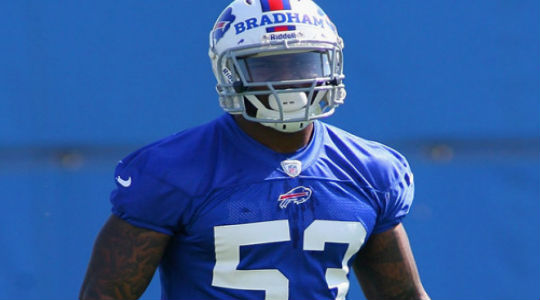 He didn't allow a completion over 19-yards and opposing quarterbacks posted a 72.9 passer rating when targeting him, the 5th lowest total among outside linebackers. Bradham was extremely efficient in coverage, allowing the second fewest receptions-per-coverage snap (one per 11.6 coverage snaps), despite being the second-most targeted linebacker (one per 8.3 coverage snaps). His 0.6 yards-per-coverage snap allowed ranked best at the position, trailing only teammate Preston Brown.