Just when you thought it was safe to 'Billieve', the Bills laid a rotten egg in Oakland that will stick in the craw of Bills fans during the entire off season. Instead of heading into New England with a head of steam and playoff hopes alive, the Bills will once again be "playing for pride".
Bills fans are understandably apoplectic after the spectacular meltdown at Oakland last Sunday. How much more can one fan base take? Understandably, players get frustrated when queried by reporters about how they feel now that this team has let the fans down for a 15 years and counting.
In a recent interview at his locker, Aaron Williams was asked about the playoff drought . His response to the question about fan frustration and anger about missing the playoffs was a classic example of what is wrong with this team's behavioral attitude.
If you watch the interview, pay attention to what Aaron Williams says right after acknowledging that the team has now missed the playoffs for 15 years. He acknowledges the fact, then quickly veers off point with a rhetorical question about people questioning their desire to win because "they do work hard".
That comment made was cringe-worthy for several reasons, first and foremost being that the anger the fan base has about the situation has little to do with questioning their effort. It's not about THEM personally. It's about them taking responsibility for the entire legacy of losing. And yes, they must do so.
In order to conquer this losing mindset, paradigm, or culture (take your pick of terms), the players today must fully embrace the entire legacy of losing. A significant challenge for this team has revolved around finding players that are willing to engage in an empathic understanding of what it means to be lifelong fans of a team that has endured a legacy of losing like no other.
It isn't good enough to have a cursory understanding about the team's losing history. Players today must embrace what that losing legacy feels like, and use it to serve as motivation to succeed when the franchise has so spectacularly and consistently failed to do so for far too long.
Which is the perfect segue to lead a discussion about why every game is meaningful. Like other fans, after picking up my heart off the floor after the Raiders nightmare, I started to wonder what reasons there might be to even watch the last game.
It didn't take long to realize that this game might be a whole lot more important than we realize. Just because the playoffs are once again a distant dream doesn't mean that there aren't critical pieces of information that need to be evaluated in this last game.
Obviously (pun intended), the defense needs only minor tinkering. If Schwartz stays, refinement is all that is necessary. The great sucking sound you hear is coming from the offense, which is truly one of the worst I can remember for quite some time.
I mentioned that Orton looks like he could compete with Gary Marangi for the title of worst QB to ever wear a Bills uniform (and that says a lot). He is even less mobile than Drew "the statue" Bledsoe, and playing behind what is arguably the worst offensive line in Bills history (and there have been some doozies over the last 55 years).
Though Orton may finish with the best record since Bledsoe, temptations to compare them should probably be avoided. Bledsoe was not as timid about throwing the ball down the field. Drew also had talented receivers, but a strong case could be made that this current crop of wide receivers is even more talented.
However, the foundation of the problems on offense involves neither the QB, nor 'skill' positions. It is, without a doubt the offensive line where the stink on this offense starts and stops.
If you haven't read this article, it's the best I've come across that explains why the offensive line is the nidus of the problems that exist on offense.  Please take a moment to read this article because it will frame the rest of the discussion here.
Now that we have established the x's and o's of the deficiencies with the offensive line, it's time to address the other side of the equation with respect to why this offensive line has failed to perform this season. Here's where 'wyobabble' enters the equation.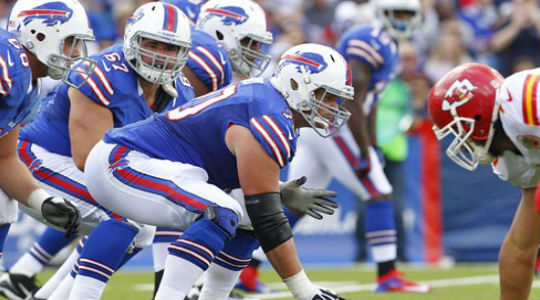 No unit in professional football is uniquely synced to one another like the offensive line. They must perform like synchronized swimmers where every precise movement by one player effects the players next to him. Defensive lines can work this way at times, but it is an absolute must at all times for effective offensive line play.
There are all sorts of physical reasons why this offensive line was an abysmal failure this season. Mismatched physical attributes like Pears playing guard all season are absolute head scratchers for fans, and rightfully so.
But it is the incredibly important mental aspect of playing offensive line in the NFL where this group failed with a capital "F". While coaching has egg on its face as well, if you look at the elite offensive lines that have ever played the game, there is one thing that is strikingly missing from this Bills group.
This group of offensive lineman have absolutely zero group identity. When you look at elite lines, the most outstanding behavioral attribute without question that these groups have in spades is an outstanding group identity.
They hang together as a group. For example, I remember a few years back when there were weekly breakfast meetings for the Bills offensive lineman. I believe I read about it when Andy Levitre was with the team.
It makes me wonder if a guy like Ruben Brown could come in and mentor these men as a group. We constantly see pictures of the defensive lineman on this team harpooning one another when they get a chance. Has anyone seen evidence of this with this offensive line group?
More than any other positional group, this group also needs to find more talent. It is hands down the least talented position group on the team and it isn't close. But talent alone will not fix what ails this line.
When Marrone had to resort to a starters only meeting, and issue the type of challenge he did this week to the offensive lineman (that they had better play the best game of their season on Sunday), you know there is serious trouble with this group.
Coaching is obviously a big part of the problem, as evidenced by the fact that offensive line players like Cordy Glenn and Eric Wood have regressed over the course of the season. Eric Pears has had a horrific season, and Urbik at least stabilized the left guard spot after the Williams and Richardson failures.
More than any other group of players, this is the group that any consultant the Pegulas may hire to evaluate the status of the team after Sunday should focus on speaking with personally and privately. It would be helpful for guys like Eric Wood to be able to speak candidly without fear of retribution from Marrone or his staff.
Most of the veterans on the offensive line have played under several offensive line coaches. It would behoove a consultant to find out the reasons these players believe they failed to perform this season, and why they failed so miserably under a head coach that played the position in the league.
That information may provide illumination regarding Marrone's effectiveness as a head coach. I've seen and heard comments about Whaley not providing enough talent for Marrone to work with on the offensive line. While there is no doubt a lack of talent hinders the performance of this offensive line, we've seen offensive lines perform better with even less talent than this current group.
Research on group cohesiveness provides ample evidence that supports the need for strong group cohesiveness to facilitate peak performance. Sadly, this offensive line is a classic example of what happens when a line fails to work together as a unit. If there is such a thing as "anti-IT" factor, this offensive line is a perfect example of one.
It will be very interesting to see how the Bills perform against the Patriots* on Sunday. There is no other positional group under more pressure to perform at their best than this Bills offensive line. This game is far from meaningless for them. Their future and their coaches futures could (and should!) depend upon their performance on Sunday.