The Buffalo Bills failed to earn a spot in the 2014 NFL Playoffs for the 15th consecutive season, leaving fans agitated and anxious regarding potential moves that could be made in the offseason. The Bills featured one of the best defenses in the National Football League, but it was the offense that held the team back.
Fans have been calling for Doug Marrone and Nathaniel Hackett to get fired, while offering up explanations on why potential free agent retread quarterbacks like Sam Bradford, Brian Hoyer or Jay Cutler would be the signal caller to take Buffalo to the Promised Land.
While I do agree that Marrone's play-calling has been questionable at times and that Kyle Orton certainly shouldn't be in the team's long-term plans, I don't think they deserve the majority of criticism for the offense's shortcomings.
Why, you ask?
It's the offensive line. Offensive linemen are the most underappreciated members of a football team. They rarely receive recognition and when you hear one's name called, it's typically for something negative. However, these giant, nameless men are crucial to the success of an entire offense. They battle with enormous, athletic defensive linemen in order to protect the star quarterback, clearing lanes for the popular running back to make plays. When an offensive line is effective, good things happen. Since 2010, 75% of teams that made the playoffs graded out in the top 20 of ProFootballFocus' run or pass block grades. Coincidence? I think not.
The Players
Player                              Pos         Rank      Qualifiers
Cordy Glenn                     LT            #20         82
Seantrel Henderson        RT           #80         82
Kraig Urbik                       LG           #54         79
Cyril Richardson             LG           #57         79
Eric Wood                         C             #27         40
Erik Pears                         RG          #78         79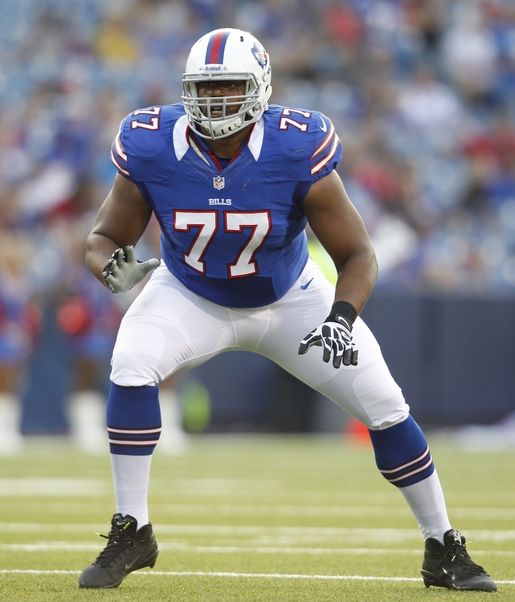 Prior to training camp, it appeared that the offensive line would be a strength of the team, rather than a weakness, as left tackle Cordy Glenn was coming off of an impressive 2013 sophomore campaign and Eric Wood had a great year. The Bills signed Chris Williams in free agency to step in at left guard before using three draft picks on Alabama's tackle Cyrus Kouandjio, Baylor's Cyril Richardson and Miami's Seantrel Henderson to bolster the unit.
Henderson was viewed by many as a first-round talent, but off-field issues caused him to plummet all the way to the end of the draft. Kouandjio and Richardson were highly touted linemen out of big schools, but both came with red flags of their own.
Kouandjio had only played organized football for four years before the Bills drafted him in the second round. The 21-year old 6'7" 330 pounder moved to America from Cameroon, Africa, where he had never seen American football before. Prior to the draft, it was widely suggested that Kouandjio had the potential to be a perennial All-Pro lineman, but he would need to shake injury concerns and spend time developing his young body to get stronger, while working to improve on his technique before making an impact.
Richardson was a cornerstone of Baylor's explosive aerial offense, where he was a unanimous All-American and All Big-12 member at left guard. A mauler in the run game, Richardson relied on his massive size to push defenders around, despite inconsistent technique. Richardson's technical issues were exposed at the Senior Bowl, where Aaron Donald embarrassed him with his quickness and agility.
Like Kouandjio, Richardson has loads of potential and possesses the necessary physical tools to be successful, but he needs to get stronger and improve on his technique.
Heading into training camp, the starting offensive line was expected to be Cordy Glenn at left tackle, a left guard competition between Cyril Richardson/Kraig Urbik/ Chris Williams, Eric Wood at center, Kraig Urbik at right guard and Cyrus Kouandjio would compete with Erik Pears and Seantrel Henderson for the starting right tackle job.
Kouandjio was immediately overwhelmed at right tackle during the preseason and didn't play a snap all season. Henderson impressed during camp and preseason, earning the starting right tackle job. That resulted in Erik Pears sliding inside to right guard (a questionable decision), while Chris Williams started on the left side.
After three disastrous outings, Williams was replaced by Richardson, who lasted four games before Urbik emerged as the starter in week eight. The combination of inexperience and lack of talent has resulted in disaster for Buffalo's offense, which boasted the No. 2 ranked rushing attack just a year ago. The decision to move Pears, a 31-year old veteran that stands 6'8" and weighs 315 pounds—the size of your prototypical tackle—inside to guard made little sense at the time and 15 games into the season, it's still a head-scratcher.
Pears has been a liability in every game that he's played this season, surrendering three sacks, six QB hits and 22 hurries while grading out as ProFootballFocus' 78th ranked guard of 79 qualifiers. In addition to disastrous pass protection, Pears hasn't been able to generate any movement in the run game, as running backs are averaging just 3.2 yards-per-carry when rushing behind him.
Henderson has flashed the athletic ability that had scouts raving about him before the draft, but he's also shown that he is indeed a rookie, and an extremely inconsistent one at that. Henderson is graded as PFF's No. 80 ranked tackle of 82 qualifiers and has surrendered six sacks (8th most at position), 12 QB Hits (3rd most) and 26 pressures (15th most). Between Pears and a rookie tackle in Henderson manning the right side of the offensive line, coupled with the revolving door at the left guard position, it's been a rough couple of months for Kyle Orton and Nathaniel Hackett
The Struggles
The Bills' offensive line has played at such a low level this season that it's actually pretty incredible that the team managed to claw out eight wins. At training camp, Coach Marrone made it clear that he wanted his team to be run-oriented with tempo, which was logical considering the team averaged 144.2 yards-per-game on the ground last year and ran 336 no-huddle plays. Fast forward six months and the team is averaging 91.9 yards-per-game on the ground, 25th in the league while going no-huddle just 41 times.
Passing Game Limitations
You can't tell me that this dramatic drop-off is a result of poor play-calling by Nate Hackett. For those that will try to argue that Hackett "only throws two-yard passes on 3rd-and-10" let's examine some advanced statistics to see if, or how, Hackett has adjusted his offensive approach.
The Bills' offensive line has surrendered 37 sacks, 82 QB Hits and 113 pressures. In simpler terms, Kyle Orton is getting hurried, hit or sacked on 38.2% of his dropbacks, the sixth highest rate among 27 qualifying quarterbacks.
So, how can we decrease, or at least limit the amount of pressure Kyle Orton faces?
It's tough to get passes off when a quarterback's own lineman is sitting in his lap the instant the ball is snapped. So, Hackett relied on operating out of the shotgun. Move Orton a few yards back, create space between himself and the defenders in hopes of giving an extra split second to make a play. That's why 449 of the Bills' 556 dropbacks were out of a shotgun formation. But sometimes even that isn't enough, as Orton's snap-to-sack time of 3.14 seconds was the fourth fastest time at his position. Another way to limit an opponents' pass rush is to get the ball out quickly, using screens, slants and quick, high-percentage short throws to move down the field.
That's why Orton's average time from snap to attempt was 2.32 seconds, the third quickest time among 27 qualifying quarterbacks.
What staples of your offense are sacrificed due to OL play?
Successful rushing offenses use play action as a way to catch opposing defenses' off-guard. Last year, the Bills ran play action on 24.3% of their dropbacks, the 7th highest total in the league. This season, Hackett hasn't had that luxury as it's hard to justify putting your quarterback under-center– behind that offensive line– and ask him to fake a handoff before finding a receiver. He'd get hurt, which is why the Bills have ran play action on just 13.7% of their plays this year, the third-lowest figure of quarterbacks that have played at least 50% of their offensive snaps.

The deep ball was an element of the Bills' offense that fans were looking forward to, as the team had collected athletic receiving weapons with speed such as Sammy Watkins, Robert Woods, Marquise Goodwin and C.J. Spiller. Last year the Bills threw 72 deep balls, about 4.5 per game. However, when attempting deep passes (20+ yards) these are out of five-to-seven step drops.
The offensive line hasn't been able to keep Orton upright on several three-step drops, so it's hard to trust the unit to protect for a seven, which is why they've attempted just 50 deep balls this season, about 3.1 per-game.
It's depressing to look at a roster featuring Sammy Watkins, Robert Woods, Marquise Goodwin, Mike Williams (oh, wait…) , and Chris Hogan and realize that Fred Jackson leads the team in receptions with 65 catches on 87 targets, but when the line can't sustain blocks, Orton has to check down. Does he turn to Fred a little early at times? Absolutely. But when you're in a situation in which you're just waiting to feel the pressure, it's understandable to be a little rushed.
Run Game Limitations
Raise your hand if you've yelled/shouted/tweeted "STOP RUNNING UP THE MIDDLE" more than you can count this season. Okay. Now put your hand down.
The Bills running back combination of Fred Jackson, C.J. Spiller, Boobie Dixon and Bryce Brown have collectively gained 1,378 yards and six touchdowns this year after picking up 2,307 yards and 15 touchdowns in 2013.

Now, keep in mind that last year's offensive line went
LT Glenn LG Brown C Wood RG Urbik RT Pears.
At right guard, Urbik was on the play-side, where his skill set was maximized and he played well, grading out as PFF's No. 20 guard of 81 qualifiers. This season, Pears is lining up play-side, where his obvious shortcomings are being exposed. Pears is the primary pull man on screens and zone/stretch concepts, but he lacks the agility and fluidness to get out in space, and he lacks the functional strength necessary to anchor in pass protection.
According to Football Outsiders, the Bills' 38.1% run success rate is 24th in the league, and their average of 0.98 second-level yards-per-carry is 28th. Making matters worse is that they rank near the bottom in every directional rushing statistic as well, with their worst output coming on rushes outside the tackles.
When running the ball, the Bills offensive line just can't get out of it's own way. 79-of- the-Bills' 369 carries (21%) have been stuffed at the line of scrimmage or went for negative yards.
Where Do We Go From Here?
This column isn't an attempt to excuse the play of Kyle Orton or the questionable decisions that the coaching staff has made, but in my personal opinion the offensive line is the primary reason for the Bills' struggles in 2014. For that reason, I believe that committing to upgrading the offensive line—particularly the guard positions—should be of higher priority than finding a quarterback. We know what Kyle Orton is. You loved him when he came onto the scene and threw for 1,387 yards with 10 touchdowns and only three interceptions in his first five games. But then opposing defensive coordinators figured out how to attack the weaknesses in the Bills' line and Orton's production dropped simultaneously.
I'm not saying Orton should be in the plans as Buffalo's franchise QB. I'm not saying EJ Manuel is, either. But Manuel was a first-round draft pick that's played 14 career games. It was known that he needed to develop. Bring in a veteran quarterback that's not at the end of his career—one that is hungry to start—and let EJ earn the job. If he doesn't, than oh well.
All I know is that a reliable offensive line is a quarterback's best friend, and benching Manuel early in the season could've been a blessing in disguise. Instead of being a deer in headlights on the field, he's in the film room with Orton, a veteran who's been around the game. He's taking reps in practice and (hopefully) progressing. Just get him some protection so he can feel comfortable in the pocket.
Potential Free Agent OL
-Mike Iupati, 49ers
-Orlando Franklin, Broncos
Potential Draft Fits
RD2 T/G Ty Sambrailo 6'5" 310 Colorado State
RD2 G AJ Cann 6'3" 311 lbs, South Carolina
RD3 T/G Jake Fisher 6'6" 300 lbs, Oregon
RD3 G Laken Tomlinson, 6'3" 320 lbs, Duke
RD4 G Jamil Douglas, 6'3" 300, Arizona State