After nearly a decade and a half, Bills fans now find themselves heading into the Christmas weekend with thoughts of playoffs still dancing in our heads. Many of us are trying hard not to "go there" just yet. The Bills need help from other teams to get there. However, the mere thought of crossing that long awaited threshold tickles the fancy of many members of the BillsMafia this holiday season, including myself.
There's little doubt that merely making the playoffs would be icing on the cake for most Bills fans. It seems surreal to think about how long it has been since we've had the chance to will our team to the promised land this late in the year, but that's exactly what we need to do to going into the 15th game of the season against the Raiders.
Because the team will need help in addition to winning out in order to reach the playoffs, it's probably prudent to remain realistic about the Bills chances of things falling into place. If they do, the season will be one the most magical in team history.
However, if the magical season doesn't materialize this year, there are many reasons to remain optimistic that the future for this team is so bright (to quote lyrics from the 80's Timbuk3), that Bills fans will have to wear shades the entire off season. The first and foremost reason is that one by one, a new era of ownership will begin to craft a legacy all its own.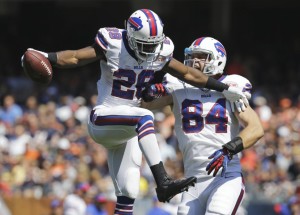 Although it's been many years since I've felt this way, it seems like this team has finally found the mojo it needed to rock a genuine "us against the world" mentality. I'm not referring to a trumped up marketing persona, but an authentic group of men sharing a vision of success with each other.
Furthermore, this team appears to be achieving a higher level of mutual enlightenment not seen since the beginning of the free agency era. Coach Marrone briefly referred to this type of growth in a recent post-game locker room speech He talked to the team about how rare it is to have this type of closeness these days.
Having lived long enough to have seen how it worked before the advent of free agency, I would have to agree with others who say that it is likely more difficult to achieve that level of closeness in the NFL today than 20 years ago. Chalk another one up for just the wandering mind of an old granny…
[As an aside, for any old farts reading this, doesn't it frost your grill when NFL Network analysts referring to players like Troy Aikman or Steve Young as being from the Stone Age? Makes me wonder how they view Jack Kemp, if 'they' remember him. 'Nuff said.]
OK, with that sniveling thought form out of the way, I began to think about how much carryover there might be with this team's chemistry from this year to next. There are several factors that need to take place depending on what happens with free agency and other related issues.
If this locker room culture finishes strong going into the off season, and if the majority of the team remains intact, there is a significant chance this team will bring along much of the confidence gained from this season into the next. That has been a key missing ingredient on Bills teams for far too long.
We saw it as fans. The seasons when you could see the players had checked out before the turkey was put on the Thanksgiving table. We knew it, we felt it, and most of us resented that mental check out at least as much as all the losing.
This loser mentality that permeated the Bills locker room for years became a cancer that permeated the entire franchise for far too long. It finally safe to state that it feels like that old cross bones is dead and gone! How did this happen right under our noses this season?
Apparently, there is a fine art to creating an atmosphere where incredibly well compensated players will choose to willfully risk their own health and future millions in order to win a championship. That's just the reality of what insane amounts of money will do to human behavior, and it's understandable.
However, if you carefully build relationships with one another on a football team, magical things can happen. Those of us blessed to have lived to see the late 1980s Bills teams remember them as the last group where the locker room felt to fans like there was a genuine team being born.
And that is how I feel these days, which of course it is immediately followed by a mental beat down for allowing myself to possess a shred of hope that the playoff drought will end this season. It's what I've conditioned myself to do in order to protect my psyche from anymore trauma than it has already experienced for the past 14 years as Bills fans.
My task (and perhaps some other Bills fans might feel the same way), is to let go of the stranglehold that negativity has on every hopeful thought form being generated by my ever shrinking brain mass. Conditioning that response out of my head would be greatly hastened by two more victories to end this intriguing football season. Just sayin'.
Whatever mental gymnastics we employ to get us through these days as Bills fans, we can no longer deny that this team has turned a corner. However, just like the players have to keep the eye of the tiger on Oakland right now, we need to steady ourselves and embrace our new found confidence in this team. This is something we have not experienced since the beginning of the new millennium. It's downright scary.
However, I have every confidence that this coaching staff is well aware of the importance of the last two games, regardless of whether or not the Bills make the playoffs this season. Look no further than what is happening on defense and special teams in terms of the whole playing more than the sum of its parts.
Imagine what it would be like for this team to go into the off season with a victory against the Raiders, followed by a first time ever win at Gillette Stadium? Even if they did not make the playoffs, this defense can rock into an off season with a well deserved swagger. They can finish with a big fat grin at the thought of #TheLegendOfKiko returning to the team next season to make this defense downright terrifying to opponents.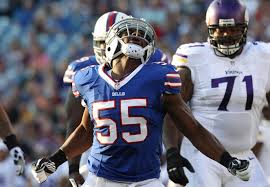 Finishing strong with or without the playoffs would cement a mentality into players that they have something special to return to next season. You have to believe that guys like Mario and Kyle will lobby hard for doing whatever it takes to re-sign Jerry Hughes. Hopefully that will also include other players like Da'Norris Searcy as well.
Depth at all positions is crucial to creating a team that can consistently compete for a championship. Sometimes fans forget that if you keep recycling coaching staffs every few years, you don't get to acquire depth because you're spinning your wheels trying to find new players to fit different schemes.
We have to get off that vicious cycle as a fan base. At some point, when we start to see that the mojo is back with this team, we might be better off to step back and allow this baby into the world, and then see what happens when it is nurtured with time and a whole lotta love from both St. Dougs. Who needs Old Saint Nick?
The last thing this team needs right now is a major retrenchment in the coaching staff. We can argue until the sugar plums are kicking us in the head instead of dancing, but the fact remains that although this team needs tinkering in selected areas, they otherwise looks ready to bust back into the playoffs with a vengeance.
This year, next year, to this Bills fan it really doesn't matter, not as much as finishing strong this season. Get the Tom Brady monkey off the back of this team and end the curse the Patriots* organization has had on this team for far too long.
Ending this season with two more victories would be the greatest piece of evidence that fans could cling to during a long off season, regardless of whether or not the Bills make it to the playoffs this year. Now that's some serious ho-ho-ho to think about as we enter the holiday season this year.
On that note, I'd like to finish this dose of wyobabble with a sincere wish that everyone reading this has a safe, joyful, and healthy holiday season. I'm incredibly grateful to be riding on this wagon with all of you as we roll into the last two games of a very meaningful football season.