It seems like this fan base has experienced a more volatile football season than any other fan base in the National Football League. Arguably the 49ers, Ravens, and Vikings have experienced some turmoil, but nothing close to the death of the team's only owner, the sale of the team, benching a franchise quarterback, supporting the HOF franchise quarterback through grueling cancer treatment, and the epic snowstorm that caused the loss of home game to Detroit.
Along with all the other expected dramas that unfold during a season in the NFL. It's been quite a ride. With playoff chances looking slim, the Bills now have to win out against Green Bay, Oakland, and New England (plus help) to get there. After 15 years without playoff games, many Bills fans begin looking ahead to the long offseason and the next draft. It's a habit that's hard to break.
However, this team will not let us do that this year. The Bills keep tantalizing us with just enough spark to keep playing with our emotions, and then lay an egg that shatters as we come back down to earth with a great big crash. We've been down this road many times as a fan base. Why should we believe anything different?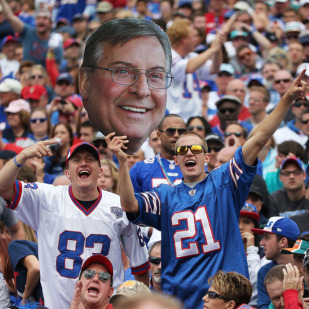 For one thing, I have to keep reminding myself that we now exist in a completely new paradigm as Bills fans. Same for the Sabres, and it is because of the Pegula Factor. Without question, the Pegulas learned a great deal from their experience about managing people after buying the Sabres.
The hasty exit of Pat LaFontaine still makes me wonder exactly what went down when he left after only a three month stint with the Sabres. Theories abound, but we may never really know what happened during that time.
After watching the Pegulas operate behind the scenes but ever present, I am humbled by the grace they display on a regular basis when they are out and about in the Western New York community. Mr. Wilson carried that same type of grace inside himself, and I believe that's why Mr. Pegula continues to admire and rightfully feel proud to carry on his legacy.
Mr. was heard asking what exactly would have happened if Donald Trump ended up buying the Buffalo Bills? I still can't stop thinking about that horrid scenario. It's like the image of a train wreck you can't get out of your head.
As hideous as the Bon Jovi threat was at the time, looking at our beloved team being owned by Daniel Snyder2 is downright cringeworthy. The WNY community was fortunate that the rarest of rare billionaires with a soul decided to buy the Buffalo Bills instead.
Truth be told, for the love of finding the perfect word to describe something or someone, I found the word that captures the essence of the Pegulas dawning legacy as they launch their lives in a different direction. The word is compassion.
Compassion as I've come to understand it over the years is so much more than the cursory definition that describes it as a state of 'kind heartedness'. Compassion requires skills that are increasingly uncommon in our discourse with each other these days.
If you look at native Western New Yorkers, you will find ample evidence that we are generally a compassionate community of people. However, the true essence of compassion is much more complex than what is considered being compassionate.
Those of us lucky to be born and raised in WNY understand compassion from a slightly different perspective because of the way we were raised. This homespun compassion was put on display in plentiful supply during the recent epic snowstorm, as neighbors took care of one another.
When the news of Darryl Talley's difficulties came to light recently, again Western New Yorkers (and West Virginians) showed up en masse to support them through a rocky time in life. This type of compassion requires the ability to form empathic relationships with one another. Western New Yorkers are famously welcoming and forgiving by nature.
By definition, the ability to form empathic bonds is the antithesis of narcissism, a personality trait running rampant throughout the world these days. And this one trait, compassion, opens up a completely different view of the world if you have the guts to open your eyes, see it, and embrace it.
The Pegulas came into enormous wealth as a result of hard work and motivation to succeed in life. They define the American Dream as many of us grew up to know it. They are as Abraham Maslow would state, self-actualized people.
How fortunate are we as a community to have people with enormous resources to bestow upon us all. Also, they show us how acts of love can build upon one another to topple greed, fraud, and cynicism. We are blessed, and they are blessed as well. It's a mutually beneficial relationship, the best kind to have in life.
The Pegulas do appear to be quite uncomfortable when people try to elevate them to a status as 'saviors'. This is clearly not their goal, and to do so actually in all likelihood dishonors them. They do not appear to be motivated by anything driven by ego, a remarkable quality in and of itself.
Why is this so important to the Bills and this football season? As a fan base we have never experienced a changing of the guard at the ownership position. Fifty-five years with one philosophy ultimately behind every fateful decision made by the franchise.
We can observe what changing ownership has done historically in the NFL as franchises are sold and new owners come in and take over. With only 32 franchises worldwide, it doesn't happen often, and when it does, it behooves the observer to pay attention to what happens to teams as they transition ownership.
Clearly Mr. & Mrs. Pegula have chosen well in selecting a mentor for this process in Robert Kraft. As much as we as Bills fans all (rightfully :) hate the Patriots*, there is no question what happened to the them when Mr. Kraft assumed ownership of the team. Kudos to him for keeping his team consistently competing for championships year after year.
As fans, we will enter a very interesting period of time at the end of the season. The ownership transfer of the Bills was one of the smoothest I've ever witnessed from any sports franchise in my lifetime.
This speaks to the fine job done by the Wilson family, Russ Brandon, the NFL, and the Pegulas in crafting a transition plan second to none. Now the Pegulas have had an opportunity to carve out a strategic plan regarding how to proceed in planning for the season ahead.
It's encouraging to read about Mr. Pegula rightfully railing on the general manager of the Florida Panthers (Dale Tallon) when his team staff aired a video prior to the game that was considered defamatory toward Western New Yorkers who suffered through a snowstorm that killed 13 people.
As I've stated in the past, I will never understand why it seems OK to bully the people of WNY about blizzards, but would think it boorish to do the same regarding hurricanes in Florida. Loss of life is loss of life, no matter the etiology.
Regardless, as we watch the fate of this season's Buffalo Bills be played out at The Ralph on Sunday for the last time this season, remember that all bets are off regarding past tendencies in terms of what comes next.
The impetus for massive change started during last season with the death of Mr. Wilson. Since that time, there has been one virtually miraculous thing after another happening.
And, throughout all of this, the team has managed to eek out a record of 7-6 as they enter the final stretch to the end of the regular season. This is likely to become another eyebrow raising off-season, and Bills fans will have plenty to obsess about in the upcoming months.
We have no idea how the Bills organization will move forward at the conclusion of the season. Will they maintain a cash to cap strategy or begin to move the organization in a different direction? The implications of such issues will have a huge impact on what can be done to maximize resources.
Will Mario restructure his contract in a cap friendly way to make it easier for the Bills to retain Marcell Dareus and Jerry Hughes? The answer to this question is completely unknown because we have no frame of reference (other than the Sabres) with which to base suppositions upon.
As we move toward the end of the regular season, there are very good reasons why Bills fans should avoid making assumptions of any kind regarding how the Pegulas will manage the Bills in the days ahead. As a fan, it's a hopeful sign that the Pegulas are modeling their ownership legacy with Robert Kraft as a role model, and not Daniel Snyder or Jerry Jones. Or heaven forbid, Donald Trump!