The Buffalo Bills are 6-5 heading in to Week 13 of the 2014 NFL season. While they're still mathematically alive in the playoff race, they'd need quite a bit of good fortune to make that push. While they work to figure things out on the field, I decided to take a look ahead into the offseason to see what kind of plan General Manager Doug Whaley could potentially put together.
Salary Cap Situation
As of right now, the Bills have $130.2 million committed to the "Top 51" salaries on the team roster, leaving them with roughly $11 million that can be rolled over into 2015's cap. In 2015, the cap is projected to grow substantially now that the NFL's new television deal is in the equation, with the rumored number being a $15 million hike that would set the cap at roughly $148.5 million.
So, when the Bills roll over their unused cap room they will be allowed to spend roughly $160 million on their 2015 roster. They currently have committed $123.1 million to 2015 contracts, leaving Doug Whaley with about $36 million of Terry Pegula's money to play with.
Key Team Free Agents
DE Jerry Hughes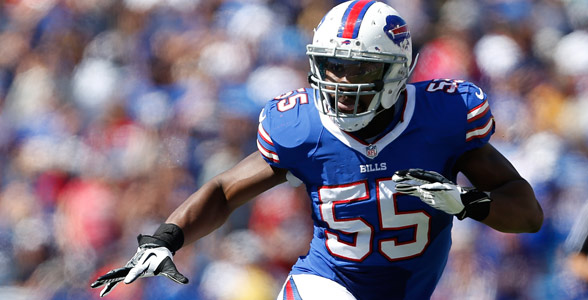 Jerry Hughes has emerged as a top pass rusher in the National Football League, racking up 19.5 sacks in 27 games with the Bills. He's a weak-side rusher that beats opposing tackles with speed, burst and relentlessness. The Bills already have a $100 million toy opposite Hughes in Mario Williams, and while Hughes won't command that much money, it'll be close.
Hughes is an impact player that the Bills need to ensure that they retain his services for the long-term.
Projected Contract: 5 years, $57.5 million
Comparable contract: Tamba Hali's 5-year, $57.5 million with Chiefs
RB C.J. Spiller
C.J. Spiller is an extremely talented running back, but his inability to stay healthy and the price tag he'll command makes unlikely that he remains with the team in 2015.
LB Brandon Spikes
Brandon Spikes shouldn't break the bank, due to the declining value of the run-thumping linebacker, coupled with the return of Kiko Alonso and the emergence of Preston Brown.
Projected Contract: 2 years, $7.5 million
Comparable contract: Small raise from current one-year deal
S Da'Norris Searcy
Da'Norris Searcy has developed nicely into a reliable and versatile safety since he was the Bills' fourth-round pick in 2011. He should be retained for a modest deal that works for both the player and team.
Projected Contract: 3 years, $12.5 million
Comparable contract: Glover Quin's 5-year, $23.5 million deal with Lions
Jarius Wynn, Marcus Easley and Chris Hogan are also free agents that should be retained relatively cheaply.
Unrestricted Free Agency
After retaining Jerry Hughes, Da'Norris Searcy, Brandon Spikes, Jarius Wynn, Marcus Easley and Chris Hogan, we'll ask Mike Williams and Keith Rivers for their playbooks. Williams and Rivers don't fit into the Bills' future plans, so their release will save $8 million, leaving the team about $26 million heading into unresricted free agency.
Team Needs in Unrestricted Free Agency
Vertical Threat w/ Size+Strength
The Bills have stockpiled their wide receiving corps with speedy, athletic pass catchers that have the ability to create separation and gain yards-after-the-catch. They traded for Mike Williams in order to bring some size and strength to the position. However, for unknown reasons he hasn't been able to see the field on gamedays, so the team needs to find that role for the offense.
Let's take a look at the options.
WR Vincent Jackson, Buccaneers, 31
This is purely speculation right now, but it appears that Vincent Jackson will be released by the Tampa Bay Buccaneers following the season. The team drafted a similar player in Mike Evans and Jackson's $11 million per-year salary is a bit high for a rebuild. Jackson is a huge, physical receiver that is truly "open when he's not." Jackson, at 31 is mature and just wants to win. He'd be an excellent presence in the Bills' young wide receiver room.
In the past four seasons, Jackson has caught 258 passes for 4,392 yards and 26 touchdowns.
Projected Contract: 3 years, $21 million
Comparable contract: Anquan Boldin's 4-year $28 million deal with Ravens at age 31
WR Michael Crabtree, 49ers, 27
Michael Crabtree hasn't lived up to his status as the elite receiver he was expected to be when he was a top 10 pick in the 2009 NFL Draft, but when healthy, he's been a reliable weapon in the 49ers offense. In the five years he's played healthy, Crabtree has averaged 61 catches for 782 yards and five touchdowns per season.
Crabtree would be an excellent complement to Sammy Watkins and would allow Robert Woods to move into the slot.
Projected Contract: 4 years, $18 million
Comparable contract: Riley Cooper's 5-year, $22.5 million deal with Eagles
TE Julius Thomas, Broncos, 26
Julius Thomas is another basketball player-turned-tight end superstar to take the league by storm. After developing with the Broncos for two years, he burst onto the scene in 2013 catching 105 passes for 1,214 yards and 24 touchdowns in his last 24 games.
Peyton Manning will obviously inflate the stats of any player on the receiving end of his passes, but Thomas is a dominant player that has the strength to play on the line and block, while possessing the athleticism to be a weapon down the seam.
Luckily for the rest of the NFL, both Julius Thomas and Demaryius Thomas are unrestricted free agents at the end of the season, in addition to several other key players on their roster, so it'll be hard to keep both.
If the Broncos don't use the franchise tag on him, Orange Julius should be the Bills' No. 1 target.
"Move" Tight End
The Bills selected Chris Gragg in the seventh round of the 2013 NFL Draft, and while he's a solid athlete, he hasn't shown much in his limited playing time to feel safe about his long-term status. The 'move" or H-back tight end is popping up in offenses across the league, with undersized athletes like Tim Wright, Charles Clay, Jordan Reed and Mychal Rivera making an impact for their teams.
Charles Clay, Dolphins, 25
When you look at the type of tight end that the Bills have brought in, a guy like Charles Clay could be a sneaky target for Doug Whaley. Clay is a do-it-all H-Back that lines up all over the field.
While he may not be a household name, Clay is threat as a receiver out of the backfield, attached to the line of scrimmage and in the slot. Chris Gragg is a very similar athlete, but Clay is more fluid in his routes and has been a reliable weapon for the Miami Dolphins. In the past two seasons that Clay has seen a more prominent role in Miami's offense, he's caught 90 passes for 963 yards and seven touchdowns.
Projected Contract: 5 years, $45 million
Comparable Contract: In between Rob Gronkowski's 6-year, $54 million and Jason Witten's 5-year, $37 million deals
Offensive Guard/ OL Depth
The Bills allocated a ton of resources into reshaping the offensive line this past offseason, signing left guard Chris Williams to a multi-year contract and drafting three offensive lineman in Cyrus Kouandjio, Cyril Richardson and Seantrel Henderson. Kouandjio, a second-round pick, was expected to be a day one starter at right tackle, but seventh rounder Seantrel Henderson has been reliable there. Kouandjio hasn't played a snap yet, but he's still a talented player that's worth developing. Cyril Richardson saw some time, but it was clear that he needed time to develop as well.
So while improving the offensive line should be a priority, I do believe that unless the Bills can find a great player for a reasonable price, the improvement could come from within.
G Mike Iupati, 49ers, 27
Mike Iupati was the No. 17 overall pick in the 2010 NFL Draft and he's been a dominant run blocker throughout his five-year career. He's been a top 15 guard in all but one of his five seasons according to ProFootballFocus' grades, and he ranked in the top five in terms of run blocking in four seasons.
Iupati fits the mold of what Doug Whaley and Doug Marrone seem to be looking for in their offensive lineman—big, strong, physical athletes, and would be an immediate upgrade to the Bills' interior.
While Kouandjio and Richardson are both promising prospects, Iupati is simply a dominating player that would provide a big boost to the team's rushing attack.
Projected Contract: 5 years/ $32.5 million
Comparable Contract: Ben Grubbs' 5-year, $36 million with Saints
G/T Orlando Franklin, Broncos, 27
Orlando Franklin is another quality offensive lineman that the Bills may have interest in. A former second-round pick out of the University of Miami, Franklin seamlessly moved inside to guard this season after spending the previous three years at tackle. The 6'7" 315-pounder has graded out in the top 20 in overall grade and run blocking among guards, while ranking in the top 10 in pass blocking according to ProFootballFocus' metrics.
Franklin is a different type of lineman than Iupati, who is more of a mauler. Franklin wins with great technique, using his length and technique to keep defenders in front of him.
Projected Contract: 4 years/$24 million
Comparable Contract: Zane Beadle's 5-year, $30 million deal with Jaguars
Secondary Depth/ Nickel Versatility
Doug Whaley brought in veteran Corey Graham and used a fourth-round pick to select Ross Cockrell out of Duke to complement Stephon Gilmore and Leodis McKelvin. Nickell Robey has been serviceable in the slot, but his lack of size and length has been exploited throughout the season. Leodis McKelvin was having a solid year before suffering a season-ending ankle injury, but the fact remains that he's 29-years old and the Bills should probably have a proven younger guy in there.
CB Chris Harris Jr., Broncos, 25
Chris Harris has quietly performed as one of the best cornerbacks in the NFL this year and possesses the skill set that enables him to line up on the outside or in the slot. At 5'10" 190 pounds, Harris lacks ideal size, but he makes up for it with great speed, length, physicality and ball skills.
Harris is currently ranked as ProFootballFocus' No. 1 overall cornerback by a sizeable margin. This season, Harris has allowed just 51.6% of passes in his direction to be caught (8th best) for 243 yards (2nd) for an average of 7.6 yards-per-completion, the lowest total allowed by any cornerback. The longest completion against him went for 22-yards, the second-lowest mark at his position, and opposing quarterbacks are posting a mere 48.0 passer rating when targeting Harris, the second lowest mark in the league.
Harris isn't having "contract year" production, either. In the last three years, Harris has allowed a 55.3% catch rate while surrendering just three touchdowns on 235 targets, intercepting eight passes and breaking up 22, while holding QB's to a collective 59.8 passer rating.
Harris is valuable because he can not only line up on the boundary or in the slot, but he can be equally effective at each position. Harris would push Nickell Robey down the depth chart and provide some competition for McKelvin.
Projected Contract: 5 years, $30 million
CB Walter Thurmond, Giants, 27
Walter Thurmond signed a one-year deal worth $3 million with the New York Giants after winning a Super Bowl with the Seahawks last year, but a torn pectoral muscle ended his season after two games. Now, he'll likely have to take another one-year "prove-it" deal in order to cash in on a final big check.
Thurmond is an excellent slot defender that stands 5'11" and weighs in at 190 pounds. In 2013, Thurmond allowed opposing receivers to catch just 66.2% of targets in coverage, recording an interception and five pass defenses without surrendering a touchdown. Quarterbacks posted a 74.9 passer rating when targeting him.
Projected Contract: 2 years, $6.5 million
Comparable Contract: Tracy Porter's 2-year, $6 million deal with Redskins
Team Needs in the 2015 NFL Draft
The Bills' biggest need at the moment is a franchise quarterback. Kyle Orton has done a good job managing the Bills' offense with EJ Manuel taking notes from the sidelines, but most fans will insist on selecting a passer with the team's first draft pick.
The 2015 crop of quarterbacks is extremely top-heavy and full of red flags. Marcus Mariota and Jameis Winston are the top prospects, but will be long gone by the time Buffalo is on the clock in the middle of the second round. Bryce Petty, Brett Hundley, Connor Cook and Everett Golson fill out the next tier, but each have serious concerns and are developmental prospects at best.
Personally, I believe the Bills would be better off riding with Orton and Manuel next season. Manuel was extremely disappointing in his limited action before being benched, but selecting a quarterback would likely set the team back into the position it was a year ago.
Running Back
With C.J. Spiller likely departing in free agency, the Bills will go into the season with Fred Jackson, Bryce Brown and Boobie Dixon at running back. Fred Jackson will be 34 years old and likely in his last season, while Bryce Brown and Boobie Dixon haven't shown the ability to be more an a rotational back.
The Bills would be wise to select one of the many talented backs in this class.
David Cobb, Minnesota, 5'11 229 lbs
David Cobb has quietly sat in the shadows of top running backs Todd Gurley, Melvin Gordon and Tevin Coleman, despite putting up the 8th most total yardage in the nation thus far. Cobb has gained 1,430 yards at 4.3 yards-per-carry while scoring 12 touchdowns. He's a big, strong physical runner that shows quality NFL traits- patience, vision and lateral agility that compensates for his lack of long speed (rumored 4.5 40-yard dash).
Cobb would be a solid fit as a third-rounder in the Bills' zone-based blocking scheme.
Offensive Line Depth
The Bills' offensive line has really struggled this year, as Cyrus Kouandjio and Cyril Richardson weren't able to make an immediate impact as originally expected. While both are talented with bright futures ahead of them, they'll need to find replacements for Erik Pears and Chris Hairston who will be free agents.
OT/G/C Cameron Erving, Florida State, 6'5" 310 lbs
Cameron Erving played a huge role in Florida State's National Championship, earning All-American honors as then-freshman Jameis Winston's blindside protector. Erving possesses a long, athletic frame with a compact lower body. He's an aggressive and technically sound run blocker, but is still developing as a pass protector. Erving has won ACC Offensive Lineman of the Week honors at tackle, where he shut down Vic Beasley, guard, where he shut down Aaron Donald and center, where he played a big part in a win over the Miami Hurricanes.
Erving has starter potential at every position along the offensive line, and would be a great addition in the second round.
Tight End
The Bills have been a revolving door for tight ends the past three seasons, bringing in Tony Moeaki and H-Back types like Evan Rodriguez, Lonnie Pryor, MarQuies Gray, Dominique Jones, Jamie Childers, D.J. Tialaveva, Dorin Dickerson and Joe Sawyer. However, they've only used one draft pick at the position since 2008, a seventh-rounder for Chris Gragg.
It's clear that the team is searching for a tight end, but they haven't invested enough to get real production at the position.
Clive Walford, Miami, 6'4" 258 lbs
Clive Walford would've been drafted last year, but he opted to stay for another year with the Hurricanes in order to refine his game. It turned out to be a great decision, as Walford has looked like a totally different player. After catching 77 passes for 1,077 yards and seven scores in his first three seasons, he's emerged as freshman QB Brad Kaaya's most reliable target, leading the team with 40 receptions for 627 yards and seven scores in 2014. Walford is a complete tight end that can block, split the seam and make difficult catches. He knows how to control his body and shield himself from defenders in contested situations.
Walford would be an immediate contributor as a second-round pick.
Secondary Depth
With NFL teams throwing the ball more and more each year, it's pretty important to have several reliable and versatile defensive backs on your roster. Buddy Nix said you should probably draft at least one every year, a philosophy I tend to agree with. The Bills have a few nickel corners in Nickell Robey, Ron Brooks and Ross Cockrell, but Corey Graham is the only reliable boundary option behind Stephon Gilmore and Leodis McKelvin.
Even if Da'Norris Searcy is retained, they could use a safety that brings range and the ability to play centerfield. Aaron Williams has range and is versatile, but he's more of a strong safety, to me, while Searcy should spend the majority of his snaps in the box.
D'Joun Smith, Florida Atlantic, 5'11" 195 lbs
Players in small conferences have to produce ridiculous stats and play well in the limited chances they have against top competition in order to get noticed. In 2013 cornerback D'Joun Smith did just that, picking off seven passes while having solid outings against Sammie Coates and Justin Hardy.
Smith uses great technique, showing flawless footwork in his backpedal and has the athleticism to turn his hips and stay with receivers in their vertical stem. He's best in man coverage, both press and off, but he could use some work tracking the ball and recognizing what receivers are doing. Smith looks like a sleeper that could improve the Bills as a fourth-rounder.
Wide Receiver
The Bills invested first, second, third and fifth round picks in the last two drafts to reload their wide receiver position, but Sammy Watkins and Robert Woods are the only players that have shown the potential to be difference makers. Marquise Goodwin has been constantly injured, while Mike Williams has had issues with Doug Marrone that have sidelined him for most of the year.
The Bills need to find a physical receiver that can make contested catches and serve as a redzone threat from the "X" or boundary receiver position. When people hear "redzone threat" most immediately envision a 6'5" 230 pound beast. While those types are definitely attractive, Players like Anquan Boldin, Larry Fitzgerald, Steve Smith, etc. have been some of the best wideouts in the league when it comes to contested situations, due to their toughness, physicality and high-pointing ability.
Dorial Green-Beckham, Mizzou, 6'6" 225
Dorial Green-Beckham isn't playing football this year, after he was dismissed from Missouri due to a handful of off-field transgressions. After being suspended for a drug charge as a freshman, Green-Beckham went on to catch 59 passes for 883 yards and 12 touchdowns as a sophomore. It looked like he'd be a top-five pick heading into 2014, his junior year. Instead, he was arrested with a large quantity of marijuana during the offseason, before being investigated in a burglary that reportedly involved domestic violence. He wasn't charged, but was subsequently kicked off the team.
Off-field issues aside, Green-Beckham has elite potential and is a cross between A.J. Green and Calvin Johnson. He's big and fast with long arms and can outmuscle and out-jump defenders for contested passes. Green-Beckham will likely be a Day 3 pick due to his character concerns, but the Bills should take the risk in the fourth or fifth round.
Overview
The Buffalo Bills are in good position to make significant improvements to their roster this offseason despite not having a first-round draft pick. Buddy Nix and Doug Whaley did a solid job acquiring talent and depth through the draft, while adding inexpensive role players in free agency. The team has positioned itself to have cap flexibility, as just five players have a cap number over $6 million next year.
With few roster needs and a surplus of cap room, Doug Whaley has the means to make a splash in free agency, particularly on the offensive side of the ball. The depth throughout the roster will allow the Bills to follow the "Best Available Player" model during the draft. While quarterback continues to be the biggest question mark on the roster going forward, Kyle Orton has proven to be serviceable enough to be a holdover through the 2015 season.
Which players would you like to see the Bills target this offseason? Share your thoughts in the comment section or join the conversation on Twitter by following @RQuinn619