This Sunday, the Buffalo Bills (6-5) return to Ralph Wilson Stadium to face off with the Cleveland Browns (7-4). The game has quite a few off-field storylines, as Browns' head coach Mike Pettine had great success as the Bills' defensive coordinator last year, while Donte Whitner will be playing in Buffalo for the first time as an opponent. The Browns are the team that the Bills traded their first-round draft picks in 2013 and 2014 to in order to move up for Sammy Watkins. Cleveland has quietly marched to a 7-4 record in a way that nobody envisioned prior to the season.
With Brian Hoyer under center, the Browns boast the league's 11th ranked passing offense that averages 250.5 yards-per-game through the air. They've also been able to move the ball on the ground as well, with rookie running backs Isaiah Crowell and Terrence West headlining the league's 14th ranked rushing attack that averages 116.4 yards-per-game.
Pettine's defensive rankings are similar to those he put up with the Bills last year. They do a good job limiting the pass, allowing just 232.2 yards-per-game through the air, which is 9th best in the league. But, they've struggled against the run, allowing 134.9 yards-per-game on the ground, good for the 29th ranked run defense.
The Browns and the Bills are very similar teams that, on paper, match up well against each other. Neither team has been above the .500 mark this deep in the season for quite some time, so this game should be a hard-fought contest between two conference foes that are vying for a playoff spot.
Here are some matchups to keep an eye on during Sunday's game.
Bills RDE Jerry Hughes vs Browns LT Joe Thomas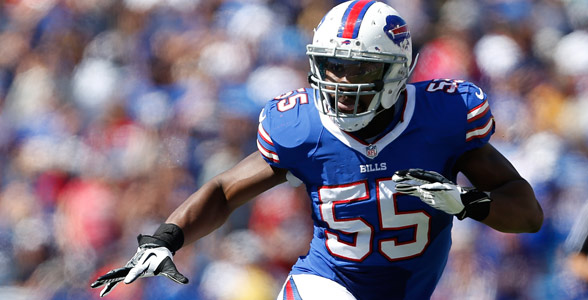 Jerry Hughes has absolutely terrorized opposing left tackles week in and week out, and he's currently tied with J.J. Watt for 7th in the league's sack leaders with 9.5. This week, he'll face off against Joe Thomas, arguably the best offensive lineman in the National Football League who's probably a first-ballot Hall of Famer.
On the year, Thomas has surrendered just one sack while allowing only seven quarterback pressures. He's currently graded as ProFootballFocus' No. 1 overall offensive tackle. Thomas will present a huge challenge for Hughes, but this will be a fantastic battle to watch. Hughes has a relentless motor and never gives up on a pass rush, while Thomas is a true technician that wins with excellent technique to keep defenders in front of him.
Bills WR Sammy Watkins vs Browns CB Joe Haden
Sammy Watkins hasn't made much noise for the Bills' offense in recent weeks, but the coverages that defenses roll to him have allowed guys like Robert Woods and Chris Hogan to thrive. This week, Watkins will see Joe Haden, one of the premier cornerback talents in the league. Haden is asked to play a lot of man coverage, so it will be fun to see how Watkins fares against a top talent in the league. Haden's allowed just 47 of 81 targets to be caught against him for two touchdowns, while he's intercepted two passes and broke up another six.
Watkins has caught 48-of-86 targets for 684 yards (239 Yards-after-catch) and five touchdowns. Watkins' route running and smoothness out of breaks should create some separation against Haden.
Bills CB Stephon Gilmore vs Browns WR Josh Gordon
The Browns wasted little time getting Josh Gordon involved in their offense after he missed the first 10 games of the year due to a suspension. In his 2014 debut, Gordon was targeted 16 times. He caught eight passes for 120 yards, with two catches of 20+ yards.
This week he'll face off with Stephon Gilmore, who's had a good-but-not-great year. After a rough start to the season, Gilmore's been improving as of late, allowing 12 receptions on 20 targets for 162 yards (18 yards-after-catch) and a 94.3 passer rating in his last five games, compared to 20 receptions on 24 targets for 258 yards (98 YAC) and a 126.8 passer rating in the previous five games.
Gordon is an elite talent that forces defenses to use a safety over the top. His presence on the field not only helps the Browns' passing attack, but it will help the run game by removing that safety from the box. This matchup could very well determine the outcome of the game.
Sleeper to Watch: RB Isaiah Crowell
Prior to the 2014 NFL Draft, I made it clear that I believed the Bills should use a late-round pick on Isaiah Crowell, a troubled-yet-talented running back out of Alabama State. He was a five-star recruit and was the SEC Freshman of the Year before he was kicked out of the University of Georgia. Crowell is an absolute stud, and he's rushed for 446 yards and seven touchdowns this year after starting training camp as the fourth-string back.
Crowell is a physical runner with speed that can break tackles and make defenders miss. The Bills have done an excellent job of shutting down the run this season, and will need to bring their "A" game to stop Crowell on Sunday.
Prediction
Browns: 19
Bills:       24