It's Thanksgiving and as Buffalo Bills fans, we've had quite a bit to be thankful for this season, despite what you might read on Twitter. This has definitely been one of the weirdest seasons that I can remember a team having, but it's been a fun ride. Instead of a typical serious breakdown, I decided to take a look at some things that Bills fans should be thankful for from the 2014 season.
Feel free to share yours in the comments or on Twitter!
Jim Schwartz
Fans were devastated when Mike Pettine took the Cleveland Browns' head coaching position after his aggressive pressure-based defense resulted in 57 sacks and 23 interceptions, while they were able to stymie opposing passing attacks.
This year's defense has actually been better, as the team has 46 sacks and 13 interceptions through 11 games and has shut down opposing rushing attacks, while limiting big pass plays. Schwartz has a different approach to defensive philosophy than Pettine, but Schwartz has managed to improve a unit that most thought had maxed out.
Kyle Orton
EJ Manuel was supposed to take a big step forward in his development as a quarterback after a knee injury abruptly shortened a somewhat promising rookie season. Instead, he was inaccurate and incapable of effectively moving the ball down the field.
Regardless of your thoughts on whether he should/should've been benched, there has been a marginal improvement in quarterback play since Kyle Orton took over.
Orton has shown the ability to make the correct play without putting the offense in bad situations. He's limited turnovers and has done a good job spreading the ball around. The Bills' offense features five players with over 300 receiving yards, the most in the NFL.
We all know that Kyle Orton isn't the Bills' franchise savior at QB, but for 2014, fans should be thankful to have him on the team.
Defensive Line
Prior to the opening kickoff of the 2014 NFL Season, we read columns from football "experts" breaking down the league's best defensive lines. Most of them predicted the St. Louis Rams, Detroit Lions, Houston Texans, or Denver Broncos. Instead, the Buffalo Bills have fielded the top front four week in and week out.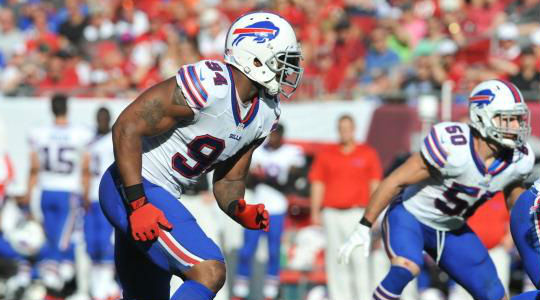 Mario Williams (12 sacks), Marcell Dareus (10 sacks) and Jerry Hughes (9.5 sacks) all rank in the top seven of the league's sack leaders, while Kyle Williams has been one of the most disruptive defensive tackles in the NFL. Kyle has "only" four sacks this year, but his 34 total QB pressures are fourth best among defensive tackles.
Buffalo's starting front four have combined for 35.5 sacks and 165 total QB pressures, while playing 2,128 collective defensive snaps (including rushes), so they're getting a pressure at least once every 12.8 snaps – a pretty incredible rate.
With Jerry Hughes' contract expiring at season's end and Marcell Dareus set to become a free agent after next season, let's be thankful that we get to watch one of the most dominant units in football.
Terry Pegula
When Ralph Wilson Jr. passed away, fans were terrified as big-name players like Donald Trump and Jon Bon Jovi made it known that they wanted to purchase the Buffalo Bills. While fans were rightfully freaking out about our beloved franchise potentially moving to Toronto, Terry Pegula was quiet, submitting his bids on time and staying out of the spotlight.
On September 9, 2014, Tim Graham broke the news that Pegula would become the Buffalo Bills' second owner in team history, and fans broke down. Pegula has already committed hundreds of millions of dollars into the city of Buffalo and is in the process of developing the downtown area into a Sports "mecca" of sorts. Pegula is the owner that everyone wanted and he literally saved the team.
I couldn't be more thankful for what Terry Pegula has done for Bills fans everywhere this year.
So, #BillsMafia, What part of the Buffalo Bills' 2014 Season are you most thankful for? Let us know in the comments or on Twitter!