Does Doug Marrone honestly think anyone buys his blarney during media sessions about not understanding medicalese? How he can say with a straight face in the same sentence two diametrically opposed statements and consistently get away with it in the media? This man reminds me of a combination of Bill Parcells and Dr. Seuss.
After a year and a half of watching his 'schtick', it's pretty clear that the Bills head coach lacks the sociopathic tendencies of a guy like Bill Belichick. Marrone is not nearly as efficient and reptilian in his responses as Belichick. Also, he should never play poker for money. Marrone's face is one giant TELL no matter what is coming out of his mouth.
Sammy Watkins groin injury this week is a great example. First, there is panic when Sammy Watkins showed up on the injury list with a slight 'groiner'. Then Marrone said it was no big deal, only to tell the media two days later that Watkins hasn't been able to practice.
If you watch Marrone, his funniest tell is when he is in front of the media shifting his weight from foot to foot and whining about how he doesn't understand something. He behaves a lot like a guy who went to parochial school and was traumatized by the nuns.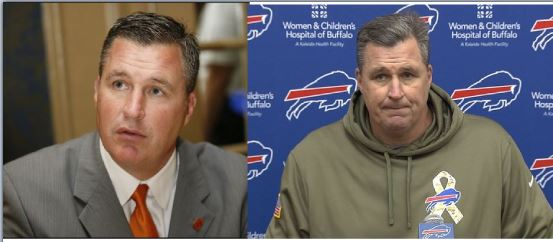 To his credit, Doug Marrone appears to have done an honest self-assessment regarding his inability to balance his work/home life in a healthy manner. He looks pale, tired, and stressed, even after the bye week. It's understandable because there is have tremendous pressure as the head coach of the Buffalo Bills after 15 seasons without a playoff appearance.
Marrone knows that if the team tanks in the back half of the season (as we have seen too many times over the last decade and a half), it would be a good time for the Pegulas to consider cleaning house. They probably learned a great deal about cleaning house from their experiences with the Sabres.
Having had to strip the foundation of the Sabres to the core and rebuild only enhances their efficiency when they decide how to reconfigure their rapidly growing sports and entertainment empire. They are motivated owners anxious to improve the quality of the product they put on the ice and the field.
There is little doubt there is pressure on Marrone to push this team through to the next level. The next three games will likely determine his fate. To his credit, the decision to bench EJ Manuel was a wise, albeit controversial one.
It's a good sign that Marrone is willing to push the comfort zone of the fan base, and though he took a calculated risk by benching Manuel, early returns say it was definitely the right move. It will be interesting to see how the next eight games play out with Orton. Unlike Marrone, Kyle seems like a guy who is completely blunt and transparent.
It will be interesting to see how the offensive line performs on Sunday as well, especially with the potential for Kouandjio to see action at right guard. As I've mentioned in the past, Marrone seems to spend a lot of time tinkering with this offensive line, so much so to the point where one wonders how they will ever form a cohesive group. Here's hoping Kouandjio can stop the bleeding on that side of the line.
In what can only be described as true Parcellian manner, no matter what the outcome of the game is on Sunday against the Kansas City Chiefs, you can count on the fact that Doug Marrone will not let himself wallow in joy or pity for too long. That hard-nosed Bronx persona will start self-flagellating at the first opportunity.
Bills fans know a thing or three about self-flagellation. No fan base has rightfully questioned their sanity as much as Bills fans for 55 years. We have been conditioned to expect the worst and become emotionally paralyzed at the mere thought of making the playoffs. We find new and creative ways to torture ourselves into 'Billieving'.
So Marrone is probably a good fit as a mensch in his job as head coach of the Bills. We can forgive his thinly veiled attempts at obfuscation for the sake of doing whatever it takes to get this team out of the abyss. As long as he keeps winning, it will be viewed as cute.
However, if the wheels start coming off the wagon, the propensity to not be entirely forthcoming can result in a fan base that will ask for your head on a platter. Bills fans have brought new meaning to the word patience. There's not much energy left for coping with head coaches playing mind games with the media.