There are few events in our lives that rock our world in a good way. Most "epic moments" involve horrible things like the assassination of a President, or planes flying into skyscrapers, government agencies, and into the ground by heroes we wish we got a chance to know. These kind of life-altering moments often shape and define our lives.
Sports have played an important role in societies as far back as anthropological evidence exists. I'll spare you all the tribal affiliation theories and get right down to the bottom line. There exists in Western New York and various places around the world a group of people whose lives became defined by the fortunes (or misfortunes) of two professional sports franchises; the Buffalo Bills and the Buffalo Sabres.
Arguably, Buffalo sports fans know more about misery than most people that love sports. There hasn't been a single major league championship for over 90 combined years of both franchises. From a statistical perspective alone, the uniqueness of this reality is quite staggering.
The Pegula family has assumed significant responsibility in taking both franchises forward into the future. As Venerable Bills and Sabres fans that have lived long enough to have watched and loved these teams through it all will tell you, this is the biggest moment in time for each franchise moving forward into the future. The sale of the Buffalo Bills to the Pegula family completes one circle in the spiral of life as it exists on Planet Buffalo.
Many people including Mrs. Mary Wilson remarked over the past week about the irony of Mr. Wilson's last game as owner being played out in his hometown Detroit, a place where last Sunday a Bills kicker became a hero instead of a goat! It was a remarkable game, and one that Bills fans should remember to share with their children in the years to come.
The significance of this moment in time led me to search for pictures of the early years. Ironically, the AFL's first exhibition game took place on July 30, 1960 at War Memorial Stadium against the Boston Patriots. Fast forward 54 years, and isn't it fitting that the next era in Buffalo Bills history be ushered in by a game for first place in the division against the New England Patriots?
That this transition has been filled with these types of 'coincidences' should not escape your attention. I'm pretty sure if you look up on Sunday around 12:40 PM, you will see a wry smile in the sky. We all know who will be watching over Ralph Wilson Stadium at that moment.
When it all began for the Bills, downtown Buffalo was a thriving place. There was AM&As, and the Hens & Kelly department stores. The Broadway Market was the place to go where you could find ethnic delights, and the restaurants, churches and other centers of activity were the central focus of each neighborhood.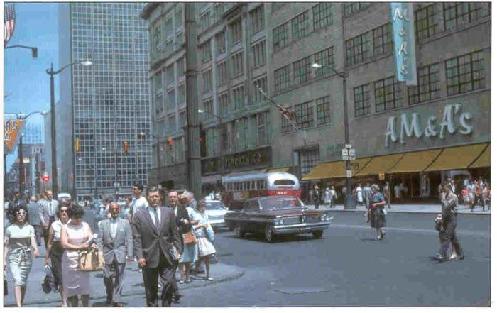 The intervening years brought decades of decay and misfortune, and the city now finds itself at the center of a rebirth that brings joy to the hearts of those who are still alive that remember a cultural mecca instead of a blighted landscape. Those of us still alive who remember the "good old days" are blessed to be able to see what the future holds for our beloved city.
The rebirth of the waterfront and downtown Buffalo, as well as its sports franchises has one common denominator these days, the Pegula family. It does not escape this Bills fan's attention that the Pegula family are people of high character, not unlike Mr. Wilson, or the Knox brothers and Mr. Swados, the first owners of the Buffalo Sabres. These men created a legacy that the Pegula family has made a commitment to follow in terms of dedication to enrich the Buffalo community. And my goodness, aren't they off to a jolly good start?
The game on Sunday against the Patriots has the possibility of being even more emotional than the first home game this season against the Dolphins. It's important to cherish the few moments of abject joy we get in life, and this Sunday will be one of them. As Russ Brandon stated at the owners meeting, it is the culmination of many years of hard work.
For fans, it has been decades since there has been a reason for such high levels of optimism in the professional sports community. Additionally, with Buffalo experiencing a renaissance of its own, there hasn't been a more upbeat time in downtown Buffalo since the early 1960s. That was the time when Mr. Wilson brought the Bills to town on a prayer and a dream.
The first circle has been completed now. Buffalo sports fans should consider how they decide to enter this new era. We have an opportunity to cross a threshold into the future and leave the past to rest in peace. In doing so, it may behoove some of us to consider dumping the baggage we've accumulated along the way.
This is an opportunity to redefine what it means to be a Buffalo sports fan. We can look at this time as a chance to let go of the past wounds that bind us, but also those that have served to stifle our ability to enjoy the moment. As far as Buffalo sports go, there hasn't been a lot to celebrate over 90+ seasons in terms of success on the field or ice.
My personal memories of the AFL championship years in the mid-60s are covered in cobwebs. What I remember most about them is the way my Uncles went crazy in the living room when the championship games were over. It was more than celebrating a sports victory. The AFL championships brought civic pride to a level it has yet to achieve again in the area.
When you talk with each other on Sunday during the Patriots game, remember to take a moment or two to reflect upon however many years you have been a Bills and/or Sabres fan. Cherish the moment like no other, because they don't come along often enough in life. Think about letting go of the despair that has controlled us to a state of near insanity as a sports fan.
We have a unique opportunity to let the blessings bestowed upon us now fill us with optimism, as move forward and our beloved Western New York community heals from decades of neglect. Think about all we have to be grateful for, especially the generosity of the Wilsons and Pegulas in ensuring our community continues to thrive for future generations.
When the Pegulas are introduced before the Patriots game on Sunday, savor the moment. Cherish it and allow yourself to dream about the possibility that both of our beloved sports franchises are in good hands. The Pegulas are the new stewards of the land, and they will continue to lead Western New York with a sense of pride. It's truly amazing when you realize that the generosity and legacy of people like Mr. Wilson will continue to shape our community for decades to come.
I would like to express my gratitude to all the Bills and Sabres fans I've met over the years. We are unique and special fans, and I'm grateful for every one of you. At this moment, there is no more important time to savor as Buffalo sports fans.
May the recent curse of the Patriots be lifted, and may Brandon Spikes put five sacks on Tom Brady on Sunday. What better way could we usher in the new era in Buffalo sports history than to pummel the Patriots in honor of how this whole gig started? The Patriots won in that first exhibition game in 1960. What's the Bills marketing slogan this year? Oh yea… "It's Our Time".