Every now and then, we'll take a submission from a reader who may have asked if he/she could contribute their thoughts to our blog. This is one of those posts. Today, Kris James speaks his peace on the thought of the NFL pushing Western New York to build a new stadium.
I'm tired of being told by outsiders why my "game-day experience" at Ralph Wilson Stadium is horribly lacking and in need of immediate remediation. It's obvious that Bob McNair and Shad Khan have absolutely no clue what a quality game-day experience is for a Bills fan. They casually mention that they've been to RWS and they recognize the glaring need for a new stadium to enhance these areas.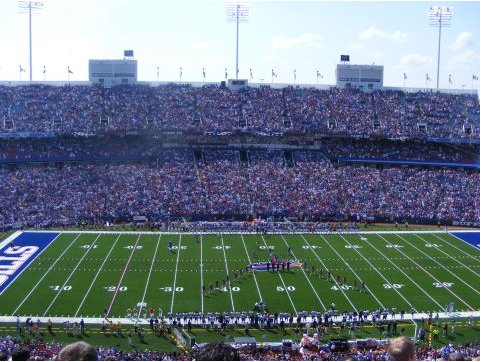 My question to them is what specific elements do we lack, that an ACTUAL Bills fan would significantly value? I put to them that the things the average attendee of RWS cares about are tailgating, entry/egress to the stadium, bathrooms, and beer taps. Everything else is nice but frankly ancillary. Would amenities like non-bench seats in the upper deck, better cell service, WiFi, and better video boards improve game day?
Yeah they probably would a little bit. I've been to a couple other stadiums around the league and they're nice but my seats are never as good as they are in RWS. If I'm trading proximity for a bigger TV screen I should just stay home with the big TV I already have shouldn't I, Shad? I don't need to be lectured about game-day experience by a man who just removed more seats in order to install a pool inside a stadium that has 15k seats covered by tarps because people won't pay for them. Those owners see Jerry Jones' monstrosity as the zenith, a money-making machine. A money-making machine where things are so expensive and the fans have been so marginalized that visiting fans outnumber Cowboy fans on a regular basis as fans pimp out their tickets. This is a building where they proudly tout their field level boxes where you couldn't possibly see more than a sliver of action. Sounds like a tremendous game-day experience, Bob. Where do we sign up? Pass the $60 pizza.
I grant that we probably need and want a new stadium in Buffalo but I doubt it's for the same reasons that McNair and Khan want it. They want more ways to wet their beaks. We want more comfortable digs in a more economically advantageous part of town. Those are vastly different agendas. I don't mind paying for a new stadium and the higher ticket prices that will inevitably follow that makes MY experience better but ask me if I give a lick if Muffy and Chet's experience is better. If getting that new building means curtailed tailgating you can keep it. If that new building means I'm sitting 3 rows behind Jesus you can keep it.
Let's not beat around the bush though. You know what REALLY would make my game-day experience better? It'd be better if the TV timeouts weren't timed on a glacial scale. It'd be better if the rules weren't so obfuscated that Hall of Fame cornerbacks (Ronde Barber)can no longer recognize what is and is not legal on a given play and where officials with 20+ years of experience can't tell what is and is not a catch on TV. What it has become is that it's so muddied that any outcome is possible at any time. The WORST part of the gameday experience is scanning the field on every 3rd "Out of Jail" card from the official. It's frustrating and discouraging to know that a penalty can now be called or ignored on nearly every single play of the game. The officials have the power to influence the outcome of games like never before. The integrity of the game itself is degraded every time a BS flag is either thrown or withheld. Nothing ruins the fan experience like walking out of a building feeling like you've been screwed over. The NFL is becoming more and more about that each passing week.
If the Shad Khan's and Bob McNair's of the league are truly concerned about the "game-day experience" then they should start fixing the reason we're all there in the first place. The game.
Kris James
@falstaff_20