After a rather tumultuous week in Western New York following a loss in which the Buffalo Bills played poorly against a very good football team this past Sunday, it's high time to lay some perspective on this young season. The Bills are 2-1 and sit atop the AFC East standings after three games. That's what is most important. I'm willing to bet that most of us would have gladly taken this 2-1 start had we been asked prior to the start of the season.
To get to 2-1, the Bills beat a good Chicago Bears team in Chicago 23-20 in overtime and then came back home to an emotion-laden Ralph Wilson Stadium and dismantled the Dolphins in front of their adoring crowd by a score of 29-10. Last week was certainly the first hiccup. Every team has a few throughout the year and this was the first one for the Bills. The Chargers are a very good football team on both sides of the ball. They are also a well-coached team. All of this showed in week three and the Bills dropped to 2-1 with a 22-10 loss at the hands of San Diego in Orchard Park.
Throughout the first three games, there has been some good things happening; there has been some average things happening; and there have been some ugly things happening. Lets examine a little bit of each category…
The Good
We'll start off the 'Good' section by listing three numbers: 249, 3.3, 14. The 249 is the total amount of rushing yards the Bills defense has given up through three games, good for fifth overall in the entire National Football League. The 3.3 is the average yards per carry teams have been able to muster against this rush defense; this includes allowing Miami only 3.8 yards per carry in week two and San Diego just 2.3 yards per carry last week. The 14 is the longest run that the Bills have given up so far in this young season. 14 yards. Pretty impressive, right? This is due to a number of factors personnel wise throughout the defense, but more than anything else, it's a reflection on the scheme of defensive coordinator Jim Schwartz and just how effective it can be as far as bottling up run games.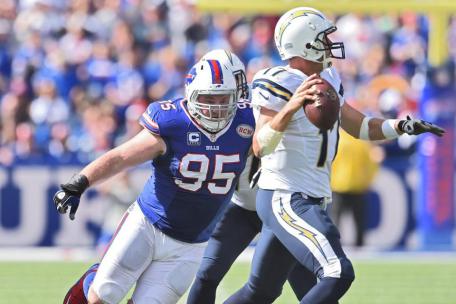 Since we just mentioned the scheme, lets highlight a few players from that defense who have to belong in that 'Good' category through three games. In the opinion of this writer, Kyle Williams has often been the best player on the field for the Bills this season. Though the stats don't really jump out at you – 9 tackles, 1 sack and a big interception of Jay Cutler in week one – Kyle has (as he usually does) lived in the opponents backfield for much of the year. He is what makes this Bills defense go and he is off to another great start.
Corey Graham has also been a revelation for the Bills and is looking like one of the best free agent signings for any team in the league so far. He has 18 tackles, an interception and leads the league with 7 passes defended. Pro Football Focus, a football grading website that I have great respect for, has ranked Graham as the top cornerback in football through three games. Graham didn't see the field quite as much in week three, which was frustrating to many fans including myself, but he has been solid in both the pass/run game almost the entirety of when he has been in the game. The front office has to be loving what they are seeing from the hometown kid that they brought home over the winter.
The linebackers have also done their part in making this defense one of the better units in the league early on. Two I specifically want to highlight, and I believe can be grouped together, are Nigel Bradham and Preston Brown. With Kiko Alonso done for the year with an off-season ACL injury and Keith Rivers sitting out the last two games, all Bradham and Brown have done is combine for 50 tackles, and that is with Bradham sitting out week one in Chicago due to suspension. It's almost crazy to write, but Bradham looks to be a Kiko-clone out there. He is a sideline-to-sideline monster and is adept at playing both the run and the pass. Brown has been very impressive, especially for a rookie. His play in the pass game has been stronger than I had expected and he leads the team with 31 tackles. Both of these guys rarely leave the field when the Bills are on defense and their production has matched the playing time thus far.
On offense, Freddy Jackson just keeps on keepin' on. All the oldest running back in the league has done so far this season is carry the ball 25 times for 119 yards (4.8 ypc) and catch 13 passes for 118 yards (9.1 avg.). Jackson has also been equally effective in pass protection, as always. He is efficient as they come, one of the leaders of the entire team and still incredibly productive into his 30s. There isn't much else that needs to be said about Freddy. He just keeps getting the job done whenever called upon.
The Average
EJ Manuel was oh-so-close to being in the 'Good' section of this article. Through the first two games, he was firmly included on that list. Against the Bears and Dolphins he completed 72.7% and 61.5% of his passes, often kept the chains moving on third down and consistently got the ball into the hands of the playmakers around him and let them get the YAC that many are so adept at doing. The Bills got almost exactly what they wanted from Manuel those first two games. However, he struggled at home against a good defense this past Sunday, and playing at a high level against a good defense is something he needs to begin doing consistently in order to take the next step as an NFL quarterback.
The Chargers brought pressure in a variety of ways last week; often stunting and twisting along the defensive line and mixing blitzes. The offensive line did not handle this pressure well. EJ Manuel did not handle this pressure well. He looked too quick to get rid of the ball when he did have a clean pocket and was often inaccurate when forced to move out of the pocket due to the pass rush. He finished with a completion percentage below 60% for the first time this year and certainly did not make enough plays on third down to sustain drives. That was Manuel's 13th game in the NFL and I believe he will learn from it and get better from it. He displayed the ability to be the efficient, game-managing quarterback that the Bills need him to be the first two weeks. He can do it. He just needs to start doing it more consistently when the competition-level is ramped up like it was on Sunday because, make no mistake about it, San Diego is a damn good team. I think Manuel will have more games like the first two than the last one this season. Let's hope I'm right.
Aside from Manuel, the player that took perhaps the most heat throughout this week was Stephon Gilmore. Though he was not targeted much, as per usual, when he was targeted on Sunday he struggled a bit, allowing all 4 passes thrown his way to be caught for 61 yards and a touchdown. He also missed a few tackles. Though these were glaring mistakes often at key moments last Sunday, I'm still not ready to say that Gilmore is playing bad by any means. He is infrequently targeted despite being almost exclusively locked on the opposing teams number one receiving threat.  That's a good indication of two things: Teams respect his abilities as a cornerback and they're not throwing his way very much because receivers aren't often shaking him and getting open. The missed tackles have actually been the most frustrating part for me. Tackling has been and should be one of his strengths. He certainly has the size to make it so, and I think that will get better. As far as his "coverage woes" go, I think they've been pretty significantly overstated. I still am a firm believer in Stephon Gilmore's physical ability, and I think he'll make the jump from the 'Average' to 'Good' category sooner rather than later.
The Ugly
To kick off the 'Ugly' portion of this piece, we're going to stick with the corner back position and highlight two players who were both big positives last season, but have started the 2014 year on a decidedly negative foot: Leodis McKelvin and Nickell Robey.
Last week, we saw the worst of Leodis McKelvin. He was beat deep twice by San Diego receiver Malcom Floyd for two 49-yard gains. Giving up these kinds of big plays is something that McKelvin had consistently struggled with his entire career up until last season when he had easily his best year in the NFL. He didn't play much better against the Bears or Dolphins, either. Teams are finding where he is on the field and are consistently attacking him; usually finding good results when doing so. In my opinion, Corey Graham should not be spending any time on the bench in favor of McKelvin at this point. He is simply a better player. McKelvin needs to re-discover his 2013 form and he needs to do it soon.
Nickell Robey was one of, if not the best, slot corners in all of football last season as a rookie. In three games this year, he has been exposed a bit. He is struggling to stay with receivers working across the field; often losing his man and having a difficult time working through designed picks and rubs. This is to be expected a bit due to his size, but he found a way to overcome it all season as a rookie and simply does not look like the same player thus far. I still believe in Robey's talent, but he has been firmly in the 'Ugly' category through three games this year.  The Bills need him to step up his play, or they will be forced to give Ron Brooks more looks at slot corner as they did at times last Sunday.
I want to begin the last entry in the 'Ugly' section with a couple numbers: 8-102-0 and 5-50-0. Those are the receiving numbers through three weeks for Robert Woods and Mike Williams respectively. These are two legitimate playmakers on the outside that are not involved in this offense nearly enough in the early going. Part of this is on EJ Manuel and part of it is on the offensive scheme. I believe Manuel needs to find Woods more in the passing game. He is a great YAC guy and has also proven (see week one vs. Bears) that he can win at the point of the catch. In Mike Williams' case, I just think he needs to be on the field and utilized more, particularly in the red zone. Williams has not only good, but elite high-pointing abilities. This is what he was brought into town to display via trade from Tampa Bay. These two wide receivers are not necessarily in the 'Ugly' section by fault of their own. It is due to the fact that they are not getting enough opportunities to make plays for this offense and both the quarterback and offensive coordinator should feel a sense of urgency in making sure that this changes moving forward.
There you have some things that I believe have been Good, Average and Ugly from the Buffalo Bills through three weeks of the year. What do you think about those selections, Bills fans? What would you put in each of those categories so far? Let us know, and as always, go Bills!