After consuming a lot of great media coverage about how the "pesky" Bills rolled the Dolphins at The Ralph on Sunday, it seemed like the real winners for the entire weekend were Bills fans. The crowd was incredible and made the rest of us that could not be there very proud. This was a first class performance by Bills fans!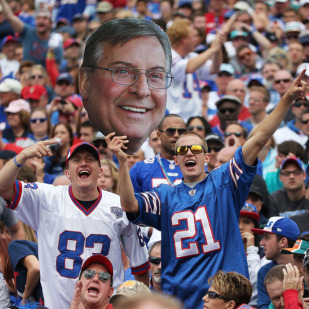 We could hear you all the way to Wyoming. I had the pregame coverage from WGR-550 going on my smartphone, and started crying when I heard the response from the crowd when Jim Kelly was introduced. Cried like a baby, and it wouldn't be the last time that glorious day.
Honestly, the Dolphins had no chance of winning that game. The stadium was full of more love and happiness than we've seen for over 20 years there. However, this time it was different.
There was a beautiful passing of the torch by honoring Mr. Ralph Wilson, and Mrs. Mary Wilson honoring us with her presence. If you ever wanted to know what a class act looks like, look no further than Mrs. Wilson. She is the epitome of elegance. Hope she comes back for more games in the future.
As far as opponents, it wouldn't have mattered a fig what team the Bills played on Sunday. The players saw the response of the fan base on Saturday when they tried to get to the stadium. They could not get past miles of RVs. They fed off the frenzy. They gave out autographs to move through the traffic lines. On Saturday!
There are times in life when surreal things happen. The last week for fans of the Buffalo Bills has been mind altering in so many ways. There was a tremendous tribute to the past, and a strong sense that the new era in ownership will be taking on a team with more than just a talented roster.
This team is different. The players are saying it, the coaches are saying it, and from what I've read on my Twitter timeline, the majority of people that attended the game on Sunday felt "IT" as well. Stella is getting her groove back, folks.
However, this fan base has been awakened in the past, only to be given one emotional concussion after another for most of the last couple of decades. We have conditioned ourselves to expect failure around every curve in the road.
Something mentioned in a previous post comes to mind here. As much as we expect the players to tote a different attitude and play with passion, what about fans? We are loud, that's for sure. We are as passionate or more than most fans in the NFL.
But the last decade of despair hit us hard. We don't know how to enjoy success without fearing the 'inevitable' self-destruct mode that the last decade of Bills teams have put out. Winning will help change years of toxic emotional states, and does wonders for the soul.
The players and coaches are about to get a new boss, and it's like cleansing the entire organization as far as ridding any sense of complacency. We are seeing what a "let it all hang out" general manager and coaching staff are doing this season with this young bunch of athletes. The mandate is to win now or face the possibility of looking for a new job after Terry and Kim Pegula get settled.
The "win now" strategy is evidenced with starters playing with special teams units. It's been a long time since I've seen franchise players returning kicks, but I'm more than willing to give Saint Doug the benefit of the doubt.
After all, since Doug is a saint, he's probably got an 'in' with his boss. Maybe he'll put in a good word to keep the injury bug off our team this season as well. We've certainly been blessed for the most part after two games (*crossing fingers*). We'll need that good fortune to stay with us to have a chance to get to the playoffs this season.
Yes, playoffs (why can't I stop thinking of Jim Mora?). The Bills are now 2-0 and in sole possession of first place in the AFCE. Yes, we've been in this situation a few times in the last five plus decades. And yes, horrible things have gone wrong since the turn of the century for this team.
Cautious optimism is understandable. I appreciate when Bills fans talk about being realistic, but also optimistic. It's really the only way we have managed to survive loving this abysmal team for so long. It truly is a survival mechanism as a Bills fan.
Along with the aches and pains of old age, I've also learned that while it's prudent to be cautious, there's something to be said for just allowing yourself to experience true joy without all the "but, what ifs, and other worries" that we can't control.
That positive feeling that everyone felt at The Ralph needs to stay as laser focused as the players executing on the field. Think about it. As fans, we have the choice to let go of the past and enter a new era with this young team. We expect them to up their game, right?
Well, what about us? When you heard from almost everyone from players to coaches to front office staff talking about how jazzed the atmosphere was on Sunday at The Ralph, you have to sense there is a seismic shift going on with the future of this franchise.
We need to shift ourselves into that gear and ride it out as far as we can with this team, for as long as we can keep this team rolling. That is what is feeding the soul of the lion! This team has the talent to achieve great things.
My goal is to strive for detaching from the feeling that disaster is around every corner, that the team is cursed, and all that other negative garbage I've been toting around for way too long. Every fan can do whatever they want. It's your thing. Write your script whichever way you choose.
But when you look at how this team played on Sunday, and how much the players credited the fan base for helping make it happen, why wouldn't we want to do everything we can to keep this team winning? Let it hang out, Bills fans. Why NOT us?