The Buffalo Bills are taking on the Miami Dolphins this weekend, after both teams were able to upset the Chicago Bears and New England Patriots, respectively. Leading up to the game, I was fortunate enough to have a few of my questions about the game answered by two of my favorite football follows on Twitter, Alessandro Miglio (@AlexMiglio) and Ian Wharton (@NFLFilmStudy) who both happen to be Dolphins fans.
So how do the Dolphins feel about this weekend's matchup against the Bills? Let's find out!
1. The Dolphins rushed for 191 yards against an upgraded Patriots' defense, when many believed Miami's offensive line would be their Achilles Heel. Do you believe this could be a regular occurrence, or a case of the Patriots being overrated?
Ian: The Dolphins put a lot of resources into rebuilding their offensive line, including a first-round pick and about $60 million in contracts handed out (most of that went to Branden Albert). They also hired Bill Lazor to run the offense, and John Benton to install the zone-blocking scheme.
It all came together when Knowshon Moreno entered the game, and I do believe the Dolphins have found a recipe for continued success. Now, until center Mike Pouncey comes back from injury, the Dolphins might not post the 191 total against the Bills, but they should be able to run for more than 100 yards a game as a team.
Alessandro: It's honestly tough to tell after just one week, but it was a surprise to see the Patriots get mauled in the trenches, on both sides of the ball. The Dolphins did revamp their offensive line, so an improvement of some sort was to be expected. The fact they did it without Pro Bowl center Mike Pouncey helping take Vince Wilfork on in the middle was eye-opening.
The Patriots let the game get away from them in the second half, so the answer to your question is "a bit of both." Knowshon Moreno is clearly an upgrade at running back, and the Dolphins seem to have an improved offense overall, but we can pump the brakes on expectations.
2.  If you were the Bills' coordinator, how would you attack Miami's offense/defense?
Ian: If I'm defending the Dolphins' defense, you have to keep a safety over the top to roll to Mike Wallace's side every play. Wallace has had issues with his hands and tracking ability, but he's a huge weapon for the Dolphins. For the rest of the receivers, I'd sit on underneath routes and challenge Tannehill by bringing extra pass rushers. Tannehill plays well when in a rhythm, but his accuracy can be erratic when he sees pressure.
To stop the run, the defense just has to beat their blockers and not overcommit one direction. Moreno destroyed the Patriots on cut back runs in Week 1, and the Bills have to limit that.
On offense, I'd stretch the Dolphins' defense horizontally when running the ball. The Dolphins' linebackers are young and unproven, so there's an opportunity to create big plays if the running backs can get through their talented defensive line. To pass the ball well, the Bills will need to attack the linebackers once again. Use crossing routes and get rid of the ball quickly, because the Dolphins' pass rush is fierce.
Alessandro: Defensively, they should attack the way they did last year—pressure Ryan Tannehill. That is where the Patriots failed in Week 1, allowing Tannehill to get into a bit of a groove. It might be a bit more difficult with that upgraded line, but the Bills have the defensive front to get to the quarterback. Offensively, the Bills need to make sure EJ Manuel stays clean, even if it means keeping in an extra blocker on most passing plays.
3. Which Bills' player on both offense and defense presents the biggest mismatch against the Dolphins?
Ian: For the Bills' offense, Robert Woods is going to be a guy that has to be accounted for every play. His route running is terrific, and since Miami plays off-coverage often, he's going to have the chance to get a number of targets.
The Bills' defensive line is troublesome for any team, but Mario Williams will be the key. He's facing rookie Ju'Wuan James, who has been terrific thus far. If Williams can force the Dolphins to use a running back to help James, that's going to slow the offense considerably.
Alessandro: C.J. Spiller is an obvious mismatch at running back, taking on Miami's slower linebackers. The Patriots got Shane Vereen going early then seemingly forgot about him—Spiller can cause problems for the Miami defense, particularly as a pass-catcher.
4.     Ryan Tannehill quietly had a pretty good season last year. Do you think he can take another big stride in his development this season, and why?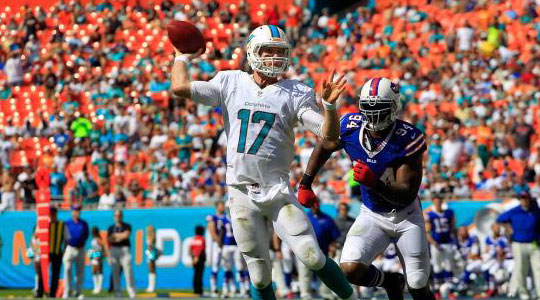 Alessandro: Absolutely. Folks are picky about Tannehill, but he improved in just about every category last season. They mainly remember those last two stinkers—one of which came against the Bills, naturally. New offensive coordinator Bill Lazor has been good for Tannehill's development thus far, it seems, and an improving connection with No. 1 receiver Mike Wallace could lead to big things for the third-year quarterback and that offense.
Ian: I do, because the Dolphins finally surrounded him with some talent. A real offensive line, offensive system, and a running back with leaderships and vision were huge additions. Tannehill likely won't become a top-five quarterback, but I do believe he will be a top 10 guy at the end of 2014. His ball placement and consistency need improving, but this is also just his fifth season playing the position.
5.     Which Dolphins player should Bills' fans watch for on offense and defense, and why? (Think "X Factor")
Alessandro: Knowshon Moreno proved himself yet again last week—as if the 2013 season didn't count—and he is absolutely the biggest X Factor heading into Week 2. If he runs the way he did against the Patriots, the Bills are going to have to pick their poison against the Dolphins offense.
Defensively, the Bills had better not be caught sticking a tight end on Cameron Wake like the Patriots did with Michael Hoomanawanui at times last week.
Ian: Charles Clay is always a tough matchup because he has running back speed at the tight end position. He is so productive on seam routes and can get major yards after the catch. The Dolphins should target him often.
On defense, defensive end Cam Wake has been out of his mind since the preseason. Wake is incredibly talented, even at 32. His matchup against Seantrel Henderson could lead to a long day for the Bills' offense. Just ask Tom Brady about Wake's impact.
6. The Bills' offense is designed to pound the ball on the ground 40-ish times per game, while getting shifty, speedsters (Spiller, Woods, Watkins, Goodwin) the ball in space. Do the Dolphins have the personnel to stop that kind of attack?
Ian: It's going to be a challenge. The Dolphins' defensive line handled the Patriots' running game well, but the Bills have a better offensive line and more talented star back with Spiller. On the outside, the receivers will only do as well as their quarterback. With Manuel looking shaky in Week 1, Miami has an opportunity to pressure him into bad decisions.
Alessandro: Miami can deal with the running game, it's the shifty guys in space that will give them fits. Miami did swarm to the ball against the Patriots, but guys like Spiller and Watkins in particular could be problematic for the Dolphins defense this week.
7. The Bills' defense has a ferocious front four in Mario Williams, Kyle Williams, Marcell Dareus and Jerry Hughes, with solid depth throughout the back seven. Can Miami's offensive line hold up against the Bills?
Alessandro: Better than last year? Absolutely. Enough to keep the offense rolling after Week 1? That will be interesting to see. The Dolphins won in Week 1 because they dominated the trenches in the second half, something less likely to happen in Buffalo.
Ian: They will perform better than 2013, but that's a line with as much talent as any team, so it's hard to predict Miami's line will be solid all game. It'll be a true test for Miami's talent.
8.     Who wins the game and why?
Ian: Well, the team that turns the ball over less will win. Miami is known for having let-down games after big wins, and I believe that Buffalo has the second-best roster in the AFC from top-to-bottom, so it'll be a tough game. Manuel will be the deciding factor. If he can withstand Miami's pass rush, Buffalo might eek this one out.
Alessandro: It's tough to win in Buffalo, and the Bills proved tricky for the Dolphins last year. A stark improvement on offense could be the difference-maker this season, though, starting with Lazor at offensive coordinator. The Dolphins couldn't get anything going against Buffalo last season, something I expect to improve.
Both teams impressed in Week 1, but Miami looked dominant against the favored New England Patriots. That gives them the edge for me heading into Week 2, when they will win a hard-fought road battle—21-17—over the favored Bills.