The Buffalo Bills will face off with the Miami Dolphins in the team's Home Opener at Ralph Wilson Stadium this Sunday. Both teams are coming off big wins as underdogs, and this divisional matchup should be fun to watch.
Without a clear favorite in this AFC East showdown, let's take a look at some matchups, keys to the game and sleeper players to watch that will determine the outcome of the game.
Bills LDE Mario Williams vs. Dolphins RT Ju'Wuan James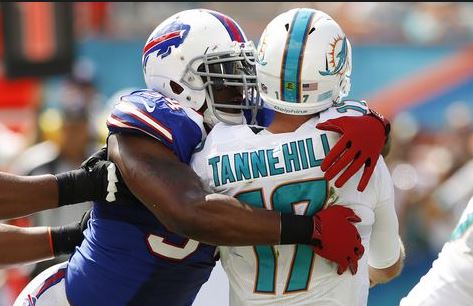 Mario Williams got off to a strong start to his 2014 season against the Bears, as the 6'6" 295 lb defensive end bullied Chicago's right tackle, Jordan Mills throughout the entire game. Mario recorded just two tackles, but both were at, or behind, the line of scrimmage, while adding another sack.
This week, he'll be licking his chops as he faces off with Miami's rookie tackle Ju'Wuan James out of Tennessee. James, who stands 6'6" and weighs in at 318 lbs has the length you look for in a tackle, but lacks the footwork necessary to kick out against speed rushers and anchor against a bullrush.
James had a rough game against New England, surrendering four quarterback pressures, and the rookie should be in for a long afternoon against one of the more powerful defensive ends in the NFL.
Bills RT Seantrel Henderson vs. Dolphins LDE Cameron Wake
Much like the Mario Williams- Ju'Wuan James matchup, the Bills will also have a rookie right tackle lining up across from a premier pass rusher. Cameron Wake is an every-down edge defender that can blow up the pocket and set the edge against the run. Against the Patriots, Wake racked up three tackles and two sacks, while adding six more quarterback pressures.
Seantrel Henderson had a solid performance against Lamarr Houston for the most part, despite giving up a sack and two pressures, but Cameron Wake is on another level than Houston. Bills' offensive coordinator Nate Hackett will likely chip Wake with a tight end throughout the game.
Bills LBs vs. Dolphins RB Knowshon Moreno, Slot Receivers
Jay Cutler torched the Bills' defense for 349 yards through the air on Sunday, but 126 of those yards came from running backs and slot receivers. The Bills were without starting weak-side linebacker Nigel Bradham due to a suspension, but the starting trio of Brandon Spikes, Preston Brown and Keith Rivers allowed 14 catches for 122 yards and a touchdown.
The Dolphins don't have the skill-position talent of the Bears, but Brian Hartline, Brandon Gibson, and rookie Jarvis Landry are great route runners that excel in horizontal passing concepts.
Ryan Tannehill won't be throwing 48 passes this week, so defending the run will be a priority for the Bills' defense. Knowshon Moreno proved that last year's success wasn't due to opposing defenses fearing Peyton Manning, as he rushed for 134 yards on 24 carries.
With Nigel Bradham's return to the starting lineup, the Bills' front seven should do a better job defending the run this week.
When the Bills Have the Ball
The Bills have a talented collection of skill-position players that are versatile enough to fill a variety of situations. The Bills showed that they want to run the ball early and often, gaining 193 yards on 33 carries, but Miami's front four is much better than the one they just faced.
While running the ball will be a priority, the Bills have weapons in the passing game that can be difference-makers. Robert Woods, Sammy Watkins and Mike Williams line up all over the field, creating mismatches against a Miami defense that will be without Reshad Jones, Dion Jordan and Dannell Ellerbe.
Miami's linebackers don't have much range, so if EJ Manuel can be as efficient in the short-to-intermediate passing game as he was against the Bears, the Bills could roll to 2-0.
When Miami Has The Ball
The Miami Dolphins were able to beat the Patriots due to a clean pocket for Ryan Tannehill and a strong performance by Knowshon Moreno. Each of the four starters on the Bills' defensive line (Jerry Hughes, Kyle Williams, Marcell Dareus, Mario Williams) had 10+ sacks last season and didn't appear to miss a beat in yesterday's contest, as they sacked Jay Cutler two times, adding another 14 pressures.
Buffalo's front four will need to put pressure on Tannehill, forcing him to make bad decisions. Against New England, Tannehill completed 18-of-32 passes for 169 yards, 2 touchdowns and an interception. However, when he was under pressure, he completed just 2-of-10 passes with an interception.
In addition to pressuring Tannehill, Jim Schwartz will need to make a decision on who to cover Mike Wallace with. Wallace is a deep threat that showed his incredible speed against the Patriots by hauling in seven passes for 81 yards and a score.
With Stephon Gilmore likely returning to the lineup it will be interesting to see whether he or Leodis McKelvin (who was burned 10 times for 179 yards and a score vs. CHI) will cover him. Corey Graham is a bigger and physical corner, but he doesn't have the long speed that makes him a good matchup for a receiver like Wallace.
Dolphins Sleeper to Watch: TE Charles Clay
Miami Dolphins tight end/ slot receiver/ H-Back/ do-it-all offensive weapon Charles Clay is one the most underrated offensive skill player in the league. Clay's 69 receptions for 759 yards and six touchdowns in 2013 each were top 10 among tight ends, and he's an extremely difficult athlete to defend.
At 6'3" 245 pounds, Clay lines up all over the Dolphins' offense, using his strength and blocking ability as an H-Back and his combination of speed and agility makes him a threat as a receiver.
The Bills haven't been able to defend tight ends for years, and Sunday's win over the Bears was no different, as Martellus Bennett had receptions against all three of the Bills' linebackers and both safeties, racking up 70 yards and a touchdown on eight receptions.
Bills Sleeper To Watch: WR Robert Woods
It's hard to call a team's leading receiver a "sleeper" but with Sammy Watkins and Mike Williams playing the boundary against Brent Grimes and Cortland Finnegan, Robert Woods will have quite a few opportunities to make plays against slot cornerback Will Davis and safety Louis Delmas.
Davis is pretty inexperienced and Delmas is similar to the Bills' own Da'Norris Searcy in that he offers more in terms of run support than coverage ability.
Prediction: Bills 27 Dolphins 13