There were no shortage of topics when Anthony Marino and Ryan Talbot recorded the latest BillsMafia Video Podcast.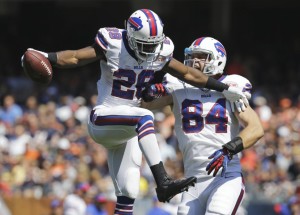 First up, the duo discussed the Pegula family buying the Bills. Ryan and Anthony discuss how they felt when they heard the news as well as some of the emotional calls taken by WGR. It just goes to show you much the Bills mean to Buffalo.
Next up, the two discussed Buffalo's first ever victory over the Bears in Chicago. Talbot discusses how the team won a game they traditionally found a way to lose. That's a great sign for the coaching staff and team. Marino and Talbot discuss some of the best performances of the day for the Bills.
Looking forward, Talbot and Marino discuss what the atmosphere will be like at Ralph Wilson Stadium on Sunday and Talbot gives his prediction on the game.
BillsMafia, what are your final score predictions on the Bills/Dolphins game? Share them with us here!