EVERYTHING is better after a Bills win.
I've already set aside my Buffalo Bills polo shirt for tomorrow. The Jim Kelly jersey I wore today? I threw it in the laundry so it'll be ready for next Sunday. My Bills flag is flying proudly on my front porch.
I look forward to talking Bills football at work tomorrow. I'll be watching ESPN, WGRZ, WKBW, and WIVB for Bills highlights. I'd watch Univision this week if they had Bills highlights. We Bills fans are on an emotional high.
And why shouldn't we be? The Bills were disrespected this week.
Look at this headline: NFL Week 1 Bettors Guide: Chicago Bears are best bet against lowly Buffalo Bills. Did the term lowly really need to be used? Absolutely not.
How about ESPN's Survivor Pool? Many NFL analysts took part and guess who the most popular pick to win this week was? The Chicago Bears. Out of every game in the league this week, the Bills were the most obvious choice to lose? Not the Rams behind Shaun Hill? The Jags haven't been "lowly" like Buffalo? What about the Cowboys against the 49ers? That defense is going to be atrocious this season.
I get it. Buffalo hasn't made the playoffs since 1999 and have had one winning season since their last playoff appearance. That said, I "billieve" the Bills are on the rise. Hopefully the national media gives the team some respect tonight when highlights are shown. Sadly, Buffalo will probably get a 15-30 second segment that mentions their win in passing.
All venting aside, here are 10 things I Billieve about Buffalo's win over the Chicago Bears.
I Billieve…
1. Nathaniel Hackett Called a Solid Game
Hackett is an easy target for Bills fans. I'll be the first to admit that I've criticized his playcalling, but today he put together a strong game plan. He called 27 runs (not counting Manuel's scrambles) to 22 passes. His three running backs all went over 50 yards and totaled 174 yards. Buffalo's run game set up manageable third downs for EJ Manuel and that's exactly what you want for a young signal caller. Kudos to Hackett for a good well done this week.
2. Buffalo's WRs Can "Go Up and Get It"
Sammy Watkins had a fine debut. Mike Williams' stats may not jump off the page, but he made a HUGE 20 yard catch in overtime. And Robert Woods? The chemistry is still there with Manuel and that's all you can ask for. Woods also made a big catch, scaling the ladder and bringing down a high Manuel pass for a 25 yard gain. That catch helped set up Buffalo's final field goal in regulation. The stats weren't gaudy, but Buffalo's WRs played a big role in Buffalo's victory.
3. Saint Doug Rightfully Gave the Refs Hell
At one point in the game, it felt like the Bills were playing against the Bears and the refs. Every ticky-tack call that could be called against the Bills was, and it helped bring the Bears back into the game. Marrone kept his composure through those calls, even though he didn't agree with many of them. Then a "non-call" broke the camel's back. The referees threw a flag at one point and the call was going to be offensive holding. After a brief meeting with fellow referees the head judge announced that there was no offensive holding on the play and the flag was picked up. How is this possible? How does a referee see a penalty, call it and then decide it wasn't a penalty? I can't figure out and neither could Marrone. Buffalo's head coach laid into the referees and shortly after this, a lot of the ticky-tack calls went away. Thanks for giving them hell, Saint Doug.
4. In Schmidty!
I loved Brian Moorman. Heck, I owned his jersey back in the day. That said, Moorman was past his prime and really struggled this preseason. The Bills saw this and parted ways with the veteran. This opened the door for Colton Schmidt. The punter had a strong preseason and deserved a shot somewhere. After Week 1, I'm really glad it was Buffalo. Schmidt, who should be called Schmidty, had five punts. Four were inside the 20 and his average was 43 yards. His solid punting helped the Bills immensely in terms of field position. Hopefully we see many more performances like this one in the future.
5. In Other Special Teams Standouts
Dan Carpenter won't be perfect this year. No kicker is perfect. That said, there are few kickers more reliable than Carpenter. When he gets onto the field, I feel very confident in his chances of making the kick, regardless of the distance. Besides Carpenter, Marcus Easley was also outstanding on special teams. He showed why the Bills kept him as their sixth WR.
6. Corey Graham Has Starting CB Talent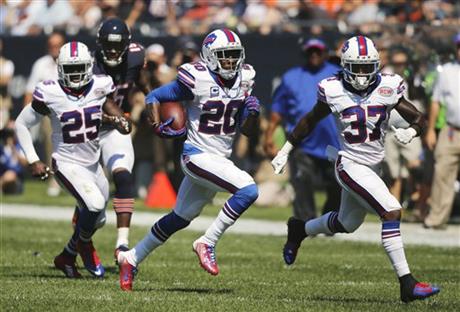 No Stephon Gilmore? No problem. Chicago has no shortage of offensive weapons, so it was a bit worrisome when it was announced that Stephon Gilmore would be out of today's game. Starting in Gilmore's place was Corey Graham, who had an outstanding game. He had numerous pass breakups and an interception. Last season, the team relied on Justin Rogers and the results were awful. Adding a veteran like Graham for depth seemed like a great move. Today, he proved that he's more than depth. He belongs on the field as much as possible. It's a good problem to have for the Bills secondary.
7. Spikes Will Set A New Career High In Sacks
In New England, Brandon Spikes had one career sack in 51 regular season games. It took Spikes one game to match this total with the Bills. There's a pretty good chance that Spikes is going to have a new career high in that category in 2014. Can I get a "PoWwWwW" if you agree?
8. Streaks Are Meant to be Broken
The Chicago Bears were undefeated in Week 1 from 2010-2013. To make matters worse, Buffalo was 0-5 in Chicago. That said, streaks are meant to be broken and the Bills should take great pride in their opening week play.
9. The Bills Have the Most Depth They Have Had in Years
Nigel Bradham had to serve a one game suspension. No problem; rookie Preston Brown could fill in for him. Keith Rivers suffered an injury. No problem. Ty Powell is more than capable of playing. No Stephon Gilmore? The Bills can start Graham in his place with confidence. Look at this roster. Hopefully Manuel can stay healthy all season, but the Bills have a capable backup just in case. Buffalo's running backs? Four deep. Deep WR group? Check. Options along the offensive line? Check. Depth on the defensive line? You bet. The secondary too! Injuries can kill a team, but Buffalo has built a roster where the next man up can fill in without missing a beat.
10. Fred Jackson Channeled his InFredible Side
Jackson is 33. He shouldn't be stiff-arming people like this, but I'm happy that he is! I'm on board with Jackson channeling his InFredible side often in 2014!
Enjoy the win and get ready to squish the fish.