The Buffalo Bills kickoff their 2014 season on Sunday when they'll face off with the Chicago Bears in the Windy City. Both teams' futures appear to be looking upwards, as the Bills have stockpiled talent throughout the roster, and the Bears, under Marc Trestman's tutelage, have put together one of the most explosive aerial passing attacks in the NFL.
The Bears are favorites to win, but on paper, the Bills appear to match up well at most spots. Let's take a look at some key player matchups that will determine the outcome of the game.
Bills RT Seantrel Henderson vs. Bears LDE Lamaar Houston
The Bills may have gotten the steal of the draft when they selected Miami Hurricanes tackle, Seantrel Henderson, in the seventh round.
When Cordy Glenn dealt with an undisclosed injury throughout training camp, Henderson seized the opportunity as the starting left tackle, and was probably the most consistent player on offense during the preseason.
The Bears acquired Lamaar Houston, a powerful run-stopping defensive end that can disrupt the pocket in free agency. Houston is reportedly down from 305 pounds to around 265-270ish, which should result in more speed off the edge. Seantrel Henderson will be facing off with Houston on most 1st and 2nd downs, as he will kick inside to tackle in nickel fronts. Houston is a powerful, experienced defensive lineman that will present a challenge for the Bills' rookie.
Bills CB's Stephon Gilmore, Leodis McKelvin vs. Bears WR's Brandon Marshall, Alshon Jeffery
The Chicago Bears feature two of the best wide receivers in the entire NFL in Brandon Marshall and Alshon Jeffery.
With Marshall standing 6'4" 230 lbs and Jeffery measuring in at 6'3" 220 lbs, the duo presents a huge mismatch against opposing cornerbacks. Last year, the talented pair combined to catch 189 passes for 2,716 yards and 19 touchdowns.
On Sunday, Marshall and Jeffery will face off against Stephon Gilmore and Leodis McKelvin. McKelvin is coming off of his best season as a pro, in which he allowed just 46.1% of passes in his direction to be completed, while breaking up 19 of them. Gilmore is coming off of an inconsistent year, due to a wrist injury that caused him to miss significant time, only to return with a cast that impaired his ability to be physical.
Stephon Gilmore is being counted on to make the next step in his development, so covering Brandon Marshall will be a great test for the third-year corner.
Bills LB's Vs. Bears RB Matt Forte
The Bills revamped their linebacker corps in an effort to bolster the run defense this offseason. On Sunday, they'll see one of the most versatile and consistent play-makers at the running back position in Matt Forte. Last year, Forte carried the ball 289 times for 1,339 yards, scoring 9 touchdowns, while adding another 74 (!!!) receptions for 594 yards and three more scores.
The Bills have held opponents to 2.6 yards-per-carry throughout the preseason, an unrealistic number to project for the regular season, but a promising one. Due to the Bears' talent at wide receiver and tight end Martellus Bennett, it will be interesting to see what kind of personnel packages new defensive coordinator Jim Schwartz utilizes throughout the game.
Schwartz will have to account for three big playmakers in Marshall, Jeffery and Bennett, but also has to account for a featured running back that is also a threat as a receiver. Brandon Spikes will be crucial to this matchup, and will need to be kept in a position where he won't be covering Forte out of the backfield.
When The Bills Offense Is On The Field
The Bills' offense struggled mightily throughout the preseason, as EJ Manuel struggled to move the ball down the field behind an offensive line that has been repeatedly shuffled in an effort to get the best five players on the field. The Bills are a run-first offense, which should bode well against a Chicago Bears defense that surrendered 161 yards-per-game last year on the ground, the worst in the NFL.
The Bears didn't do much to improve in that area, letting Henry Melton and Julius Peppers walk, while failing to upgrade their linebackers and safeties. The middle of the Bears' defense is weak from front to back, as defensive tackles Jay Ratliff and Stephen Paea, linebacker D.J. Williams and safeties Ryan Mundy and Danny McCray should be exploited.
Danny McCray played 9 snaps in '13 after allowing a 71.4% completion rate, allowing 30 receptions at 23 yards-per-catch, while opposing quarterbacks posted a 118.6 passer rating when targeting him.  Ryan Mundy allowed 70% completion rate, 15.6 yards-per-reception, and three touchdowns, while recording one interception. He failed to break up a single pass. 
In order to have any chance at securing an important victory on the road, the Bills will need to win the line of scrimmage, meaning that Cyril Richardson or Chris Williams, Eric Wood, and Erik Pears will need to win their matchups against the interior of the Bears' defensive line.
When the Bills' Defense is On The Field
The Bills have the most depth throughout the defense that I can remember in probably the last decade, with versatile athletes that can be counted on in a variety of situations.
The Bears have one of the best offenses in the NFL, so for the Bills, it will all come down again to winning the battle in the trenches. The Bills devoted a ton of money to their front four, which most would argue is the best in the league. Mario Williams, Kyle Williams, Marcell Dareus and Jerry Hughes need to generate pressure on Jay Cutler all day, forcing him into as many quick passes and dump-offs as possible.
If the Bills can create pressure on defense, it will limit the time Cutler has to connect with his play-makers at wide receiver. Not only do the Bills have to win up front, but a burden will be placed on the secondary, as the cornerbacks will need to be as physical as they can on the outside, while the safeties will need to account for Martellus Bennett in the middle of the field.
The Bills need a strong defense to carry the team this year, so Sunday's contest against the Bears will be a real test for the entire unit.
Bears Sleeper To Watch: LB Jon Bostic
32-year old veteran D.J. Williams is starting at middle linebacker for the Bears, but Jon Bostic, a second-year defender out of the University of Florida should see a big role this year. Bostic took over full-time after Williams suffered an injury in Week 6 of last season, and played well, recording 57 tackles, 4 tackles for loss, 2 sacks, and an interception. Bostic is likely to see nickel snaps with Lance Briggs, as strong-side linebacker Shea McClellin is more of a pass rusher than a coverage 'backer.
Bills Sleeper To Watch: TE Scott Chandler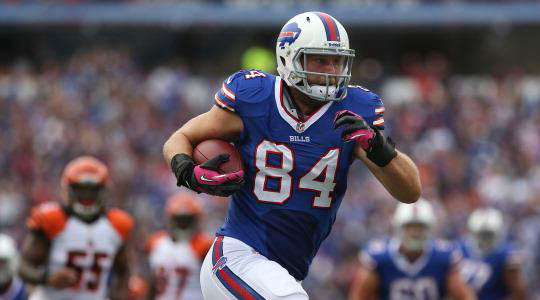 Analysts and Bills fans will be anxiously waiting the debut of rookie wideout Sammy Watkins, along with fellow skill position play-makers like Mike Williams, C.J. Spiller, Fred Jackson and Robert Woods, but Scott Chandler could be a big part of the team's game-plan on Sunday.
The Bears' safeties are terrible, to be kind, as Ryan Mundy and Danny McCray are probably reserves at best on most rosters in the NFL, while linebackers Shea McClellin and Jon Bostic are better moving forwards than backwards. Chicago has some talented corners in Tim Jennings, Charles Tillman and rookie Kyle Fuller, who will be tasked with covering the Bills' new-look receiving corps, so it's likely that Scott Chandler, the team's leading receiver a year ago, sees a good amount of targets against a weak defense.