The Buffalo Bills roster now sits at 53 players.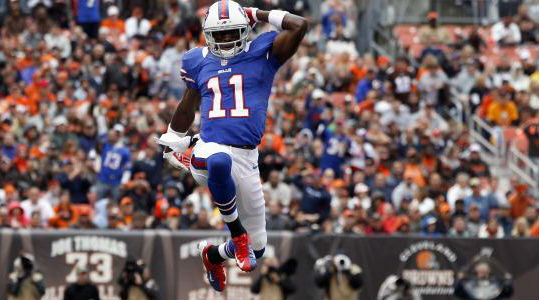 Today, the Buffalo Bills released the following players:
DE Ike Igbinosun
S Kenny Ladler
WR Caleb Holley
WR T.J. Graham
QB Jeff Tuel
OG Doug Legursky
OG Antoine McClain
DE Bryan Johnson
LB Jimmy Gaines
S Deon Broomfield
T.J. Graham is probably the biggest name on the list, but the writing was on the wall when it was reported that the Bills had been attempting to trade the WR. There are plenty of teams looking for WR help, so Graham won't be out of work for long.
Buffalo seems intent on carrying just two quarterbacks for the time being, as Jeff Tuel was released. Based upon new rules, Tuel could go to the practice squad.
Many of the names above are likely candidates for Buffalo's practice squad.
In other news, the Bills signed P Colton Schmidt today and Kyle Orton officially signed his contract.
Friday Recap
Roster moves began on Friday with 10 roster cuts. The most notable names included Jordan Palmer, Brian Moorman and Landon Cohen.
Palmer was signed on Tuesday and played the majority of Thursday's preseason finale against the Lions. His overall stat line was far from impressive, but it's hard to expect much from a player who only had a few days to prepare.
Brian Moorman, a fan favorite, was let go for the second time in his career with the Bills. He had spent 2001-early 2012 with the Bills before getting released. He returned to the Bills last season. This preseason, Moorman struggled and had a net average of 37.4 yards.
Last, Landon Cohen was arguably the Bills' preseason MVP. Despite making many plays for the Bills, he was released. Unfortunately for Cohen, he was at a position where the team already has Kyle Williams, Marcell Dareus, Corbin Bryant and Stefan Charles.
Workouts, Roster Moves and Roster Additions
Besides the cuts, Buffalo stayed busy. Lauren Brill of WIVB reported that punter Drew Butler would come in for a workout. He would be competing against Jordan Gay, a punter/kickoff specialist.
Three players were also added to the injured reserve: TE Tony Moeaki, CB Mario Butler and CB Bobby Felder.
The biggest news on Friday was that Buffalo agreed to terms with QB Kyle Orton. James Walker of ESPN Nation was first to report the story. Tim Graham of The Buffalo News reported that the deal was for two years.