Roster cut-downs could happen as early as today. Every NFL team finds themselves with tough decisions to make as they narrow their rosters from 75 to 53. The most difficult part of the roster cut-down process is seeing certain players make the initial 53-man roster only to be released for a player dumped by another NFL franchise.
The Buffalo Bills 53-man roster projection is based only upon Buffalo's current roster. With that being said, here is my final roster projection.
QB (3): EJ Manuel, Jeff Tuel, Jordan Palmer
Manuel is the only QB safe on the roster. I expect to see many Facebook and Twitter comments saying otherwise. Depending on what QBs are released elsewhere, Tuel or Palmer could be released.
RB (4): C.J. Spiller, Fred Jackson, Boobie Dixon, Bryce Brown
Nothing to see here. Buffalo has plenty of talent at RB and they're all safe.
FB (1): Frank Summers
There was a time where I thought the Bills wouldn't carry a true fullback, but Summers is valuable to this roster.
WR (6): Sammy Watkins, Mike Williams, Robert Woods, Marquise Goodwin, Chris Hogan, Marcus Easley
T.J. Graham had a decent preseason, but reports surfaced that the Bills have been trying to trade him. Not a good sign for his future with Buffalo.
TE (3): Scott Chandler, Lee Smith, Chris Gragg
Buffalo's had issues keeping their tight ends healthy this preseason. These three make the final cut, but the Bills could be searching for other tight end options based upon who gets released in the next day or two.
OT (4): Cordy Glenn, Seantrel Henderson, Cyrus Kouandjio, Chris Hairston
Glenn is a top 12 tackle and he still has not reached his full potential. Henderson has been the steal of the 2014 NFL draft and Kouandjio is safe due to where he was drafted. Hairston is a tough call, but his versatility just keeps him on board.
OG (4): Chris Williams, Erik Pears, Cyril Richardson, Kraig Urbik
Williams and Pears are the likely starters at guard. Richardson is another late pick who has played well and I expect him to replace Williams at some point this season. Urbik, a player the Bills are desperately trying to replace, makes the team thanks to the fact that he can also play center.
C (1): Eric Wood
Wood has been a solid starter and as mentioned above, Urbik can be his backup.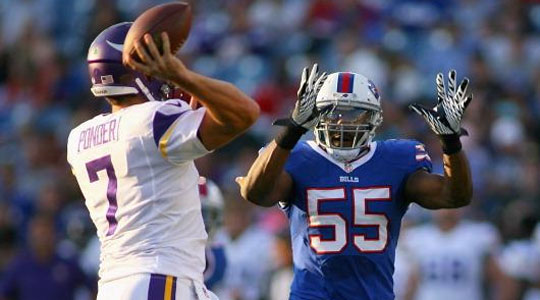 DE (5): Mario Williams, Jerry Hughes, Manny Lawson, Jarius Wynn, Ike Igbinosun
My surprise pick to make the 53-man roster: Ike Igbinosun. He's flashed at times as a pass rusher and makes the final roster. Unfortunately, he's one of those players I was talking about earlier that may make the initial 53-man roster but get cut for another player.
DT (5): Kyle Williams, Marcell Dareus, Corbin Bryant, Stefan Charles, Landon Cohen
Five defensive tackles?! I know it sounds ridiculous, but they've all earned their way onto the roster. It'll be a shame if Charles or Cohen get released as another team will scoop them up based upon their preseason play.
LB (5): Nigel Bradham*, Brandon Spikes, Keith Rivers, Ty Powell, Preston Brown, Randell Johnson
Yes, there's six players listed here, but Bradham won't count towards the roster until after his one week suspension. Johnson is a raw athlete and a prime practice squad candidate upon Bradham's return.
CB (5): Stephon Gilmore, Leodis McKelvin, Corey Graham, Nickell Robey, Ross Cockrell
First surprise cut? Ron Brooks. He's had a pretty decent preseason, but he's also been burned a few times on touchdowns.
S (4): Aaron Williams, Da'Norris Searcy, Duke Williams, Jonathan Meeks 
This group has been set for some time. Hopefully the Bills can sneak Kenny Ladler onto their practice squad.
ST (3): Dan Carpenter, Brian Moorman, Garrison Sanborn
No Garrison Sanborn controversy here, Rob Quinn! The Bills do not carry a kickoff specialist as that's something a luxury the Bills cannot afford. The Bills need to keep an eye on punters and Moorman's had some preseason issues.
There you have it, BillsMafia. Let me know your thoughts on my final Buffalo Bills 53-man roster in the comment section or on social media.