The Buffalo Bills spent their off-season focusing on strengthening a weakness along the offensive line. The idea was simple: Better protection for second year quarterback EJ Manuel would help the offense as a whole improve from last year. Instead, through four preseason games, the offense has looked far from what fans were hoping for.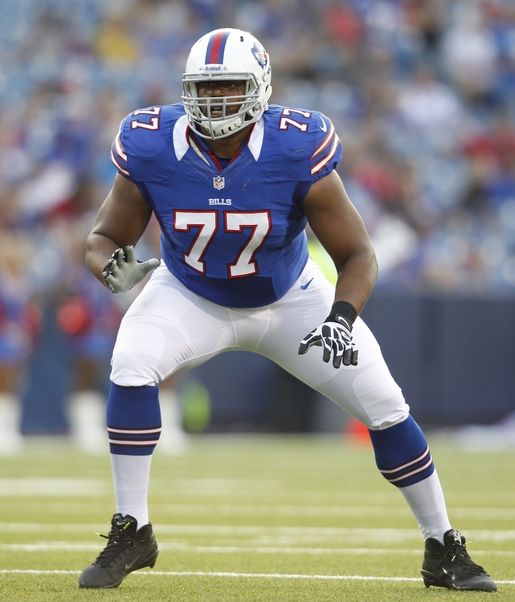 In total, the Bills brought in four players this off-season to help bolster the unit.  They started by signing guard Chris Williams in free agency, and then drafted three prospects in Cyrus Kouandijo, Cyril Richardson and Seantrel Henderson.
All of the new faces have forced head coach Doug Marrone to shift his line combination game to game this preseason. In all, the Bills have rolled out three different starting lineups in four games. With the coaches creating confusion along the line, it has led to poor blocking in both the run and pass game.
This flux has also affected Manuel's play, as he hasn't had time to get through his progressions.
Mind you, Manuel does deserve his share of blame for some of his struggles, but the line has done him no favors either.
Here have been the starting offensive line combinations for the Bills this preseason:
HOF Game- Henderson LT, Williams LG, Wood C, Urbik RG, Pears RT
At Carolina- Henderson LT, Williams LG, Wood C, Urbik RG, Pears RT
At Pittsburgh- Henderson LT, Legursky LG, Wood C, Urbik RG, Pears RT
Vs Tampa Bay- Glenn LT, Richardson LG, Wood C, Pears RG, Henderson RT
The only constant has been center Eric Wood and seventh round draft pick Seantrel Henderson. Pears has also been in the lineup each game, but he has been shifted from his normal right tackle position inside to guard as of last week.
Last year's starting guard Kraig Urbik started the first three games in his normal position, but has since been moved twice.  First it was to second team guard, and now he's trying to hold on as a backup center.
This lack of cohesion can result and has resulted in missed assignments, failed blocks and over thinking of technique. This is especially true for Pears and others that have flipped positions.
A lot of these issues can be pointed at Marrone and offensive line coach Pat Morris. Marrone, as the head coach, stressed competition along the offensive line in order to improve. What has occurred instead is a mockery, as players have not been allowed to play at their best-suited positions.
An offensive line that has one or two weak parts, but great communication, can work better than five very good players thrown together, and both Marrone and Morris have failed to foster that cohesion to make a functioning group.
As the team heads into the regular season, after today's preseason finale, it appears Marrone has finally decided on a starting five. It was paramount that Marrone settled on a line combination, otherwise the offense would continue to struggle and the season could be blown up like a blitzing linebacker through an open B gap.