Social media websites are both a blessing and curse. They allow access to an entirely different dimension of communicating with professional sports players, celebrities, and others.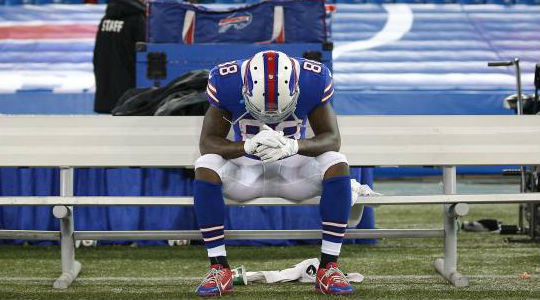 Twitter in particular is an interesting platform in that it puts 140 character limits on a 'tweet'. The simplicity of that type of format makes it attractive to people that value brevity and connectedness.
Bills fans are probably not much different than most fan bases in their desire to share their opinions with players. As long as the tone is kept upbeat, it can create positive feedback for players and fans alike.
However, all too often we've seen examples about what can go wrong when someone tweets in a highly emotional state, be it a player or a fan. Those measly little 140 character entries can suddenly erupt into a twit-fest extraordinaire.
We saw this happen last Saturday when WR Marquise Goodwin put out the following tweet in reaction to being booed by the crowd at The Ralph.
It quickly turned ugly when irate Bills fans responded with some arguably understandable hostility. A wave of nausea hit me as I looked at all of this unfold on my timeline. Why does social media bring out the worst in people?
Wouldn't it be smarter to use the best of what Twitter and other social media sites can do to facilitate a healthier relationship between players and fans instead of using it to tear each other down?
It led me to do some thinking (always a dangerous thing) about how we might find a way to use Twitter and other sites to forge a better relationship with one another than what currently seems to exist at times. Effective communication between fans and players helps everyone.
BillsMafia is a unique group that came together at the right time and situation for Bills fans that also want to help those experiencing medical crises. BillsMafia was born on Twitter. Twitter is the ideal setting to move forward, forging a healthier and more supportive relationship with Bills players.
It would do well for players to gain better insight into exactly how much this fan base has suffered through the last 20 years. Fans pay the Bills, literally and figuratively. We are not the enemy when we boo, we are a fan base that has suffered like no other.
On the other hand, it would do well for fans to also understand that the young men who are Bills players today have absolutely no way to relate to our pain and suffering. Most came from programs where winning came easily. They have not experienced being labeled losers for years like Bills fans have endured.
That's why it was so heartening to see Mike Williams and Corey Graham get signed by the Bills. I hope they both speak to the players and let them know that with all due respect it's inappropriate to attack this fan base about booing players. The last 50 years of history in the Western New York region is rife with destruction, disrespect, and frank despair as the area lost half of its population.
Bills fans are somewhat unique, precisely because they don't have a single bandwagon fan left on the planet. The only fans that are left are the true definition of die-hard, because no one in their right mind would passionately support a loser this long! We completely fit the definition of insanity; doing the same thing over and over and expecting different results.
There's nothing rational about this fan base because we constantly have to ask ourselves why we are forking over a lot of money for season tickets, Sunday Ticket, merchandise etc. Year after year after year after year after year we keep spending money to support the team we love, win or lose.
It's incumbent upon both sides of the player/fan equation to maximize the relationship for the greater good. In other words, we should not treat each other with suspicion and distrust because nothing is to be gained by doing so. Wouldn't it be far more productive to use social media to enhance the relationship, since both sides of this equation have the same exact goal; to win a championship?
Bills fans have at least a 20 year history of misery, and for some it goes all the way back to the beginning of the franchise. If that isn't bad enough, most Western New Yorkers were raised with a boulder on their shoulder, not a chip. Buffalo is a place seen by outsiders as just another rust belt wasteland with Siberian like winters. Years of ridicule about the region from the rest of the world wears on a person.
It seems that groups like the BillsMafia are doing a great job of connecting players to the fan base. I encourage each and every one of us to step up to the plate and think before tweeting. Think about what effect you want to have as a result of what you communicate on Twitter.
Twitter can be used as a powerful tool to build bridges, or it can be used for destructive purposes. The choice belongs to the person hitting the keystrokes. It makes little sense to bite the hand of the person you are cheering for to win every Sunday, especially if he is a wide receiver.
On the other hand, players should not bite the hand that puts food on their table (pun intended). If fans are reacting in a manner that is unfamiliar or perceived negatively in some fashion, don't make assumptions that they are "bad fans." It's important to remember that if for no other reason than pure economics, it's better to be booed than to play in an empty stadium.
The price of celebrity is high, and if players want to win they need to know that fans are not the enemy, even when they boo. This fan base in particular is so starved for winning that most would happily walk across a football field of glass for a successful football team that makes it to the playoffs.
The bottom line is that we all have the same goal. Wouldn't it make sense to support each other instead of manufacturing problems and creating unnecessary drama? Seems to this old fan that a lot more could be accomplished by working together than tearing each other down.