Over a month has passed since the Buffalo Bills opened training camp and with each day we are another step closer to the season opener in Chicago against a very talented Bears team. Late August is when you generally start to get a better feel for what a team may look like when it really counts. There have been dozens of practices, a couple of scrimmages in Latrobe, Pennsylvania with the Steelers and a few preseason games of evaluation. As in any year, there are a number of guys who seem to be truly 'on the bubble' to make the 53-man roster. The first round of cuts is set to hit in less than a week, so I thought now would be a perfect time to examine who I believe are 10 Buffalo Bills on the roster bubble and if they're going to be on or off this team.
First, a quick disclaimer: I am operating under the assumption that two guys that some would consider are 'on the bubble' are currently firmly on the roster. These two players are Ty Powell and Frank Summers. I think Powell is one of the most versatile and athletic players the Bills have at LB, and he has also been contributing on special teams. As far as Frank Summers goes, the Bills are a team that is absolutely committed to running the football, and they have utilized Summers at fullback in two back sets often in training camp and the preseason. I don't think either of those two are going anywhere. Now we will take a look at 10 players whose futures are a bit less certain…
Alan Branch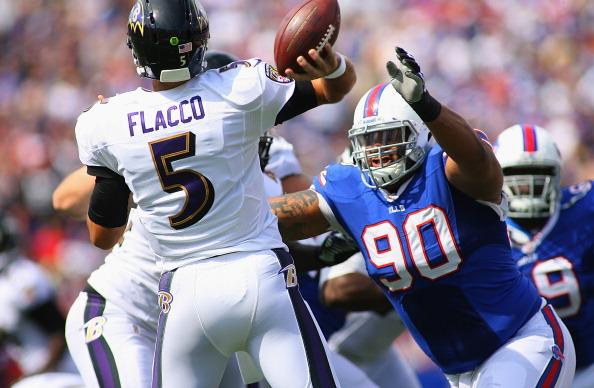 A few months ago, no one thought that Alan Branch would end up near this list. He was coming off a productive year as Buffalo's primary backup at the defensive tackle position, and the team rewarded him with a multi-year extension. However, he showed up to camp a bit out of shape, and hasn't been playing well when he has been able to practice. The lack of snaps he has seen in pre-season games has reflected as much. Branch has allowed other talented guys to take advantage of this poor showing. As of today, he is out of the 53-man roster.
Landon Cohen
Well, I just declared Alan Branch off the 53-man roster as of today, so we may as well talk about the player who would be benefiting from his absence. Landon Cohen has been nothing short of a force throughout training camp and the preseason. Somewhat of a journeyman, Cohen seems to have finally found his niche in this Jim Schwartz defense. He has been a constant presence in the backfield throughout camp, consistently using his quickness to disrupt both running and passing plays despite being a bit undersized, ala Kyle Williams. In fact, he has arguably been the best defensive player on the entire team the past two preseason games. As of today, Landon Cohen is in the 53-man roster.
Chris Hairston
Chris Hairston has had plenty of opportunities. When he was selected in the fourth round out of Clemson in 2011, he was expected to be a contributor at right tackle almost immediately. Instead, he under performed and never proved that he was a viable answer at that important position. Hairston also missed the entire 2013 season after being placed on the Reserve/Non-Football Illness list. The Bills have clearly been looking to upgrade at guard as well, and Hairston has been one of the guys that has been in the mix to provide them with a better option at that position. Unfortunately, he has not seized that opportunity. Buffalo is now sticking with a primary guard group of Chris Williams, Kraig Urbik, Cyril Richardson, and most recently and perhaps importantly, Erik Pears. I believe Hairston will be the odd man out of the 53-man roster.
Kraig Urbik
The man the Bills have been long looking to replace, Kraig Urbik, has had his usual average training camp and preseason thus far. He does little to stand out, but also doesn't often draw attention to himself in a negative way. Urbik is probably the biggest beneficiary of Chris Hairston's struggles. With three true tackles (Glenn, Henderson and Kouandjio) guaranteed to make the roster, and a guy like Pears who has proven to be capable at the position as well, the Bills will probably value depth at the guard spot a bit more. For that reason, I have Kraig Urbik in the 53-man roster.
Doug Legursky
Similar to Kraig Urbik, Doug Legurksy certainly doesn't inspire all that much enthusiasm within the Buffalo Bills' fanbase. He's just sort of there. Nevertheless, he also provides some versatility and a safety net in an important position. Legurksy can play both guard and center effectively enough to be worth carrying on almost any roster. If Eric Wood were to go down with injury, he would be a very valuable asset to have around, and with the Bills' relative uncertainty at the guard position, he serves as a safety valve there as well. It also probably won't hurt that Doug Marrone has reportedly always been a pretty big fan of his. Like it or not, Legursky is in the 53-man roster as of today.
Marcus Easley/T.J. Graham
I'm lumping these two wide receivers together because I believe, more than any other pair of players on the roster, it is abundantly clear that they are fighting for one spot. If you would've asked me about two short weeks ago, I would've said that Easley had this competition won relatively easily. However, Graham has finally shown life since then, turning in some nice plays in both practice and preseason games. Easley has also been having some drop difficulties which has not helped his case. This competition is much, much closer than I thought it would be. That said, Marcus Easley still retains the ace in the hole that is his contributions on special teams. He was arguably the best special teams player on the Bills last season, and I still do not think that Graham has done enough on the offensive side of the football to overcome the impact that Easley consistently has on special teams. Marcus Easley is in and T.J. Graham is out of the Bills' 53-man roster.
Ron Brooks
One of the only players that has underachieved as much as T.J. Graham in the last few seasons has been Ron Brooks. I'll be the first to admit, I loved Brooks coming out of LSU. Being the SEC-junkie that I am, I saw quite a bit of him, and only thought he dropped to a mid-round pick because he was overshadowed by big-name teammates on defense like Ty Mathieu and Morris Claiborne. Brooks was constantly around the ball and was a sure tackler from the cornerback spot. Despite not showing much of that his first two seasons in the NFL, Brooks has responded with a really strong effort in training camp this year. I think he is very talented, and that his preseason play in 2014 will be enough to overcome his very disappointing first two years in the league. Ron Brooks is worth giving another year and I'm keeping him in the 53-man roster.
Chris Gragg
Tight end was pretty clearly the Bills' weakest position going into the 2014 off-season. Scott Chandler is another year older, Lee Smith is simply a blocking tight end and Tony Moeaki is talented, but can't seem to stay healthy. Chris Gragg had a major opportunity to prove himself as a viable pass catcher in an offense desperate for one at that position. He has not done so thus far in training camp. Gragg provides very little as a blocker, and his shaky hands and lack of route running ability make it very difficult for him to make enough of an impact in the passing game to make up for it. Chandler and Smith are locks to make the team. That leaves the Bills brass with a decision to make between Moeaki and Gragg. Though neither have done much to distinguish themselves this off-season, Moeaki has a bit of a track record in the regular season in this league. Gragg does not. That is why I have Chris Gragg out of the Bills' 53-man roster.
Dustin Hopkins
The final member of the 'bubble' list doesn't need to come with all that much explanation. Dan Carpenter kicked the ball at a Pro Bowl-level last season, and has proven throughout training camp and preseason games that he has the ability to drive the ball into the end zone for touchbacks on kickoffs consistently enough as well. Very simply, that is all the Bills are looking for Dustin Hopkins to do. Carpenter does it enough himself, and I believe that Buffalo will be smart enough to use that roster spot on some depth at a position like defensive line, offensive line or linebacker, leaving Hopkins out of a spot on the 53-man roster.
That wraps up my look at some guys who are clearly on the 'bubble' to make the Bills' 53-man roster as of today. How do you feel about where I think those players will end up? Any others that you think may be firmly on the fence? Let us know, Bills fans. Let's see what happens with the final decisions in a couple weeks, and as always, go Bills!