The Bills played like they were getting sick of the Steelers. Fans felt the same. There appeared to be a clear difference between franchises where back-to-back .500 seasons are an outrage and another where six wins has been the norm. Fans have waited too long for good news, and not just about accumulating or preventing touchdowns.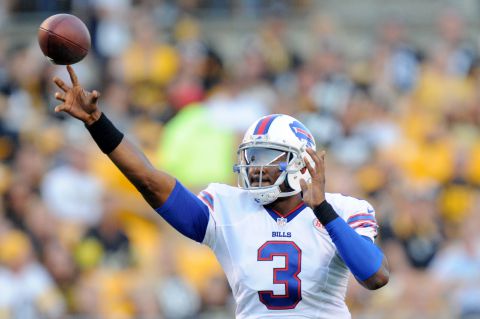 Preseason doesn't count, and yet the results spur worries. Saturday's game was a loss for the Bills not just because of the follies that allowed Pittsburgh to kick a final field goal instead of them. Backers don't care if their side loses during summer vacation if the opening players look proficient. But the increasingly insurmountable challenge of crossing the goal line will cause continued fretting. The Steelers looked almost casual in dominating during the starters' portion. The fact that real games remain over two weeks away fails to assuage nerves.
The Bills need to get on the same page. Timing is like texture in ice cream: it's only noticeable when it's not there. Buffalo's offense looked like a soupy mess on the counter.  They need to use the end of training camp to correct the habit of turning and jumping at the wrong time. It's easy for EJ Manuel to complete 17 passes if he's not called upon to throw past the first down marker.
Fans still want to watch even with memories of an uninspiring August game in mind. We wait to learn if games can be seen by locals who don't get the chance in person. For now, the government still gives this upstart league a shot by continuing to force fans to buy all the tickets before those who abstain can watch on television. The feds think they have the right to intervene in a private league's desire to sell tickets in a mystery as deep as the Bills' unwillingness to add a veteran backup quarterback.
If the NFL doesn't want people watching games at home while there are empty seats in stadiums, they can tell their billionaire owners to stop asking for welfare. Despite their claims of poverty, titans of industry may just have enough money to maintain their businesses. They can't justify infomercials instead of games for as long as taxpayers are building and polishing sports venues. You'd think someone who could buy such an expensive toy wouldn't need the public's support to buy a case.
As a side benefit of teams paying their own costs, thorough poseur Jon Bon Jovi couldn't afford it. His continued presence in the race to buy this franchise is the one thing more frustrating than encountering his eardrum- and hope-shattering cacophonous ditties on radio. With his embarrassing evasiveness in mind, it's beyond time to send his cartoonish group and their villainous plans back to Toronto, Jersey, or wherever non-Buffalo place they'd like to rot. The hackneyed crooner is tone deaf in more ways than one.
At least we can mock him for reasons other than him being the Vanilla Ice of rock music. Thinking his sinking bid would have appealed to, of all people connected to the Bills, Jim Kelly is just the sort of laugh we needed during this trying process. Meanwhile, de facto mayor Terry Pegula has demonstrated a willingness to build his own stuff, and it's past time to let him get in the ownership express lane.
Modern people accustomed to fast-forwarding through ads in programs retained by DVRs would love to skip ahead in this process. This is an uneasy time for far more than the first team offense's struggles to reach the end zone. The low scoring and lapses in the secondary would be far less troublesome if they weren't yet another edition of the Bills trying to crack a losing culture.
Learning to finish with strength is crucial during games and sales.  Everyone connected to the Bills wants the preseason out of the way as badly as the ownership process.  The chance to watch a mildly successful club on TV from Buffalo, even with tickets left, isn't asking too much. By my count, that's only three things between us and happiness. It would be great if the offense, Ralph Wilson's estate, and the FCC could put it together as soon as possible.