The second year for most NFL head coaches is generally a treacherous time. After a honeymoon period during their first year, the second year for most NFL head coaches is all about getting results. Similar to what happens with players in their second year, there is an expectation of a big leap in performance (wins).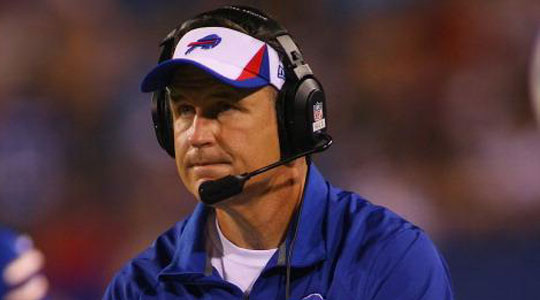 Doug Marrone is now entering his second season with arguably even more pressure to win than most coaches in the same situation because ownership is changing. Additionally, the fan base is exasperated and exhausted from carrying the title of 'loser football fan' around longer than any other fan base in the league.
Although one could argue about who is acting as the face of the Bills franchise at this time, there is no question that Doug Marrone has his face in front of the camera more than any other person in the organization these days. Press conferences before and after practices, as well as preseason games put his mug out there more than anyone else, so he will be 'repping' the personality of the organization until the torch is passed to the next owner.
In the meantime, it seems like Doug Marrone sometimes struggles in defining his relationship with the media. There was a significant amount of chatter recently in the media criticizing his demeanor as terse and sarcastic.
If you've watched his press conferences since then, you can see how much his mood still swings wildly from day to day. He appears harried, admits to never being 'happy' about his team's performance, and even talks about not petting his dog when he goes home after a loss. He admits his failures as a family man more easily than admitting EJ Manuel is not progressing as fast as he should at the quarterback position.
While his passion for winning is clear, it seems that is also true regarding his level of impatience with the media. There is a general lack of congruence at times between his facial expressions and the tone and content of what he says when he is speaking. He can come across as flippant, and though I believe his intentions are not to minimize the people he speaks with, it is also understandable that his comments are sometimes perceived in that manner by those who dare to question him.
This type of thinly veiled hostility can sometimes backfire by creating an adversarial relationship instead of a cooperative one. If the pressure to win wasn't stressful enough, firing up the people you are supposed to work with, and not around, would seem like a losing strategy. Why create more drama when you are drowning in a tsunami of it already?
It is said that the real measure of person's character is defined by how that person deals with adversity. Success does not define us, it's how we conduct ourselves during the journey along the way that does. Furthermore, as the head coach of a very young team in the NFL, sometimes the demeanor you project outward is as critical as the information you impart to young players.
It appears to be Marrone's nature to get edgy with people when pressed. It also seems like there are not many "warm fuzzies" between Scott Berchtold and Marrone. That is painfully evident when it comes to imparting information regarding injuries at press conferences. The awkwardness that seems to exist between the two of them bears watching.
Also, people employed by the Bills for decades are increasingly stressed this season as well. The head coach is not the only one with added pressure of losing a job with the impending change in ownership.
Front office people are especially vulnerable, because owners understandably want to bring in the people they trust to run an organization. Everyone at One Bills Drive is walking on eggshells this season, which compounds the stress level for everyone even more.
What happens in this situation is that young players may observe stressed out behavior and pick up on it. That type of attitude will spread like the ebola virus through a young team that lacks life experience.
Right now Coach Marrone might be at the most critical point in his short career as a head coach in the NFL. Even the marketing message put out by the team makes it clear with the "this is our time" campaign.
How can Marrone improve his chances for success as he enters his critical second season? The most obvious and correct answer is to win games. Duh. The more poignant question is HOW he will go about achieving this goal in light of the challenges he faces?
I've learned from many failures over the years that keeping things simple is often the most efficient and best way to accomplish any goal. Unfortunately, Marrone has muddied his own water by taking what is supposed to be a cooperative relationship with the media and responding with sarcasm.
That single reaction created a host of questions that would otherwise not exist. That kind of behavior only adds more noise and chaos in the work environment. It then becomes a distraction, a dreaded word in sports.
It's not difficult to see that Marrone would probably rather be anywhere than in a room full of reporters doing a press conference. He seems like many NFL head coaches, past, present, and future in that regard. However, he doesn't seem to understand why his responses to questions are sometimes perceived as being sarcastic or hostile in tone.
As mentioned in previous posts on this blog, I believe that is a result of his cultural upbringing in the Bronx, as well as his innate "hot reactor" personality type. It's just him being who he is, no different than many other head coaches in the NFL. It is also clear that the pace of the game needs to slow down as much for Marrone as it does for his young players this season.
The ability to "think on your feet" as an NFL head coach is determined by how effective one is in making decisions about challenges, time-outs, penalties, etc. Last season Marrone was not effective enough at critical times in managing the clock, and deciding when to throw a red flag. He admitted as much at the conclusion of the season.
The debate about whether or not a head coach with a fiery personality is more effective in generating wins than a coach who is more laid back in nature has gone on for decades. While the fiery variety may be more entertaining for fans, it remains to be seen whether creating gastritis in the workplace is an effective strategy for winning.
If Marrone wants to succeed where his four recent predecessors failed, he will need to inspire confidence in his young players that they can relax and perform to the best of their ability, instead of becoming deer in the headlights. Somehow I can't rid myself of the mental image of players and media couching their questions very carefully so as to not disturb the monster rant that seems to lie just below the surface of Marrone most of the time.
The messages that one sends to others with non-verbal communication cannot be overestimated in terms of how it can affect the reactions and behavior of people in the surrounding environment. Right now Marrone's "non-verbals" are all over the place, and it's hard to tell which Marrone you will see on any given day.
Everyone who is involved with the Bills organization is looking toward Marrone for leadership and stability right now. He is much more visible to people outside the organization than Doug Whaley or Russ Brandon. He's got great potential to succeed as a head coach, and no one can or should question his passion for the game, as well as the welfare of his players.