The start of the 2014 Buffalo Bills season is just a few short weeks away, so it's time to start prepping for your fantasy football drafts. The Bills haven't had a player that could carry a fantasy franchise to a championship in years, sans C.J. Spiller's 2012 campaign.
Here at BillsMafia.com, I took a look at the roster from top to bottom, in order to identify which players you should and shouldn't be targeting in your upcoming draft. From PPR (point-per-reception) to standard leagues you'll know just who to take, and where, from the 2014 Bills' roster.
BYE Week: 9
Quarterback: EJ Manuel
Rookie QB EJ Manuel finished 29th in fantasy points scored among quarterbacks last season, but that number is skewed, as separate knee injuries forced him to miss six games. His 11 touchdowns were also 29th in the league, but with the additions of Sammy Watkins and Mike Williams, two receivers with totally different styles of play, Manuel should have more touchdown opportunities.
Robert Woods and Watkins should provide a boost to Manuel's yardage total. Manuel is currently going undrafted in most leagues, ranked as the 25th quarterback. Due to the playmakers around him, coupled with the fact that it's his second year in the offense, I'd take Manuel at QB20, ahead of guys like Johnny Manziel and Josh McCown, and possibly even Alex Smith or Ryan Tannehill, who aren't in the best situations.
Projection: 3,250 yds, 22 TD, 15 INT
Running Backs:  C.J. Spiller, Fred Jackson, Bryce Brown
Fred Jackson finished 11th in points scored by running backs last season, as the 32-year old scored nine touchdowns on 207 carries. The Bills re-signed Jackson to a one-year extension, and while he's not a home-run threat like C.J. Spiller, he's a powerful between-the-tackles runner that will pick up yards and get goal-line carries.
Spiller is currently being drafted at the RB18, which is kind of absurd to me given the fact that he managed over 1,100 yards on 230+ touches last season while dealing with a nagging ankle injury.
One sleeper candidate to keep an eye on is Bryce Brown, who the Bills traded a fourth-round draft pick for during the 2014 NFL Draft. Spiller is an unrestricted free agent at the end of the year, so the coaching staff might want to groom Brown into a potential successor if they fail to come to an agreement with C.J.
Spiller Projection: 220 carries, 1,075 yds, 5 TD
Jackson Projection: 200 carries, 865 yards, 7 TD
Bryce Brown Projection: 110 carries, 520 yards, 4 TD
Wide Receivers
Sammy Watkins, Robert Woods, Mike Williams
The Bills have loads of talent at the wide receiver position, which is great for the team, but not so much for fantasy owners.
Sammy Watkins is WR35 in most standard-scoring projections, which isn't too surprising for a rookie with an unproven quarterback as his source of production. However, Watkins is a dynamic player that can not only high-point the ball in 50-50 situations, but he's an explosive Percy Harvin-like athlete when he has the ball in his hands. Sammy's production will hinge on the play of EJ Manuel, but I wouldn't hesitate to start him as a flex in 12-team leagues.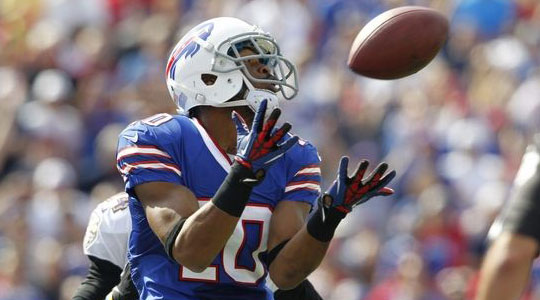 Robert Woods finished 57th in fantasy points scored by wideouts last year, catching 40 of his 86 targets for 587 yards and three scores. However, the 2013 second round pick has flown under the radar this offseason due to the hype surrounding Watkins, but he's probably the biggest sleeper in all of fantasy football. The Bills envision Woods as a slot receiver, which is why Stevie Johnson was deemed expendable, so Woods should see Johnson's 100 targets this season.
Mike Williams and Marquise Goodwin are draftable in 14-16 team leagues with deep rosters, as there simply aren't enough targets to go around in Buffalo's offense for either to be consistent on a week-in-week-out basis.
Sammy Watkins Projection: 120 targets, 60 catches, 835 yds, 6 TD
Robert Woods Projection: 110 targets, 75 catches, 915 yards, 4 TD
Mike Williams Projection: 65 targets, 40 catches, 420 yards, 4 TD
Tight End: Scott Chandler
Scott Chandler finished 13th in fantasy scoring among tight ends last season, leading the Bills in receptions and yards. Following the overhaul of the wide receiver and offensive line groups this offseason, Chandler is likely to see a dip in production this year. Chandler caught 53 passes on 86 targets last season, proving that he's a reliable weapon down the seams. However, his lack of playmaking ability coupled with the depth at the other offensive skill positions, Chandler might not be worth selecting unless you're in a deep league.
Scott Chandler Projection: 60 targets, 35 catches, 405 yards, 3 TD
Kicker- Dan Carpenter
Dan Carpenter was signed by the Bills after their rookie sixth-round draft pick Dustin Hopkins suffered a groin injury. Dan "Kid Rock" Carpenter was money, finishing 10th in points among kickers. #BecauseItsBuffalo, Carpenter is projected as the K21, despite clearing the uprights on 33-of-36 attempts (91.7%), with two of his misses coming from kicks 50+ yards deep. His 14 made field goals of 40+ yards were 6th in the league, and his 117 points on field goals was good for 4th. Take Carpenter.
Dan Carpenter Projection:
Just kidding. You didn't really think I'd predict kicking stats, did you!
Team Defense
The Bills' defense finished the 2013 season with 123 standard scoring points, which ranked them eighth in the league. Last year, the Bills' aggressive defense designed by Mike Pettine pressured the quarterback, racking up 57 sacks (2nd in league) and intercepting 23 passes (1st in league).
With Jim Schwartz calling the shots now, it's clear that the Bills won't be blitzing as much as they did a year ago. However, Schwartz has proven that he can consistently generate pressure with a four-man rush, and the Bills' defensive line can be counted on. Each starter on the front four has 10-sack potential, and when pressure is brought on opposing quarterbacks, turnovers usually follow. I'd be comfortable taking the Bills' defense over Kansas City's and Cincinnati's—who are ranked ahead of Buffalo's.