Many vintage Western New Yorkers remember what it was like to grow up in a place that was fondly referred to as the "armpit of the East" during the 1970s. I certainly do, and found out that it became standard fare for transplanted Bills fans to feel they had to defend the homeland from nasty responses people gave when sharing their impressions regarding Buffalo and Western New York.
Of course the most critical people would often readily admit they've never actually been to Western New York, and simply parrot what the media has spewed for decades about the "dying rust belt cities." They could not be more wrong about Buffalo.
I'm still in awe of what I'm seeing develop around downtown Buffalo in the last couple of years. Most people in this area of the rural West think the city of Buffalo is as messed up as Detroit and is nothing but an expanse of urban blight.
Ten years ago that may have been a valid observation. However, just go there now and get a feel for the energy going on around the Harbor, Canalside, Larkinville, and downtown Buffalo. You can't help but sense a palpable renewal and rebirth of a remarkable city, rich in history and with hundreds of years of fascinating cultural diversity.
I also found out from other "transplants" over the years that they often endured the same negative perception about Buffalo and Western New York in terms of an outsider's view of the region. Add to the negativity associated with being a diehard fan of a team that hasn't sniffed the playoffs since the new millennium, and you get the picture about why Bills fans from Western New York are as crusty as we can be at this point.
One good thing that has happened over the last few years is that social media has empowered transplanted Bills fans to mobilize their resources (each other) for the "greater good." In this case, the "greater good" is defined as being an ambassador for the homeland of Western New York. This 'homeland' is the place that binds us together as passionate football fans, proud of our heritage.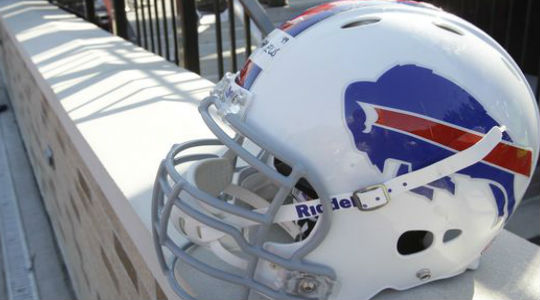 As such, I've never been more proud of my Buffalo Bills fan-hood than during this week, when the Buffalo Fan Alliance took on the Jon Bon Jovi group by identifying a document that specifically referred to a mission of their group to move the Buffalo Bills to Toronto.
One of the few advantages of being an old fart is there's not much left in life that shocks me anymore. However, I have to admit to being absolutely stunned by the revelation of the existence of a document clearly stating that Roger Rai, a Roger's Communication Executive, was a member of a group with an intention to move the Bills to Toronto. How in the world could something like that happen when undertaking a billion dollar deal that revolved around NOT moving the team?
Was it hubris that caused this obviously embarrassing gaffe? How else does one explain the inexplicable documentation that directly violated the terms of sale of the Buffalo Bills by a principle player in the deal? Was it stupidity? I find gaffes like these to be fascinating in terms of trying to understand why they occur with surprising frequency.
The bottom line of this revelation shows exactly why Bills fans and the good people of Western New York are to be underestimated by 'outsiders' from New Jersey at their peril. I have to admit to feeling better than I should have felt watching Jon Bon Jovi's personal reputation be pummeled into the dirt this week after Rai's document was verified by the media.
We may never know the details regarding how that document was identified by the Buffalo Fan Alliance. Regardless, this is a stunning example of what good can come of people uniting together and striving to defend what they believe is the right course of action, no matter what the specific issue is that is involved.
If you add to the chip on the shoulder of any Western New Yorker the burden of being a 'loser' Bills fan, especially over the last couple of decades, you would think people would understand why it might not be a good idea to "poke that skunk." But those who choose to underestimate us keep insisting they are so much smarter than the fans of the "little team who couldn't."
Pure hubris is the only explanation I can reasonably buy that satisfactorily explains why this Toronto group led by Jon Bon Jovi did what they did. Bon Jovi's letter to Bills fans now makes him look even worse in terms of personal integrity, if that's possible.
If Hades freezes over and Mr. Bon Jovi & Co. do end up owning the Buffalo Bills, they will find a curse bestowed upon them by Bills fans that will make the Flutie curse look like a little wrist slap by comparison. Ripping out the hearts of Western New Yorkers could still happen, but no entity will ever be able to rip out our souls.
That's because when you grow up with a chip on your shoulder after having people from other places tell you your homeland is a hole, you develop a nose that is equipped with a very sensitive bull poop-meter. And we got a big fat dose of it from Mr. Bon Jovi and his friends over the last few weeks.
We persevere like we always persevere in these situations. We stay the course, and quietly find the proper weaponry to wipe out any entity that tries to hoodwink us. There is no better example of this than what the great fans of the Buffalo Fan Alliance did by bringing Rai's document out for public inspection this week.
Let us give great props to the Buffalo Fan Alliance, an outstanding organization that supports the interests of the 'common sports fan' in Western New York.
Let this recent situation be a lesson to any one person or entity that elects to use nefarious means to steal something precious from a community of people who made it what it is. Do not mess with Buffalo Bills fans regarding the future of the team in Western New York.
There isn't much that incites Bills fans more than bandwagon fans, especially one with a highly questionable agenda, whose own bandwagon fans personify his personal authenticity, or lack thereof. I've never been more proud to be a Bills fan, and a native Western New Yorker than I was this week, thanks to the Buffalo Fan Alliance.