Did you happen to hear a collective "phew" around Western New York this past Saturday? Well, that was just the sound of Bills fans exhaling as the news broke that starting left tackle Cordy Glenn had passed his physical.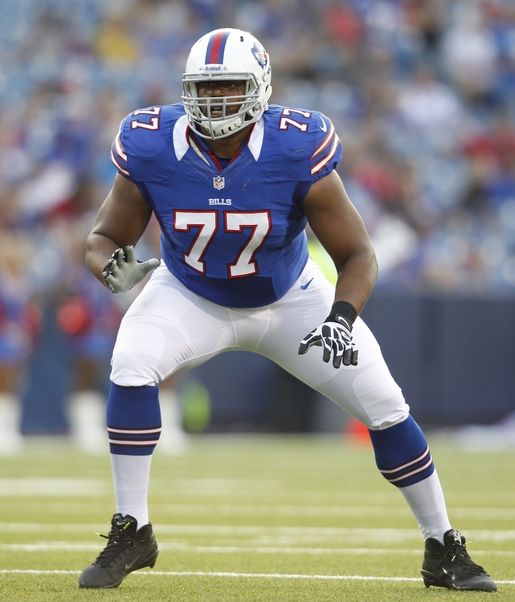 Despite earlier "unofficial reports" that he would be back by the opener on September 7, Bills fans had to be worried that Glenn's season was in jeopardy. After all, Chris Hairston missed all of 2013 with the same non-football illness designation. And General Manager Doug Whaley didn't sound overly optimistic when asked about Glenn's status late last month.
Sure, seventh-round pick Seantrel Henderson has performed well to this point in camp. But everyone associated with the Bills feels better about Glenn protecting EJ Manuel's blindside.
So that's the good news. The temporary bad news is Glenn will need some time to work his way back into the lineup.
"We're going to take it very, very slowly to see how he comes back in the first couple days," Doug Marrone said. "We will just do a little bit on the side and a little bit individual. You won't see him participating in any team [drills] for a while. Then we'll see how he responds because I really don't know."
As the former Georgia Bulldog works to regain his form, don't expect many changes to the way the men in the trenches line up for the Bills. Henderson's performance at left tackle certainly reduces the urgency to get Glenn back on the field.
But what will happen when Glenn is deemed to be back at full strength? In my opinion, that could lead to a pretty significant change.
Obviously, the Bills feel they can do better than Erik Pears at right tackle. If they didn't, they wouldn't have drafted Cyrus Kouandjio in the second round of this past April's draft.  Unfortunately, "Mount Kouandijo" has failed to push Pears in the competition for the starting job. And while Pears hasn't performed poorly, he only has a handle on his job because of the struggles of Kouandijo.
The right tackle position is clearly up for grabs. Enter Seantrel Henderson.
While he would need reps to adjust to the opposite side of the line, Henderson has all of the tools to make the transition. Mentally, he has been able to handle the responsibilities of left tackle. In most situations, right tackle includes less responsibility. He also has the size, checking in at 6-7, 331 pounds.
How about skill-set? Well, Henderson would have been a high draft pick in April had it not been for his off-the-field issues. He has above average lateral quickness for a lineman, and he has long arms to keep pass rushers at bay. In run blocking, he is able to use those long arms and his strength to latch onto defenders and effectively move them around.
When asked about the possibility of flipping Henderson to the right side, Marrone certainly didn't rule that out.
"If Cordy comes back and he's at form, then we'll see what the best combination of five [offensive linemen] is," Marrone said. "Cordy's not back yet and that may be a long time. Seantrel can play left tackle in this league."
In a perfect world, Glenn would have been ready to go at the beginning of camp. And Kouandijo would have been the player the Bills thought they were getting in April. That would have given the team a great luxury of having Henderson as the understudy to Glenn with the ability to spell either starter when needed.
Don't get me wrong, it is still extremely early in Kouandijo's career. There is plenty of time to improve and to develop into a quality player. But all of the Bills' moves this offseason show they are in win now mode. If Glenn is able to man the left tackle spot, then moving Henderson to right tackle may just give the Bills the "best combination of five" available.
Either way, Bills fans have to be pleased with the depth and the youthful talent on this line. It speaks well for this year and well beyond.
Until next time, "BILLieve."