Predicting the Buffalo Bills 53-man roster isn't easy. The Buffalo Bills have shown that this roster is a bigger, faster, stronger and more talented group than the team has fielded in the last few seasons. The Bills have 90 men on the team as it stands through the first official week of preseason, but that number will soon be cut down all the way to 53.
With three games left for players to prove that they're worthy of earning a role on the final 53-man roster, here's my prediction of how things will shake out.
Quarterbacks (3)
EJ Manuel, Jeff Tuel, Thad Lewis
The Bills have made it clear that they envision EJ Manuel as the long-term answer at quarterback. The coaching staff also loves Jeff Tuel, who they signed last year as an undrafted free agent out of Washington State. Thad Lewis is competing for the No. 2 job, but he'll likely be the team's reserve option.
Running Backs (4)
C.J. Spiller, Fred Jackson, Bryce Brown, Anthony Dixon
There's no shortage of talented running backs on the Bills' roster, as they have four backs capable of fulfilling multiple roles within the offense. Spiller and Jackson will split the majority of carries, but Anthony "Boobie" Dixon should handle most short-yardage duties, with Bryce Brown filling in as a third-down or change-of-pace back.
With Spiller's contract up at season's end, Bryce Brown, who the team traded a fourth-round draft pick for, could possibly be groomed as a potential successor.
Fullbacks (1)
Frank Summers
Notable Release: Evan Rodriguez
Most fans are against keeping a true fullback like Frank Summers on the roster, believing that the team should use that valuable roster spot at another position. The Bills want to run the ball a ton this season, and they showed in preseason that they value fullbacks (and tight end Lee Smith) that block.
Wide Receivers (6)
Sammy Watkins, Robert Woods, Mike Williams, Marquise Goodwin, Chris Hogan, Marcus Easley
Notable Releases: T.J. Graham, Kevin Elliott
The Bills totally overhauled their wide receiver group over the past three seasons, turning the worst group on the roster into the deepest and most talented. The team invested first, second, third and sixth round draft picks in the last two seasons to revamp the receiving corps, with Sammy Watkins the No. 1.
Watkins, Woods and Williams will be the three starters while Marquise Goodwin serves as the deep threat. Chris Hogan has shown that he's worthy of playing time also, and Marcus Easley is the special teams ace.
Tight Ends (3)
Scott Chandler, Lee Smith, Chris Gragg
Notable Release: Tony Moeaki
Fans will yell at me for leaving Tony Moeaki off of the roster, claiming that they need an athletic receiving weapon at the position, but with the talent at wide receiver, I think that Chris Gragg could fill that role.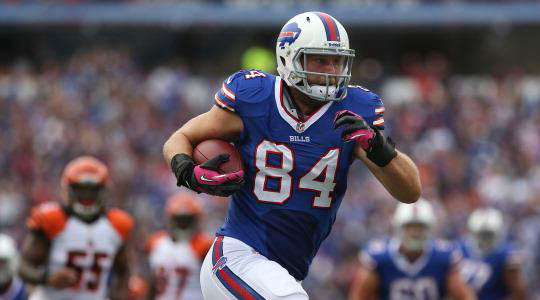 Scott Chandler is a reliable seam option and a willing blocker. Lee Smith is one of the best blocking tight ends in the entire League according to Pro Football Focus, and Chris Gragg fits the "H-Back" role that's been creeping back into NFL offenses. Lee Smith has been used as a long-snapper, which helped earn his spot on the team.
Offensive Tackles (4)
Cordy Glenn, Erik Pears, Cyrus Kouandjio, Seantrel Henderson
Cordy Glenn is emerging into one of the top left tackles in the league, but right tackle was an issue last season. The team selected Cyrus Kouandjio out of Alabama in the second round, with hopes of him securing a starting job, but he hasn't been able to pass Erik Pears on the depth chart. Seantrel Henderson has had a stellar training camp and has been consistent through the preseason, so the troubled seventh-round pick out of Miami looks to have earned a spot on the team.
Offensive Guards (3)
Chris Williams, Kraig Urbik, Cyril Richardson
Notable Release: Chris Hairston
The Bills brought in Chris Williams as a free agent in order to upgrade the left guard position, but they also selected Cyril Richardson out of Baylor to compete with Kraig Urbik on the right side. The Bills have Richardson listed at left guard on the official depth chart, but he's been seeing snaps at the right spot. Urbik has experience at center as well, which helps his cause to make the team.
Center (1)
Eric Wood
Notable Release: Doug Legursky
Eric Wood is the leader of the Bills' offense, and he's been one of the more consistent offensive linemen on the team over the past five seasons.
Defensive Ends (4)
Mario Williams, Jerry Hughes, Manny Lawson, Jarius Wynn
The Bills have one of, if not the best, defensive lines in the National Football League. However, behind Mario Williams and Jerry Hughes, there's a lack of pass rushing depth. Manny Lawson and Jarius Wynn are stronger defensive ends that specialize in stopping the run, but both have some decent pass rush ability.
Defensive Tackles (5)
Kyle Williams, Marcell Dareus, Stefan Charles, Corbin Bryant, Landon Cohen
Notable Release: Alan Branch
Kyle Williams and Marcell Dareus are one of the best interior defensive lineman duos in the league. The team likes Stefan Charles, a Canadian product that the snagged off of the Tennessee Titans' Practice Squad last season. Corbin Bryant has flown under the radar, but has some experience and Landon Cohen has been playing his tail off through the first two games of the Bills' preseason.
Linebackers (6)
Brandon Spikes, Nigel Bradham, Keith Rivers, Preston Brown, Ty Powell, Randell Johnson
The Bills lost star linebacker Kiko Alonso for the season with a torn ACL, but the additions of Brandon Spikes, Keith Rivers and Preston Brown, coupled with the emergence of third-year man Nigel Bradham, the Bills should still be in good shape. Randell Johnson, a seventh-round pick out of Florida Atlantic, is a raw and inexperienced linebacker, but he has prototypical size and athleticism for the strong-side and should look to compete for a spot on special teams while running with the second-team defense.
Preston Brown is a talented run-stuffer that has underrated athleticism, and he'll be Brandon Spikes' primary backup, while most likely serving as the nickel linebacker with Bradham. Ty Powell is a freak of an athlete that projects well to both middle and weak-side linebacker, but his primary role will be on special teams, where he's already been spoken of as a "core player" by Coach Doug Marrone.
Cornerbacks (6)
Stephon Gilmore, Leodis McKelvin, Corey Graham, Nickell Robey, Ron Brooks, Ross Cockrell
Cornerback depth was a huge issue for the Bills last season, so it's likely they keep six as insurance for injury. Leodis McKelvin hasn't participated in preseason games, and Ron Brooks has been making the most of his opportunities with the ones.
Corey Graham is a versatile player that can play inside and out, and projects well to safety if need be. Nickell Robey emerged as one of the best nickel corners in the league last year, and fourth-round pick Ross Cockrell will likely play special teams as he develops.
Safeties (4)
Aaron Williams, Da'Norris Searcy, Duke Williams, Jonathan Meeks
Notable Release: Kenny Ladler
Aaron Williams is primed for a breakout year at free safety, while Da'Norris Searcy and second-year strong safety Duke Williams will compete for playing time. Jonathan Meeks fits as a free safety that has great range to play "centerfield," but he'll be expected to contribute on special teams, as it'll be hard to crack the safety rotation.
Special Teams (3)
Dan Carpenter, Dustin Hopkins, Brian Moorman
Fans will lose their minds when the Bills keep two kickers, but with the emphasis the team placed on upgrading special teams over the offseason, it's likely that they do. The team drafted Dustin Hopkins in the sixth-round of the 2013 NFL draft, but Dan Carpenter unexpectedly kicked his way into a long-term extension. Hopkins has a booming leg and should force a ton of touchbacks, or at the very least, give the coverage units time to get down-field with his strong hang time.
Brian Moorman isn't a top five punter anymore, but he's more than capable of being a reliable option at the position.
So there it is, #BillsMafia! Who did I leave off of the team? Which player are you most excited about? Feel free to share your thoughts in the comments, or on Twitter (@RQUINN619)