Another day, another AFC East Rival Camp to discuss. Today, we'll take a look at the New York Jets. The two biggest storylines coming out of Cortland, NY are the quarterback battle between Geno Smith and Mike Vick and the new faces in the Jets lineup.
2013 in Review
In 2013, Rex Ryan and the New York Jets once again fielded one of the better defenses in the NFL.  Ranking just outside of the top-10 overall, their defensive line was downright dominant at times and they were only held back a bit by some problems in the secondary (I'm looking at you – the self-proclaimed 'best corner in the league' – Dee Milliner). However, what really hamstrung the Jets as a team was an abysmal offense led by rookie quarterback Geno Smith. They were near the bottom of the league in most offensive categories, but some off-season moves created some very interesting things to watch this summer at Cortland.
Smith vs Vick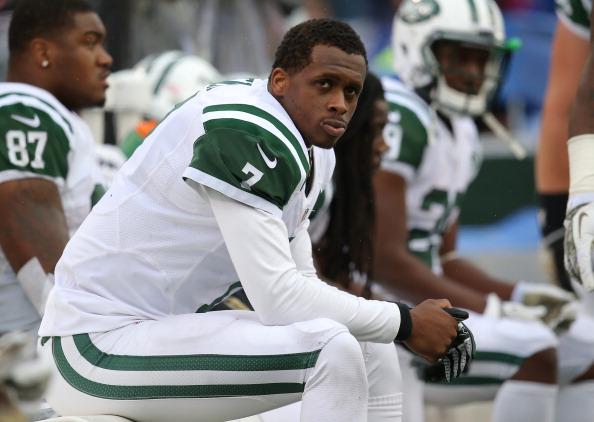 Geno Smith started all 16 games as a rookie last season and was consistently inconsistent at best throughout the season. He finished with 3,046 passing yards and a 12:21 TD:INT ratio. Most concerning however, was his 55.8 completion percentage for the year. Smith had a few really nice games, with a MNF win in Atlanta (16/20, 199, 3/0), home game vs the Bills (16/29, 331, 2/2) and home game vs Cleveland (20/36, 214, 2/0) coming to mind, but the majority of the rest of the season he was pretty wildly inaccurate and the Jets struggled to move the ball. Though New York is an offense that will be built around running the football as long as Rex Ryan is in town, they need much more than that from their quarterback in order to be successful.
Much-maligned veteran Mike Vick was brought into the fold this off-season to, at the very least, ramp up the competition at the quarterback position. So far in camp, reports on Vick have been mixed as they seemingly always tend to be. Vick can still make some plays throughout an NFL game, no one doubts that, but it has always been his inefficiency within the pocket that has held him back from becoming a complete quarterback. Reports on Smith have been a bit better and some, including his competition in Michael Vick, think that he is ready to make a jump this season. It will be very interesting to see how both of these quarterbacks perform throughout the pre-season games and who will ultimately get the keys to the Jets' offense come September. My money is on Geno Smith.
New Faces
Geno Smith struggled for a number of reasons last season, one of which is certainly the fact that there was little skill-position talent to work with as a rookie. The Jets trotted out Santonio Holmes (who remains a free agent, by the way) Stephen Hill and Jeremy Kerley as their starting wide receivers much of last year and relied on Chris Ivory and Bilal Powell at running back. That is uninspiring to say the least. Enter Eric Decker and Chris Johnson. Though Johnson is a shell of what he once was in my opinion, he still represents a significant upgrade over what they have had. Decker has the skill-set of a true  No. 1 NFL wide receiver. To say he represents an upgrade in that position would probably be an understatement.
Both Decker and Chris Johnson have received very positive reviews so far in training camp. Johnson has reportedly been showing off his trademark blazing speed throughout the practices and has even been splitting out wide pretty often in an effort by the Jets to get him in space. Johnson will get the bulk of the carries, which there will be plenty of, for the Jets' offense and Decker will provide Smith/Vick with a big, sure-handed target, particularly in the red zone. The impact these two players will have on the New York offense throughout the pre-season games and remainder of camp is certainly something to watch. I believe the Jets have one of the better defenses in the league and if their quarterback can take advantage of the weapons around him and not lose them games, they will be a team to contend with. It isn't unlike the story with our Buffalo Bills, is it?
BillsMafia, where in the AFC East do you see the Jets finishing? Is Rex Ryan on the hot seat? What do you think of the QB competition? Share your thoughts and predictions about their record, personnel, coaching, etc. in the comment section!
Previous AFC East Rival Camp Reports: