It has been a long seven months since we've last had the pleasure of witnessing our Buffalo Bills on the football field against another team from another city.  When we last saw them, the team was finishing the 2013 calendar year with yet another loss in Foxboro to the New England Patriots that put the finishing touches on a mostly disappointing 6-10 season.
Much has happened since then, and while the team that we see on the field this upcoming Sunday will in some ways resemble the one we saw on that afternoon last December, they are also a decidedly different group in other ways.  After what is sure to be an unforgettable Saturday spent celebrating the accomplishments and legacy of Andre Reed, the Bills will kick off the 2014 NFL season against the New York Giants in Fawcett Stadium on Sunday night at 8:00.
There will be much to keep your eye on throughout all four quarters of this game.  I will briefly summarize the ten things that I will be focusing on most closely for the team from the western end of New York.
1. The Obvious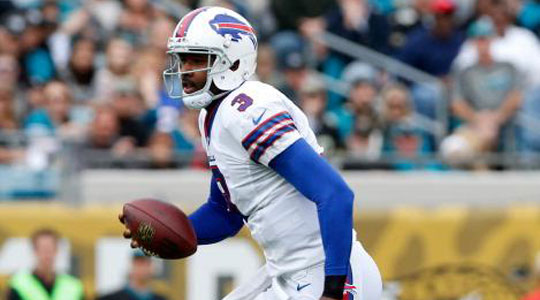 Almost no one that you talk to will debate that the biggest key to the Bills' fortunes in 2014 is the play of E.J. Manuel.  The step (or lack thereof) that he takes as a starting NFL quarterback in his second season will go a long way in determining how successful that this group can be.  While it is nearly a guarantee that he will only see a series or two on Sunday in Canton, I would like to see him look decisive in the pocket while he is out there.  I will be looking for him to go through his progressions, which was certainly an issue in his rookie season, and not always be looking for a quick check down when his first read isn't there.
Most importantly, I'd like to see him convert at least one or two 3rd downs during his brief appearance.  Nothing held the offense back more than their near league-low 34% 3rd down conversion rate last season, and I believe it is the absolute key to the offense this year.  The Bills need E.J. Manuel to make plays on this down so that they can sustain drives and keep running the football down teams' throats like everyone knows they want to.
Defensive Scheme Switch
Mike Pettine and Jim Schwartz are both great defensive minds in their own respects.  However, they have entirely different philosophies when it comes to how they believe an opposing offense should be attacked.  I'm very interested in seeing how this new base wide-9 defense will look against live competition.  It should benefit the run defense almost automatically, and contrary to popular belief, I still believe that we will see a decent amount of blitz packages.
While Schwartz may not unleash many of those blitzes in the first out of five pre-season games, I think we'll see a few.  Regardless, the base defense he brings in, and how all of the players are reacting to it early on, is something that will be very interesting to watch.
That Sammy Guy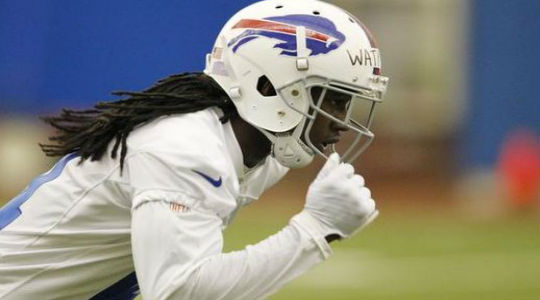 Sammy Watkins has been nothing short of stellar since he was drafted as a Buffalo Bill.  The reports out of mini-camp were mostly great and he has been even better since the team moved operations to St. John Fisher College about two weeks ago.  His play on the field is exceeded only by his work ethic.
How great is that?  Still, there is something different about lining up in full pads against another team.  Like most of the first team offense, he will probably only see a series or two, but that is more than enough time for him to make an impact play.  There hasn't been this much excitement around a single player for this franchise in a very, very long time.  Enjoy it.
Depth at Defensive Line
In the eyes of the Buffalo Sports Guy, no group on the entire Buffalo Bills' roster is as rich in depth as the defensive line.  You know all about the three Pro Bowlers and Jerry Hughes – who I think may just get more sacks than any of them this season – but the guys behind them make this group all the more impressive.  Allan Branch and Manny Lawson are veterans and we know what to expect out of them.
On Sunday, I am most interested in the work of Stefan Charles, Corbin Bryant, Jarius Wynn and Ikponmwosa (we'll stick with "Ike") Igbinosun.  Charles and Bryant are in a tight battle for playing time and I like them both.  Wynn should have a spot as one of the reserve defensive ends, but Ike has shown well in training camp so far.  All four of those guys should see the field a lot in this first game and should display the kind of talented depth the Bills have in this group.
5. The Four-headed Monster
Speaking of depth, Buffalo also has it in spades at the running back position.  While the spots on the roster are pretty much etched in stone already, both Bryce Brown and Anthony Dixon should see plenty of reps on Sunday to help determine who will be getting more carriers behind C.J. Spiller and Fred Jackson.
Both have had very strong camps to this point.  Perhaps more than any other team in the NFL, the Bills will be committed to running the football this season.  That means they will need all four of these guys to run well in order to do so efficiently.  Doug Marrone is committed to building the offense around the run, and it will be both important and exciting to see how this facet of their game kicks off the pre-season.
6. Uncertainty on the O-line
The mysterious illness that has kept stalwart (and I do mean that) left tackle Cordy Glenn out of the action has created a bit of musical chairs along the offensive line.  While Eric Wood has been locked in to his usual position at center and Chris Williams has been seeing the first-team reps at left guard, there are question marks throughout the rest of the line.
I feel like I know what we are getting out of Erik Pears and Kraig Urbik at this point, so I am most interested to see how rookies Cyrus Kouandjio, Seantrel Henderson and Cyril Richardson will react to some live competition.  Some, if not all, of them will be playing a role at some point this regular season.  Perhaps sooner rather than later.  Keep an eye on the push they are getting in the run game.  That is what they all did best in college and what Marrone and co. value most in their offensive linemen.
7. Defensive Back Battles
The Bills have some interesting battles at the defensive back position brewing as training camp rolls on.  While at least three of the four starting spots are spoken for, as well as the #3 and #4 corner spots (Robey and Graham), the safety spot opposite of Aaron Williams and last corner back spot(s) are not quite yet spoken for.  While Da'Norris Searcy is a clear favorite for the other starting spot at safety, both Duke Williams and Jonathan Meeks are still alive in the competition.
Meeks in particular has had a strong training camp thus far.  The play of those two is something to key on for Sunday.  Since rookie 4th round pick Ross Cockrell is probably a lock for a roster spot, Ron Brooks is fighting for his job this pre-season.  The three guys that probably have the best chance to unseat him are Mario Butler, Brandon Smith and Kamaal McIlwain.  Butler and Smith both have better size (both listed at 6'1) than Brooks and McIlwain has flashed at times throughout camp.  While Brooks has come on strong in the last handful of practices, his spot is far from safe.
8. The Man Behind Manuel
While Thad Lewis received most of the work when E.J. went down with injury throughout the course of the 2013 regular season, the competition between him and Jeff Tuel has certainly opened up this off-season.  In the practice that I attended live, as well as in the many reports of the others, it would be fair to say that Tuel has outplayed Lewis thus far.
Last year was living proof of just how important the back up quarterback position can be.  Lewis and Tuel should see the bulk of the playing time on Sunday and how they play during this game and the four others will go a long way in deciding who claims the job by the end of camp.  It will be very interesting to see which guy performs better under the lights in the opening game.
9. Hogan's Stranglehold 
I am of the mindset that Chris "7/11" Hogan is safely on the roster as of today.  He has been getting a ton of reps and has made the most of them almost every practice, as he always seems to do in training camp.  He has even been getting some time with the first team in certain sets.  However – setting aside my personal faith in him – he needs to prove that he can consistently make the same impact when playing against live competition.  Sunday will be his first shot to do so in 2014, and he will need to take advantage of it in order to maintain his stranglehold on that roster spot.  There are plenty of others waiting in the wings if he has a couple missteps.
10. The End Game
At the end of the day the goal of any matchup, regular season or not, is to play well and to win the football game.  The most important thing on Sunday is for the Bills to play a solid game in all three phases, limit mistakes and end up coming away with a 'W' as a team.  Almost every guy that dresses for this game will see a little playing time.
Some will play a lot.  In order to continue moving forward with creating a new winning culture within this franchise, no game can be treated lightly and each and every player that sees the field needs to do their respective job.  I am looking forward to watching all four quarters of this game.
Any one of the guys that step onto the field could end up playing a big role when it counts.  They should all feel a sense of urgency to take advantage of the opportunity and show a national audience that this will be a team to be reckoned with in 2014.